The Growing Season
01 Jun 2023
Trufflehunter Farms offers food to restore the body
By LIESEL SCHMIDT
Photos by JASON GOLDEN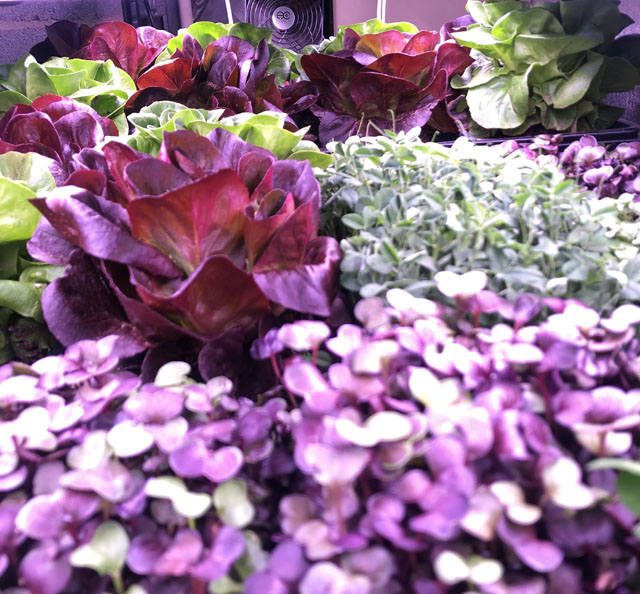 While Jason and Jacque Golden may describe their home-based farming venture as "a survivalist hobby run amok," the 2.5 acres that comprise Trufflehunter Farms are living, growing, thriving proof that hard work, dedication and passion can create something incredible.
Initially begun from the seed of an idea and the desire to grow their own food on their land, the Goldens began their homesteading lifestyle back in Kansas City, where they learned the practices of micro-farming during their first years of marriage. Chicken coops in the woodshed and garden space on their property in the 'burbs have turned, more than ten years and nearly a thousand miles later, into a full-realized micro-farm known for its beautiful produce. But how they got here naturally comes with a story…
"I'd moved the family in 2017 to the Highlands/Cashiers area to take a position with Edgens Herzog Architects in Highlands," says Jason, who is a licensed architect, while Jacque is a homeschool mom to their three children as well as a violin teacher. "We bought our property the fall before COVID hit, and while we desired to homestead, we didn't have a clue that we would go so hard at it so quickly. The farm took off enough to pave the way for a modest seasonal business, which requires that I spend about 25 hours a week on farm tasks and markets during the growing season. When I started a private practice in 2022, the green grocery side to our life was not only a lifestyle choice but also provided us with a little bit of supplementary income, in addition to giving us opportunities to market our farm as well as my architectural business. Many weeks when we are out at farmer's markets, I have signage up behind us that focuses on our small house plans—'Trufflehunter Cottage' and 'Nimblewill Cottage'—and spark interesting conversations. The farmer's markets have been a fun way for us to get to know our community and tell our story. People ask about the name, and we tell them. We branded the farm in 2020 right as COVID was hitting. At the time, we were reading Prince Caspian by C.S. Lewis as the family bedtime story. Trufflehunter is the badger and is one of the few characters who exudes hope in a seemingly hopeless time. That spoke to us, and that's what we try to be."
Trufflehunter Farms can be found at the Cashiers and Highlands Farmer's Markets. Having expanded from their original focus of microgreens, they now also grow other salad-based items such as Salanova butter lettuce, Hakurei turnips, parsnips, beets, and spring onions as well as a newly added crop of tomatoes for Jacque's amazing Fermented Salsa. "I'm more of the green thumb, but Jacque wanted to create value-added products last year," Jason explains. "We would have leftover microgreens, and she realized that we had an opportunity to utilize them instead of wasting them. Since then, she has created quite a list of fermented products like mango salsas with cantaloupe microgreens, curry krauts and beet krauts with pea or sunflower microgreens, and apple krauts in the fall.
"We chose to sell our microgreens live and in soil because they present so much more of their beauty that way," he adds. "Now with Jacque bringing new products—not only her ferments but also her skin care products made with grass fed beef (suet) tallow, and local pork fat provided by a fellow farmer's market vender—our brand is starting to center around natural health and beauty from the inside out. We openly share the story of Jacque's recovery from MRSA-level antibiotics just after we moved here. She went from a size 8 to a size 0 because it knocked her gut so out of balance. She learned a way of healthy eating that has restored her, and we now share that knowledge with others. We believe that life begets life, simple as that."
While the farm may take a lot of work on top of the hours spent on architectural work and that of raising a family, "I've always wanted my children to have an understanding of the origins of good food and the work it takes to provide it," Jason says. "Now with so many food quality problems—pesticides, GMOs, and the downstream health complications they create—those issues are becoming more important."
"The farm is part of our curriculum in homeschooling our kids," adds Jacque. "It strengthens our family as we work together. We all earn money through this process, and the kids learn how to save, learn how to talk to customers, get to know a variety of people in our community, and just really learn the value of their own work. We are searching for ways to build community in Cashiers. This is important to us because we homeschool and don't have the natural network families can develop at school. Selling at the farmer's markets is one of multiple ways we are seeking to build community to benefit our family and others both on and off season." More information on Trufflehunter Farms and Golden Design can be found at trufflehunterfarms.com and goldendesign.pro.