The Little Car Show That Could
01 Jun 2023
The Highlands Motoring Festival is a national gem
By MARIANNE LEEK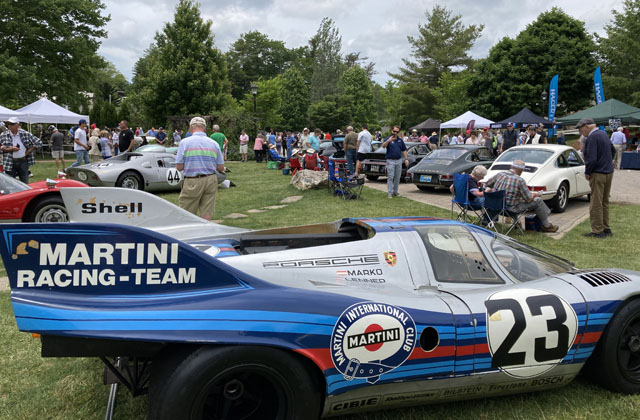 Maybe it's the history or the horsepower, the sound of an engine or the unique smell of muscle car exhaust, the Southern barbecue or freshly squeezed lemonade, or perhaps it's simply the nostalgia of a bygone era when cars seemed more like works of art that make a hometown classic car show like the Highlands Motoring Festival so interesting - and well, fun! And right here in Highlands, this little car show that could has become one of the most anticipated celebrations in the Southeast. Legend has it that the inception of this festival can be traced back to a weekly lunch meeting in 2007 involving members of the Highlands Rotary Club. Two of the festival's founders, Chuck Cooper and Bob Kieltyka, and others, decided that Highlands could support an annual classic car show, with all generated proceeds to benefit a local non-profit. With some guidance from KB Pierce and Mark "Bud" Pitman, the inaugural Highlands Motoring Festival generated over $3,000 for the Hudson Library and was supported entirely by local funding and volunteers.
Sixteen years later, this event has grown exponentially in popularity and is considered one of the premiere car shows in the country. It has raised over $415,000 for local charities, and in 2019 was voted "Best Concours" in the land by Classic Motorsports Magazine. And it keeps getting better. The 2023 Highlands Motoring Festival, which will take place June 8-11, is a premiere four-day classic car show that will feature seven highly anticipated events, including "Cars in the Park," "High Octane," a charity auction and gala, "One Lap in the Mountains" curated driving tours, as well as celebrity guest British racing driver Brian Redman. It's no wonder that automotive enthusiasts come from all over the world to participate in this preeminent event that happens to have the beauty of the Blue Ridge Mountains as a scenic backdrop.
The Highlands Motoring Festival has evolved into a major event on the classic car calendar but remains unique in that many activities, including "Cars in the Park," are free to the public. Steve Ham, the Communications Director for the festival, explained that the location of Highlands gives this particular motoring festival an edge. "Most big car shows have to pay tens of thousands of dollars to rent a golf course or large venue. HMF has something better, Kelsey Hutchinson Park. The park is only one block from Main Street with its boutiques, specialty shops, and restaurants, making this a popular show with spouses."
Since 2008, the Highlands Motoring Festival has changed in size and scope to include two curated driving tours, social gatherings, a parade on Main Street, and two impressive car shows - the highly selective "Cars in the Park," and "High Octane," which is open "to all interesting vehicles." Originally HMF was a fall event, but for logistical reasons and the automotive events calendar, it has been permanently moved to the second weekend in June. In its first year, it attracted 114 cars, most of which were American muscle cars, hot rods, and pre-WWII classics. Ham elaborated on the evolution of entries, "Allan Lewis was Highlands' most beloved car nut, and he would bring his Ford Model T, Model A, and 1940 Roadster. Local car builder/customizer Tim Voss has amazing cars that are often displayed, including some in 2023. In 2019, the featured marque was the cars of Carroll Shelby. Twelve Cobras and Shelby Mustangs came to Highlands along with Chuck Cantwell, the program manager for Shelby American back in the day. However, in recent years, HMF has attracted a strong presence of high-end European classics. The HMF planning committee recognizes the capacity limits of the town in terms of lodging, parking, and traffic. In order to grow the festival, the focus has changed from volume to quality. In 2008 there were 114 entries, while in 2023, there will be 85. To rectify this situation, a second car show, 'High Octane' is staged on Sunday morning. Open to all interesting vehicles, locals and visitors can display their babies and socialize with other gearheads."
There have been numerous highlights of the HMF, including a proposal. In 2019 one young man stopped along the "One Lap in the Mountains" driving tour in front of Bridal Veil Falls, got down on one knee, proposed marriage to his girlfriend, and was accepted! Ham shared some other favorite memories over the years, "One year, Sam Jenkins was displaying his drag racing car, a 'funny car.' It was suggested that it would be cool to crank it up for the crowd to experience the incredible sound of several thousand horsepower. Problems developed with the starting battery. To the rescue came the Highlands Fire Dept with a fire truck and jumper cables. The crowd went crazy."
"A major turning point occurred in 2016 when Mercedes Benz was selected as the featured marque. Mr. KB Pierce agreed to display his 1955 Mercedes 300SL Gullwing, one of the most coveted collector cars worth over a million dollars at the time. Highlands summer resident, Gerry Sutterfield, decided to join in and bring his 1956 300SL Gullwing from Florida, knowing that having two Gullwings at any show is a big deal. HMF was able to publicize this significant display. Anticipation was high. On show day, as the cars were arriving, registering, and being positioned on the show field, a third Gullwing appeared. The gentleman had heard about HMF and decided to cruise up to Highlands for the day. This was a game-changer for HMF."
But perhaps two of the most indelible occurrences happened in 2019, when "Dennis Gage broadcasted his TV show, 'My Classic Car,' from HMF's show field to an international audience of millions of people, and HMF was selected as the 'Best Concours Event' in the land by Classic Motorsports magazine in a poll of readers."
As most things scheduled in 2020, the Highlands Motoring Festival was canceled, but that allowed for organizers to continue to raise the bar of excellence, and in 2021, in collaboration with the Bascom Center for Visual Arts, they presented FreeWheeling, "which was a centerpiece component of 'CELEBRATE ART + AUTOMOBILE,' a summer series of events in Highlands." This unique exhibit featured over 40 pieces of automotive artwork, including paintings, sculptures, and photographs, by internationally renowned artists alongside a display of three classic automobiles, which were rotated twice during the 15 weeks of the exhibit so that a total of "9 classic cars shared gallery space with the artwork."
Steve Ham is most proud of the volunteers who show up year after year. HMF is a rain-or-shine event and in 2019, these volunteers were invaluable to the continued success of that year's festival. He explained, "Having had the privilege of chairing this event in the past and after several years of working in its execution, my greatest pride is the volunteers that come out to work the event. This was never more evident than in 2019, when, as forecasted, five inches of cold rain came down on Kelsey Hutchinson Park and HMF. But the show went on. The volunteers stayed at their posts and the car owners did not leave. The people could see that we were in trouble and turned out in force to save the day. These are my heroes. That year we raised forty thousand dollars for our three local human-needs charities."
Each year the Highlands Motoring Festival raises a significant amount of money for local organizations and charities, and 2022 was their most successful fundraising year yet, allowing them to donate $105,000 to local charity partners: The Literacy and Learning Center, REACH of Macon County, and the Community Care Clinic of Highlands and Cashiers. Ham explained the cornerstone of the festival's ongoing success in helping the community, "People wonder how HMF can donate such a significant figure when there is no charge to enter a car or general attendance at the two car shows. Further, the paid evening events are low cost in terms of value provided. There are two answers- Sponsorships and Donations."
A full list of 2023 sponsors and a schedule of events can be found on their website https://highlandsmotoringfestival.com/home.