In Step at the Barn Dance
01 Jun 2023
Mountain Youth Charities holds event to benefit youth programs
By JUDY ROYAL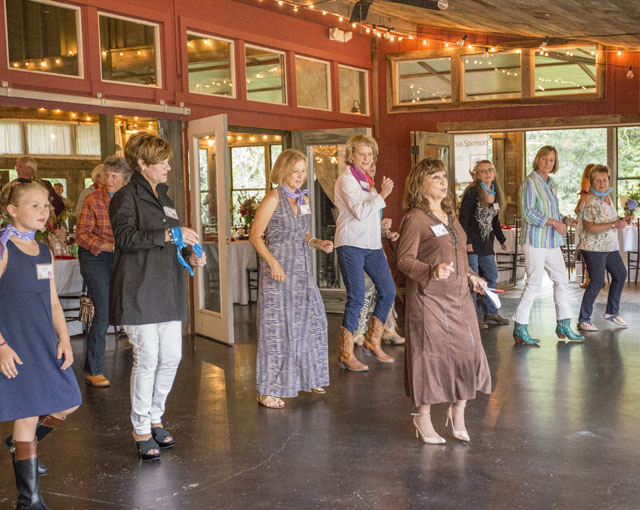 For the first time since 2019, the Mountain Youth Charities (MYC) Barn Dance is swinging back into action at a remodeled venue offering an evening of food and fun to help local youth organizations.
Scheduled for June 23 from 6 to 11 p.m. at Chimney Pond Farm in Glenville, the Barn Dance will feature live music from Songs From the Road Band, square dancing with caller Joe Sam Queen, line dancing with Danie Beck, a silent auction and a catered meal from On the Side Barbeque. The event, which began in 2017 but took a break from 2020-2022 due to COVID, attracts about 200 patrons and raises about $60,000 annually. Proceeds benefit the Blue Ridge School Education Foundation, Junior Appalachian Musicians (JAM)—who will also perform at the Barn Dance—and other youth programs that apply for grants.
"It's a great time, and it's going to benefit our children," MYC President Marcia Shawler said. "It's a fun and unusual night out for a good cause."
MYC is a local volunteer-run organization that was founded in 2013 to manage $300,000 raised by two Mountain Challenge tennis tournaments featuring Andy Roddick and Jim Courier. These funds enabled the launch of the Boys & Girls Club of the Plateau and provided the leadership to run the after-school program during its first year.
Since then, MYC has continued to operate independently from the Boys & Girls Club, raising funds for a variety of other children's charities.
"We just want to give the youth of the plateau more opportunities by enhancing the existing programs," Shawler said. "It's a way to allow things to get a little bit better."
Through the Blue Ridge School Education Foundation, the Barn Dance will benefit the Blue Ridge Early College Athletic Booster Club and the Blue Ridge Parent Teacher Organization (PTO). Funding from the event allows the school to purchase necessary educational items and otherwise provide support not included in the regular operating budget, former foundation President Carl Hyde explained.
"It gives the school the opportunity to really stay on the cutting edge of things they need for academic achievement and social development for the kids," he said. "This is a very giving community, and there's a pretty good cross-section of people who want to support schools and youth. The Barn Dance has been a workable event that allows a lot of people in the community to participate and give to causes they believe in. We look forward to it, and I know the proceeds will be well used."
"Everyone benefits when our school and community work together," PTO Chair Ali Moody said. "The PTO gives parents a platform to enhance their child's educational experience. Students feel a greater sense of belonging inside and outside the classroom. When we work together to achieve common goals, we better our whole community."
Many past Barn Dance attendees are excited about the opportunity to get together with friends and neighbors again. Those who want to brush up on their line dancing skills before the event may take lessons from Beck, sponsored by Cashiers School of the Arts, on Mondays from 7 to 8:30 p.m. at The Village Green in Cashiers. Admission prices vary by single or couple and weekly or full season. To participate, simply show up; no advance registration is required.
For more information about the Barn Dance or to purchase tickets, which are $200 per person, visit www.mountainyouthcharities.org. Tickets are also available at the Cashiers Area Chamber of Commerce.