An Origin Story
04 Oct 2023
The naming of iconic places on the plateau
Story and photos by BRENDON VOELKER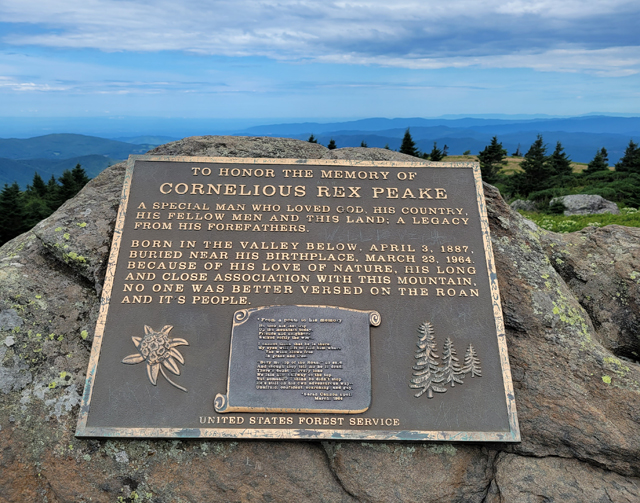 Perhaps you've been driving or hiking around Highlands and Cashiers and thought to yourself, "I wonder why they called it Whiteside Mountain?" Perhaps a similar thought has crossed your mind when eyeing Yellow Mountain, Panthertown Valley, Nantahala National Forest, and John Rock. Although some origins are still a mystery and lost to time, others are more folklore than fact, leading dedicated historians on a treasure hunt in search of answers. After years of exploring, countless conversations with locals, and independently researching historical texts, I have discovered that nearly every city, mountain, river, landmark, etc. will fall into at least one or more of the five categories listed below.
People
As the early settlers began to lay roots in the area, one of the more common practices was to name something after yourself or your family. Using Cashiers as an example, Zeb Alley, the well-known road beginning at the Old Cashiers School Road and running westerly between Cashiers and Whiteside Cove, is an excellent starting point. A "lawyer, lobbyist, and politician" according to Wikipedia, and generally considered one of the friendliest faces in the legislative building, Zeb Alley was born in Sylva and served as a Democrat in the State Senate into the early 1970's. Other examples include Mount Mitchell, named after Elisha Mitchell, or Waynesville, named after a soldier in the Revolutionary War. Interestingly, features or cities that utilize the word "green" comprise a mixture of family names, or an abundance of evergreen trees found nearby.
Animals
Not trailing too far behind people as inspiration for names are animals, both types of animals and their names. Panthertown Valley, for example, was named after the Eastern Cougar. By most accords, the species is now extinct. However, if you consider the naming of the Western Carolina University mascot, the Catamounts, we again see a name derived from the Cat-of-the-Mountain, thus the cougar logo.
Bonas Defeat, a very beautiful section of the Tuckasegee River near Panthertown Valley and one of the more dangerous canyoneering areas in the southeast, is named after Bonas, or Bona, depending on the source. History can be quite tricky on this one, but as the story goes, Bonas, a dog who loved to chase deer and other wildlife off the edge of a granite outcropping, was outsmarted one day when a deer side-stepped at the last minute and poor Bonas fell 400 feet to his defeat. John Rock tells a similar story of a horse falling to its death on a similar cliff near Brevard.
Other examples include Raven Rock Falls, Rattlesnake Lodge, Falcon Ridge, Bear Creek, and even Fawn Lake. As rumor has it, Cashiers was named after a horse that lived in the valley below the town's crossroads.
Descriptors
When all else fails, one of the easiest ways to name something is by using a descriptor. Whiteside Mountain is named after a white granite face that is viewable from Highway 64. Laurel Knob is covered in mountain laurel. Slate Rock is heavily composed of slate, and Sassafras Knob is covered in sassafras trees. The tree is also the source of the original root beer flavor, though largely unused now due to health concerns.
Yellow Mountain, an iconic peak between Highlands and Cashiers, is home to a fire lookout tower and named after the historic Chestnut trees that fell to their demise following the introduction of an invasive blight in the mid 1900's. The yellow reference denotes a mixture of the tree's vibrant fall colors, in addition to the color of its flowers. Similarly, Pink Beds in Pisgah National Forest is named after Swamp Pink, properly known as the Helonias bullata. Threatened at the national level, nearly all of North Carolina's natural habitats for the wildflower have been affected by logging or modern development.
Names of cities, such as Little Switzerland, can also fall into this category. Early settlers named the town because it reminded them of the Swiss Alps. Cities like Paris and Athens are other common examples seen in many states across the US.
Indigenous
This is difficult to explore because much of the history has been lost or anglicized. As one who has spent significant time traveling through indigenous areas around the country, yet attempts to refrain from cultural appropriation, this is a delicate topic. Nantahala is of Cherokee origins and refers to "Land of the Noonday Sun." The iconic Cataloochee Ridge, best known for its ski resort and access to the Great Smoky Mountains, refers to "Waves Upon Waves of Mountains." Cullasaja means "Place of the Honey Locust," and Toxaway notes the "Place of the Red Bird." Spend any amount of time around Lake Toxaway and you'll inevitably spot a cardinal flying by.
While many of these names can vary based on the source, independent research is suggested for those looking to delve further into the topic. Judaculla Rock, a large soapstone boulder located in Cullowhee, rests quietly in a field as one of the most significant petroglyph sites in the east coast. According to the indigenous accounts, the Judaculla was a slant-eyed beast that kept watch over the wildlife. For those who may have visited Whiteside Mountain or driven the Blue Ridge Parkway, you may recognize the name "Devil's Courthouse." According to legend, the beast resided in caverns and caves deep beneath the rock outcroppings and was often compared to a devilish creature.
Bible
The final category is maybe the least used, but possibly the most recognized and misunderstood. East of the plateau, Pisgah National Forest was named after a Hebrew word meaning "summit." If you were to consider the naming of the mountain itself, you might surmise that "Mount Summit" seems a bit redundant. In the Book of Deuteronomy, Moses climbs to the summit of Mount Nebo to speak to God and is told that he is overlooking the land he was promised. As the story goes for Asheville's iconic landmark, the first settlers summited the mountain and proclaimed the area as the "Land of Milk and Honey," or "Promised Land," earning it a name of similar origin. Mount Pisgah is easily distinguishable from other peaks due to a large broadcasting antenna perched atop the summit. A controversial topic amongst locals, the tower is a broadcasting source for a local television channel and serves little-to-no purpose beyond that.
Wildcards
While the true origins behind many of these stories are often lost to time, these names will almost always fall into at least one, often more, of these categories. The final and honorable mention would be the wildcard category, which notes the fun names like "Bust Your Butt Falls." However, one could argue this one as a descriptor since you would bust your butt if you opted to slide all the way down.
Other examples that could fall into this category include Old Butt, Big Butt, and Little Butt. While the names will likely make you chuckle, they refer to a geographical feature often found in the western half of the United States. At some obscure point in history, butte was simplified to butt in the east coast. Similar, yet distinctly different from a plateau or mesa, the term refers to a flattened hill or mountain top with steep, near-vertical cliffs on most sides. Often, you can only approach from one direction.
Conclusion
Next time you're traveling around the plateau and are curious about a name's origin, consider these five categories. To add a few to your repertoire of plateau knowledge, Green Mountain is covered in evergreen pines; the Blue Ridge is blue due to a chemical plant reaction; Tuckaseegee is a Cherokee word to describe a dense population of turtles; Dupont was named after the Dupont family; Jocassee means "Place of the Lost One;" and Sapphire was once home to numerous gem mines. Take a stop into Sapphire Valley Brewing, walk to the restroom, and you'll find a vague map to an old gold mine along some of the valley's higher slopes. Silver Run Falls is covered in mica (fool's gold). Mount Kephart was named after an early advocate for establishing the Great Smoky Mountains National Park, and if you travel into Virginia, you can bet Locust Grove has plenty of locust trees.