The Blind Mule at Toxaway Station
25 Jan 2020
A blind taste test reveals flavor is king at this hideaway on Lake Toxaway
By BRIDGET CALLAHAN Photos by TERRI CLARK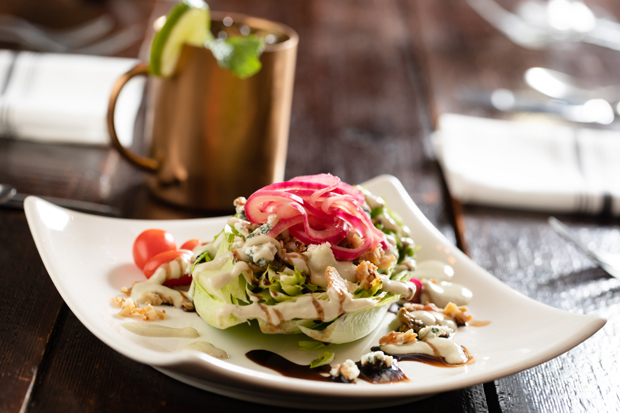 If you're lucky enough to live in the Land of Waterfalls, chances are you've already heard of The Blind Mule. This gem of a restaurant, located on the shores of historic Lake Toxaway, looks like a cozy English pub. But the food coming out of the kitchen is miles above standard bar food. From Korean style bao buns with house-made kimchee to North Carolina trout, the ever-changing menu offers locals and tourists alike a fine dining experience with an at-home feel.
Chef and owner James Hargis's relationship with food started early.
"I was the kid with ADHD, but they didn't call it that back then. I was just the hyper kid who couldn't sit still. On Sundays, my mom would be cooking in the kitchen and my dad would be watching sports on TV. I couldn't sit still with my dad for the game, so I ended up helping my mom. I just needed to do something," Hargis says. When the family left the southern climes of Atlanta for the deep freezes of Chicago, the need to stay busy got worse. "In the cold, there's nothing to do, you're not going to go outside. Snowballs only last for so long at that age. So, I'd end up back in the kitchen with my mom, helping her make meatballs."
At fifteen, he started working in his first restaurant, where he found himself thrust suddenly into the kitchen when the cook sliced her finger open one shift.
"The owner came back and asked me "Hey Kid, what can you make?" And tickets started coming back," Hargis remembers. That first trial by fire was the start of what would be a lifelong career. After college, Hargis found himself working in Holland in Michelin star kitchens, where he learned the tricks of French fine dining. Moving back to Chicago, he scored a coveted position working for Jean Banchet at the legendary Le Francais restaurant in Wheeling, IL. When Le Francais was sold, Hargis moved to the West Coast just as California cuisine was finding its footing. He headed his own kitchen at 23 and credits his California career with helping to expand his skills beyond French.
"If you want to get in with the people you work with, you eat their food," Hargis says. "My cuisine is more global because I was working in the kitchen with Mexicans, Asians, and Filipinos. And they're using leftover ingredients to make wholesome, rich dishes. It was definitely educational."
In Greenville, SC, Hargis met his wife Carole, and the newlyweds headed for Austria next, where Hargis headed up a conference center kitchen and Carole ran the front of the house. It was the beginning of a dynamic partnership that would persist throughout their marriage, through several states and jobs, landing them on the shores of a lake in North Carolina. With Hargis in the kitchen, Carole at the front of the house, and the Hargis' three boys often filling in as servers or prep cooks, The Blind Mule is definitely a family-built dream, dedicated to Hargis's pure love of food.
"When I go out to eat, I go to different restaurants, because I want something different all the time. I'll only go back to the same restaurant if I know they're changing stuff. And that's why I change my menu weekly," Hargis says. The flexibility of menu means he can focus on seasonal items, frequenting the farmer's markets in Asheville and Brevard. He looks for local suppliers, working with a trout farm in Andrews, bartering pizzas for local honey. But quality is always paramount, and if he can't find it locally, Hargis sources from around the world.
"For instance, the salmon? You're not going to find North Carolina salmon, it doesn't exist. But if I'm going to buy something, I'm going to buy the best product. So right now, we're serving Faroe Island salmon, between Iceland and Scotland. It's farm raised and sustainable, and it's the most incredible salmon," he says. Hargis gets bronzini from Greece, focaccia from New Jersey. The house-made pizzas are made with dough from Brooklyn because the water is different. If his long career has taught him anything, it's that no matter how good your technique, you have to start with ingredients that shine.
The always evolving menu gives regulars a reason to come back again and again, though some favorites like the pan-roasted, pepita-crusted trout have earned their permanent place. But whether you're looking for a classic tenderloin or something a little more adventurous, the well-crafted weekly menus offer options for everyone. Customers can see the updated menus every week by following The Blind Mule at Toxaway Station on social media or checking their website.
The restaurant is currently open winter hours, serving dinner only Thursday, Friday, and Saturday nights and reservations are recommended. In Spring as the warm weather blooms, they'll open back up in the mornings as a coffee shop and lunch spot and expand dinner service to five nights a week. With nightly specials, live music nights, and special events, The Blind Mule is a perfect spot to spend a warm Spring evening, but don't wait that long to check this incredible spot nestled in the Carolina mountains.
502 Blue Ridge Road, Lake Toxaway, NC
828-553-8978