Married in the Mountains
25 Jan 2020
Tie the knot amid a stunning backdrop at these elevated venues
By JUDY ROYAL
Everyone wants their wedding to be special and memorable, not just for themselves but also for their guests. Choosing a venue is often a couple's first step toward their journey of planning the perfect nuptials. Due to the breathtaking views afforded by their natural beauty, mountain regions are a popular spot for those celebrating the start of their lives together. This area has plenty of spectacular spaces that specialize in creating beautiful beginnings.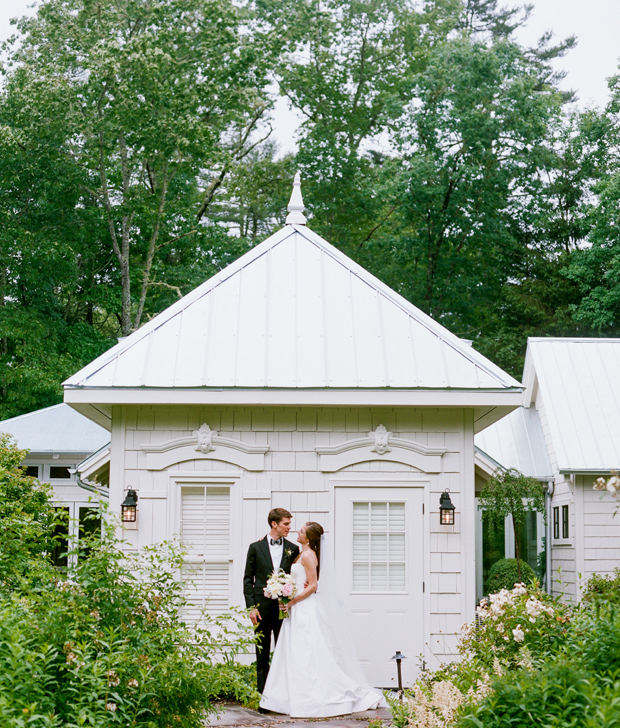 The Orchard House at Old Edwards Inn and Spa
Old Edwards Inn and Spa in Highlands, N.C., offers the opportunity for weddings surrounded by the serenity of the Blue Ridge Mountains amid elegant settings. Among them is The Orchard House, a new venue that covers 3,410 square feet and features massive glass doors that can be opened to lush English-style gardens. The interior features a pine wood ceiling with a pickled finish as well as shiplap wall detail. Custom iron doors allow for an expansive entry, while a custom iron arched transom window provides a dramatic backdrop to the space and offers an abundance of natural light.
"We wanted to increase the span and ability to do winter, spring, and late fall weddings for larger groups, and we wanted to create something entirely different than anyone else was offering," said Melissa Delany, Sales Director for Old Edwards Hospitality Group. "In the past, we were only able to host a wedding in cold temperatures for 125. Now we can handle 275 all year long, and we do."
The Orchard House, a bright counterpart to the rustic features of The Pavilion, can handle ceremonies for up to 275 guests, cocktail hour for up to 175, and dinner for 100. It is versatile enough to be customized for events of various sizes and themes while conveying an intimate feel.
"The setting options, the food, and the gardens are a one-of-a-kind place to hold your wedding," Delany said. "Like no other out there. When you couple this with our fantastic service, it is magical. We have left no detail out. It works so smoothly from the aspects of the guests' usage and also the operational ease of providing one of the best experiences you can have at a resort."
The completion of The Orchard House has not only added an option for those seeking event spaces, but it is also having a positive effect on the local economy, Delany said.
"We are also seeing that the local businesses have more business because of this as well, in times when they may not have been as busy," she said. "I have heard from several folks who did not know about The Orchard House and asked what we were doing differently now that it is bringing more guests to town. They can see a difference and so can we, especially on those weekends that tend to be a little slower in the winter."
The new space is getting noticed outside of the area as well. Wedding industry influencers have been coming out to do photoshoots for blogs, getting the word out all over the country. There have been seven such visits in the past five months, Delany said.
"This means that we are making a mark and offering something different than what is currently out there on the venues front," she added.
Interested in getting married at The Orchard House at Old Edwards Inn and Spa? Find out more at www.oldedwardsinn.com.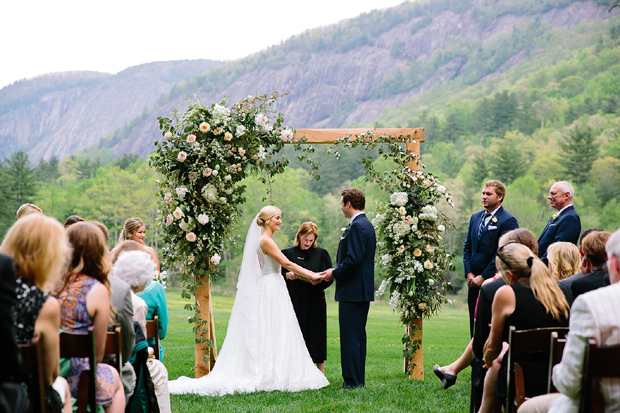 Lonesome Valley
Located in the Cashiers, N.C., area, Lonesome Valley is an 800-acre private, gated community nestled in the Blue Ridge Mountains. It encompasses land that has been in the Jennings family for four generations.
Ceremonies are typically held in the Great Meadow, an open, well-groomed meadow with the towering granite faces of Cow Rock Mountain and Laurel Knob serving as a majestic background. Sarah Jennings, Special Events and Marketing Director for Lonesome Valley says "the view is breathtaking regardless, but when you put a loving couple and all their friends and family in front of it, it becomes magical. Guests sit in awe of the setting."
Lonesome Valley offers Jennings Barn as an event venue to complement what nature has to offer. The space showcases the detailed craftsmanship of traditional post-and-beam architecture as well as the award-winning Canyon Kitchen restaurant. Completed in 2009, Jennings Barn features large indoor and outdoor stacked stone fireplaces, massive exposed ceiling beams, unique rope basket light fixtures, and multiple barn doors that line the walls and can be opened to create a pavilion-style atmosphere.
Weddings at Lonesome Valley can accommodate up to 250 guests, and the destination inherently provides a lot of style without dictating a vibe, Jennings said.
"The ceremony spaces or Jennings Barn can be left simple or dressed up," she said. "We have had affairs that were black tie, casual, gilded, modern, etc., and all seemed natural in the space."
While the look and feel of a wedding are important, Lonesome Valley doesn't stop there.
"Our view is certainly our biggest selling point, but if anyone has dined at Canyon Kitchen before, then they are sold from the first bite," Jennings said. "Immediately they understand that their guests will be taken care of and have a memorable experience."
The culinary staff uses fresh produce and organic selections from the restaurant's community garden and the surrounding area of western North Carolina to create extraordinary seasonal menus.
"For all private events, our menus are customized to the clients and their story," Jennings said. "They will sit down with our Executive Chef Ken Naron and Food and Beverage Manager Abby Powell to create a culinary experience for their big day."
Lonesome Valley's focus on a complete experience has garnered national recognition, including being named Best Venue in North America by BizBash and among Best Venues by Brides magazine. It is also currently featured in Martha Stewart Weddings.
Jennings said she encourages couples planning a wedding among the mountains to visit Lonesome Valley.
"They should book here if it feels magical to them," she said. "This is a special place that can only be understood once you are here. Some people are struck by it and some aren't. That's how we know if Lonesome Valley is the right place for them."
Interested in getting married at Lonesome Valley? Find out more at www.lonesomevalley.com.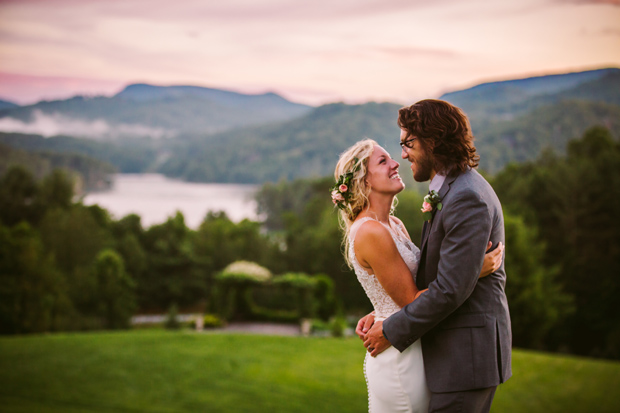 Sawyer Family Farmstead
Sawyer Family Farmstead in Glenville, N.C., began when Tom Sawyer bought the 80-acre property in 1989 for Christmas tree farming. During the past nine years, it has grown into a majestic venue hosting over 400 on-site weddings overlooking Lake Glenville and the Blue Ridge Mountains. The space can accommodate up to 200 guests with the facilities as is, but with a small amount of tenting it can host events for over 250.
"Typically, we host both the ceremony and reception on the property," said Nicole Wade, Director of Weddings and Events for Sawyer Family Farmstead. "We often also host rehearsal dinners/welcome parties, luncheons, and farewell breakfasts for each group. With our on-site lodging for up to 24 guests, we enjoy hosting their weekend of celebrating. We have spaces for the entire wedding party to get ready, so most groups spend the entire day here getting ready and enjoying time together."
With an elevation of over 3,400 feet, the temperatures at Sawyer Family Farmstead are mild and pleasant even during summer months. In addition, the venue hosts only one event per day and offers a variety of wedding packages that can be customized for the couple as needed.
"We offer for every couple personalized attention with customized timelines, floor plans, and wedding day event guidelines to ensure success and enjoyment for everyone involved, including the couple and their parents," Wade said. "Approximately 98 percent of our couples are planning a destination wedding, so we feel like one of the best things we can do, is to help connect them to the perfect vendors to make up their wedding day team, which is why we work really hard to maintain strong relationships with local vendors. We consider all the vendors to be on a team and work alongside them to ensure a smooth day. Although we provide an extensive list for vendors, we still allow the flexibility for the couple to choose any vendor they would like."
The family-owned and operated venue includes its planning team, boasting 40 years of experience, in all packages, she said.
"We even load exit vehicles and ensure the couple's items go with them, along with a to-go box in case they are hungry when they reach wherever they are staying on their wedding night," Wade said. "Over the years, we have enjoyed working with couples from all over the country, from varying backgrounds, experiences, and ethnicities. We are always committed to making each couple's wedding day their best day ever."
Sawyer Family Farmstead promises breathtaking views, a beautiful property, a large porch with rocking chairs and twinkle lights, and the tranquility that comes with being surrounded by the sounds of nature. It has been featured on Style Me Pretty, Borrowed & Blue, and Mountainside Bride websites. The venue has also received Wedding Wire and The Knot Best of Awards numerous years in a row.
Interested in getting married at Sawyer Family Farmstead? Find out more at www.sawyerfamilyfarmstead.com.
More Wedding Venues
Secluded between the North Carolina mountain towns of Sylva and Franklin, The Vineyards at Betty's Creek combines rugged wilderness with tastefully cultivated land for an unforgettable wedding experience. The venue offers multiple location options and can help couples find the best vendors to cater to every need. Groups may rent the venue for the full weekend to take advantage of the Honeymoon Cottage and five en-suite bedrooms at the Dunkard Barn Lodge. Details: www.thevineyardsatbettyscreek.com
The Vineyard at 37 High Holly is nestled on 20 acres in the Blue Ridge Mountains in Scaly Mountain, N.C., just outside of Highlands. In 2009, the Vance family set out to blend their love for the outdoors with a good challenge by restoring the historic land, which served as the backdrop for their own daughter's wedding. Today, the venue boasts 13 different varietals under vine, creating a spectacular setting for weddings. Details: www.thevineyardat37highholly.com
Located in Dillard, Ga., Julep Farms is a 22-acre modern farm resort with multiple venue sites and amenities to make your wedding day magical and memorable. Features include your choice of outdoor ceremony sites with mountain views, food and drinks from Julep Kitchen, modern cottages for friends and family to stay in, and the newly built Social House Event Hall where you can celebrate with up to 200 people. Details: www.julep.farm
Described as "a park for the people," The Village Green offers 13.2 acres in the heart of Cashiers, N.C. Its natural beauty makes it an ideal setting for a wedding ceremony. Featuring a mountain rustic pavilion and a sprawling meadow lawn, the park can accommodate a small wedding of less than 25 to a big party with 500 guests. During blooming season, it features native azalea and rhododendron as well as roses, hydrangea and award-winning dahlias. Details: www.villagegreencashiersnc.com
Trillium is a private residential lake and golf community situated in Cashiers, N.C., in the heart of the Blue Ridge Mountains. It offers multiple venues to host weddings of all sizes, ranging from a simple party of 10 to elaborate events with 200 or more guests. There are a range of options customized to suit any taste, and Trillium's planning staff can assist with the complete design of your special day. Details: www.trilliumnc.com
Whether you are planning a sophisticated, intimate affair or a lavish, expansive celebration, The Chattooga Club in Cashiers, N.C., promises to deliver "effortless elegance." Its distinct wedding venues provide indoor and outdoor spaces guaranteed to bring a dream mountain wedding to life. With on-site catering available, seven Lodge Suites for family and guests, and staff members ready to execute your vision, couples can get all the help they need to create the perfect wedding. Details: www.chattoogaclub.com
Resting on the shore of Lake Toxaway, N.C., The Greystone Inn offers the beauty of the mountains and the water in a small luxury hotel that incorporates the amenities of a large resort in an idyllic setting. Wedding options abound. Couples can exchange vows overlooking the lake or reserve the entire property for their exclusive use. A team of specialists is available to ensure an exceptional celebration as you say "I do." Details: www.greystoneinn.com