Ski Sapphire Valley
25 Jan 2020
A true gem in the Blue Ridge Mountains
By BRITTANY CONLEY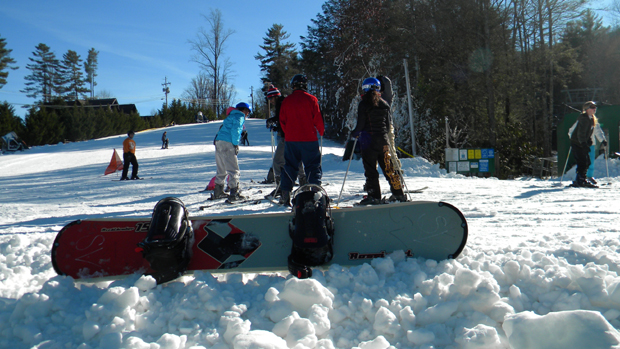 When it snows, all the romanticized notions of wintertime can be found in Sapphire, NC⸺mountains blanketed in soft powder, chimney smoke rising to meet wispy clouds in an otherwise blue sky, and the stillness of snow-covered evergreen forests. Visiting the area is akin to stepping inside a living Thomas Kincaid painting. But even when snow isn't in the forecast, there is still plenty to enjoy in Sapphire. Thanks to one of Western North Carolina's most beautiful four-season resorts, Sapphire also has snow sports in spades.
Play
Ski Sapphire Valley is the closest ski resort to Atlanta and is perfect for beginners and families seeking a relaxing winter vacation. You'll find two slopes: a respectable 1600' run with a 200' vertical drop, and a much smaller bunny slope ideal for first-time skiers or snowboarders.
Once you arrive, if you realize you've forgotten your skis, poles, boots, or parka—or if you simply don't have your own gear, worry not. Ski Sapphire Valley has you covered with a fully-stocked rental facility and store on site, staffed with knowledgeable and friendly people who can answer all your questions and help you pick out the perfect equipment. If needed, Ski Sapphire Valley also has a staff of top-notch instructors who are sympathetic to a beginner's qualms and provide a kind and encouraging atmosphere. Book some time with their ski school and you'll be gliding down the slopes in no time.
If you want to take a break from skiing, be sure to check out their snow tubing hill, Frozen Falls Tube Park. This wildly popular attraction is next door to the bunny slope, so you won't even have to leave the property. A "moving sidewalk" carries guests and their tubes up the snow-capped hill. Once at the top, hop aboard your tube and glide down the 500' run with a 60' vertical drop and then do it all over again. Your ticket for Frozen Falls grants you almost two hours of snow tubing.
Stay
If you'd like to extend your family's ski trip, there are plenty of accommodations at Ski Sapphire Valley—though you won't find the typical ski lodge. The beautiful Foxhunt Townhouses are 1.7 miles from the slopes and comfortably accommodate up to six guests, with fully equipped kitchens, two bedrooms, two full baths, a private balcony, and a fireplace. There are other lodging options nearby, including two timeshares, hotels, and several privately-owned rental properties.
Depending on where you decide to stay, you may be eligible for additional resort amenities not open to the general public, such as golf, tennis, pickleball, indoor hot tubs, and more.
For over fifty years, thousands have made Ski Sapphire Valley a family tradition. Check out their website at SkiSapphireValley.com for up to date information about ski conditions and make this year the year you start your own tradition—let them make the snow, you make the memories.