The Art of Home Design
04 Oct 2023
The Cashiers Historical Society's Designer Showhouse is a Showstopper
Story by DAWN LILES
Photos by CAROLE SHEPARDSON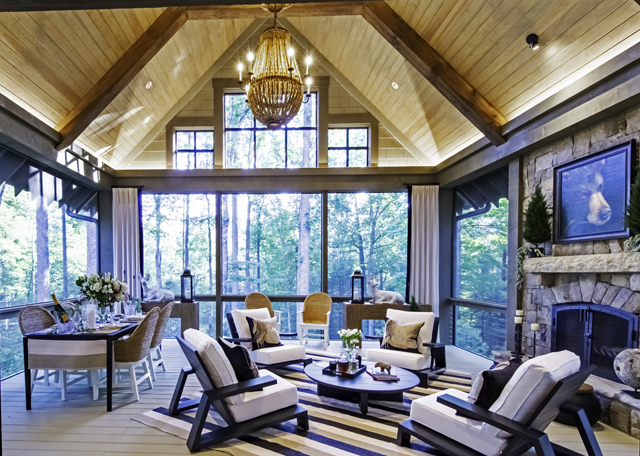 For the past 26 summers, a group of interior designers from across the Southeast have made the plateau their home base while they transform a local home into a work-of-art. Thousands of visitors have traveled to Cashiers to be awed and inspired by the designers' creations. Their support translates into funding for ongoing programs at the Cashiers Historical Society (CHS). This one event provides much of the needed funding for the upkeep of historic buildings and the educational programming offered by CHS.
Throughout the year, CHS offers programming and events related to the history of our area. Newly appointed CHS executive director Amelia Golcheski says, "In the next year, I would like to develop a program to record oral histories and invite people to share their photos so we can continue to archive and preserve the histories of the Cashiers Valley. History is happening every day! It's just as important to actively preserve aspects of our life today for future generations as it is to protect the old buildings and items that tell the history of life over a hundred years ago."
This year's house was a grand, custom-built 4-bedroom, 4.5-bath home by designer-builder Jim Robinson of Design South Builders in Cashiers. The luxurious home is in Chimney Top, the newest neighborhood at the illustrious Club at High Hampton.
The house was originally a custom design-build for a client. "When it became the Showhouse, it took on a life of its own," says Jim. "It was fun to see each interior designer personalize their room with their own taste and personality."
Jim and his team wanted the house to have a sense of belonging in the beautiful mountain environment. "Our use of natural materials and a color pallet of earth tones allows the house to harmonize with its surroundings," says Jim. "The cedar roof and siding along with the natural stone give the house a sense of rustic permanence to the exterior, while the interior finishes have some elements of refinement. On the ceiling in the kitchen and dining room, we used an authentic venetian plaster between the stained coffered ceiling beams. We also used a venetian plaster on the vent hood with a dark stain that makes it appear to be metal."
For the exterior aesthetics, the massing of the house is broken down into multiple forms that work with each other in an informal balance. "I consider the design of each house a collaboration with the client to reflect their tastes, lifestyle and personality," explains Jim. "My CAD software allows me to design in three dimensions, exploring the overall form from every angle. My architectural degree, coupled with my building experience, allows me to carry the design process throughout the building process, making tweaks and detail decisions along the way."
If you toured the house, you know color in design is trending again. The grays and muted tones popular during the height of the pandemic have been replaced with colorful wallpaper, walls and artwork, and rich and exquisite fabrics for furniture and window coverings.
"We've gotten lots of comments from the public that the house flowed really well this year, and the individual rooms formed a cohesive whole," says Ellen Turner, Showhouse co-chair, along with Stacie Platt. "Color is back, and this house was perfect for multiple generations with the addition of a beautiful porch, an outdoor fireplace and seating area, plus a bunkbed room on the 2nd floor."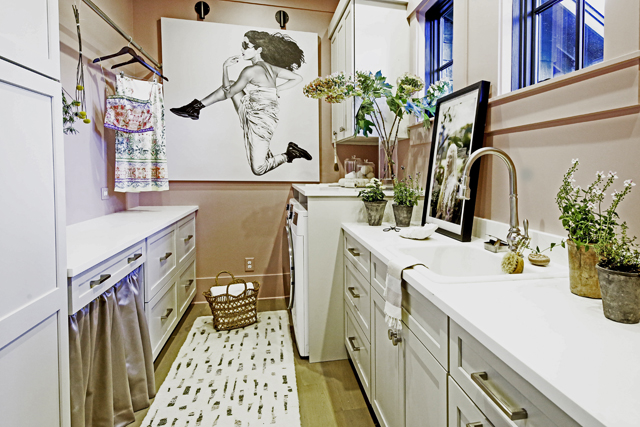 Designers Work Their Magic
Eleven of the fifteen designers have taken part in past CHS Showhouses. One of the veteran designers is Lynn Monday, owner of the eponymous shop Lynn Monday Home in Cashiers. Lynn has designed rooms in many different Showhouses over the years, and this year she chose to create a haven on the porch. "It has been my pleasure as a designer to showcase my talents for the past 25 years," says Lynn. "Seeing other designers' work has been inspirational. Ideas come from other ideas. This house was beautiful, and when the bones are spectacular it is easy to showcase your work."
Each space is unique and expresses the imagination of the extraordinarily creative designers. The day Plateau Magazine stopped by the Showhouse, several designers were greeting guests in their spaces. Birmingham, Alabama-based designer Lisa Wester created a dining room using pieces from mostly women artisans. She sourced a one-of-a-kind chandelier that was handmade by women artisans in South Africa and features hand-chiseled crystals wrapped in hand-stripped and dyed bovine leather strips. The custom-made dining chairs feature hand-sewn welts and kicks, and the table settings were made in Asheville by a women-owned company.
Designer Douglas Hilton of DWH Interiors in Atlanta, a veteran of several CHS Showhouses, created a new and unique space this year – a yoga room. "The room could be an office, but I chose to make it a yoga room to do something different," says Douglas. The well-thought out room boasts serene pinks, whites and silvers to add to the calming space. Draperies and wallpaper came from Cowtan and Tout, and Douglas added unique touches like Lucite sconces, which allow the pieces displayed to be the focus. He also added crystals, several Himalayan singing bowls from Silver Eagle Gallery in Highlands and paintings by award-winning artists Suzy Schultz and Cathy Hegman.
Eric Ross of Eric Ross Interiors in Nashville created the living room for the 2019 Showhouse and was back this year, designing a 2nd floor bedroom and bath. His classic blue-and-white color scheme was accented with Worthen twin beds layered with Peacock Alley bedding, draperies and a valance in a blue-and-white Cowtan and Tout nature print, a Turkish carpet and porcelain plates hung on the walls. "I'm drawn to old, classic interiors," says Eric. "No matter what your style is, your home should represent who you are on your best day."
One of the new designers this year was Heather McKeown of Land and Sky Designs in Charlotte. Her goal when designing the laundry room was to create a beautiful oasis where you could hang your clothes – and your flowers. "The paint color we chose was cinder rose, from Farrow & Ball, a lovely shade of pinky lavender that is present in the hydrangeas and Joe Pye weed covering the mountains this time of year," explains Heather.
"While we aimed to create a serene and uplifting canvas for the walls and ceiling, I wanted the art to be bolder. We chose pieces from the Toshkova Fine Art Gallery in Charlotte that represent women standing in their power. We all need a little energy and motivation when it comes to doing laundry, no?"
McKeown also designed the mudroom adjacent to the laundry room. Because the mudroom is ultimately the entrance used by most families, she wanted to create a space that felt like a continuation of the deep forest beyond the property. Pulling colors from the shimmery grass cloth, her team selected a jade green for the trim and ceiling and a golden yellow (Farrow & Ball Sudbury yellow) for the built-in bench. "Organic shapes on the mirror and brass hanging hardware temper the angularity of the room's architecture," says Heather, "while a custom oversized sheepskin floorcovering, by Belgian artist Sabine Maes, provides the softest landing zone imaginable."
Adding to the fun this year was an art gallery staged in the garage of the Showhouse and featuring works from the Atlanta-based Gregg Irby Gallery, which represents more than 20 artists in Georgia, North Carolina and Florida.
Volunteers Make it All Happen
None of this would be possible without the dedication and support of hundreds of volunteers as well as experts who offer workshops throughout the nearly two week event, which began with an Opening Night Party on August 24. Planning for the Showhouse began early in 2023, when two organized, generous, talented and optimistic women agreed to take the helm and bravely step into co-chair roles. Ellen Turner and Stacie Platt, senior designer and retail manager of Rusticks in Cashiers, knew little about each other before agreeing at a holiday party last December to work tirelessly for months to organize the Showhouse, the workshops and the Vendor Village shopping experience that took place in Lewis Hall at the Village Green.
"Groups come from all over just to attend the Showhouse, so we wanted to make it a memorable experience," says Ellen. "Stacie and I had a wonderful time working together. I feel like we were a match made in Heaven!"
"We talked every day for months," Stacie explains. "I have been involved in many Showhouses, often as a designer (this year, Rusticks designed the living room), but this was my first time as a chair. Ellen and I laughed a lot, and we both said we would only do this if we could make it fun because otherwise, what's the point?"
"There were a lot of moving parts," continues Ellen. "We were excited to offer incredible events every day, and the logistics can be challenging. Our hundreds of volunteers were amazing, and they bond with each other every year. This is just a fantastic way to bring our community together, and we hope everyone walked away with a wonderful experience."
For more information on the Cashiers Historical Society, please go to their website at www.cashiershistoricalsociety.org.
About the Builder
Jim Robinson, designer and builder of the Showhouse, has a long history of supporting the art community here on the plateau. He brought his love of art to this year's Showhouse by including selected works for the kitchen by featured artists from The Bascom Center for Visual Arts in Highlands. These items were all available for purchase to support The Bascom, the artistic community, and the Cashiers Historical Society.
The Bascom has been a vital cultural resource for Western North Carolina for more than 30 years. Artists represented at the Showhouse included Robert Burch of Green Energy Park in Sylva, Jill Childress, Frank Vickery, Director of Ceramics at The Bascom, and C. Turner. Jim also included a special piece of art created by his late mother, an acclaimed artist who inspired Jim's creative side. Jim's hope is that he passes on that same encouragement to young artists of the plateau.
The Designers
Land and Sky Designs: Heather McKeown, Charlotte, NC – Laundry Room/Mud Room
Hallie Lycans with Design South Builders – Cashiers, NC – Kitchen
Lisa Wester Interiors – Birmingham, AL – Dining Room
Stacie Platt with Rusticks – Cashiers, NC – Great Room
Red Door Design Studio: Abbi Williams – Atlanta, GA – Front Porch
Spruce Interiors – Highlands, NC – Entry/Powder Room
Lynn Monday Home – Cashiers, NC – Porch
Douglas Hilton with DWH Interiors – Atlanta, GA – Office/Yoga Room
Nellie Jane Ossi with Mrs. Howard – Jacksonville, FL – Primary Bedroom
Holly Watson with Acorns Boutique & Old Edwards Inn – Highlands, NC – Primary Bath/Closet
Platt Home – Brevard, NC – Bedroom and Bath #2
Eric Ross Interiors – Nashville, TN – Bedroom and Bath #3
Maggie Griffin – Gainesville, GA – Bunk Room and Baths
Janice Dietz – Atlanta, GA – Upper Sitting Area/Hall and Upper Laundry
Lauren Robbins – Augusta, GA – Outdoor Living Area
For more background information on these amazing designers and the firms they represent, please check out cashiershistoricalsociety.org/designers-23.
The Sponsors for the 2023 Cashiers Designer Showhouse
Presenting Sponsors
Allen Tate Realtors
Design South Builders
Legacy Sponsors
Hampton Realty
High Hampton
Rusticks
Heritage Sponsors
Brevard Home & Garden
Cashiers Valley Real Estate
Crawford Construction
Design Insider
Elite Technology
Eric Ross Interiors
Highlands Wine Shoppe
Jerry Pair
Lonesome Valley
McKee Properties
The Chattooga Club
Historic Sponsors
Caliber Fine Properties
Joan Anderson Interiors
Lehotsky & Sons
PLATT
The Ridge
Cultural Sponsors
Gracewear
Hotel Cashiers
Kathy Slater Design Collection
Lee & Associates
Man with the Van
MHK Architecture & Planning
Murdock Accounting Services
Sherwin-Williams
Spinx
Toby West
Watershed Home & Garden Shoppe
Worthen Furniture
Zoller Hardware
Media Sponsors
Atlanta Homes & Lifestyles
Plateau Magazine
Associate Sponsors
Brookings
Cashiers Smokehouse
Cornucopia
Chile Loco
Crossroads Custard & Cold Brew
Slab Town Pizza
The Orchard
Vivace