The Art of Healing
04 Oct 2023
The life and work of Dr. Steve Hinkey
Story by LIESEL SCHMIDT
Photos by CHELSEA CRONKRITE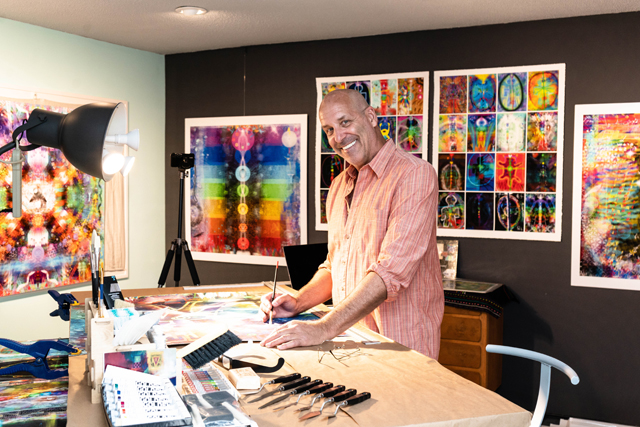 "I was raised in a cornfield in Ottawa, Illinois, by people who constantly asked, 'Where did you come from?' Fortunately, I made my way to Hollywood at the age of 19, where I was discovered by actress Diane Ladd, driving her in my Rolls Royce limousine. In her agent's office, about to make the big deal of the day, I woke up and walked out, passing on fame and fortune to begin spiritual progress of my own—and embark on a quest to deliver spiritual progress to others."
Dr. Stephen Hinkey's origin story reads like fantasy fiction. And yet all of it is true—and all of it got him where he is now, a renowned healer whose name brings people from across the world.
The spiritual progress Hinkey refers to, as well as his desire to bring that to others, wasn't some self-help-book-inspired epiphany. It was a journey guided by those who were on that path themselves. "When I was 19 years old, I was identified as a pure telepath and energetic healer by a renowned theosophy group, and by the top homeopath/nutritionists in Los Angeles, who invited me to be their scribe," Hinkey recalls. "It was then that a natural healer was born."
Hinkey is talking about energetic healing, intuitive touch, and spiritual connectedness on a plane that most of us can't comprehend. As a Western society, we're taught to be skeptical of the healing arts and question the curative abilities of others when they can't be explained by science.
Nothing of Hinkey's life follows logic—and, in fact, it often defines new science. "I learned to read fluently in seconds at two years old and could discuss adult subjects with ease as a three-year-old," he contends. "I studied global religions and philosophies intensely from the age of six until I was 19 years old and had meetings with remarkable seers and creators, like Tibetan lamas, mystic Catholic and Christian priests and monks, North American Indian medicine men, East Indian Hindu and Vedic swamis and yogis, Zen masters, Amazon Shipibo elders, and so on. People sought me out, or I was taken to them, until I traveled around the world by myself 20 times to learn, teach and share in the gifts of others."
Hinkey has story after story of the cases he has worked on: the hopeless people who sought him out when they were left with no hope, the radical healing that he was able to give them. "My first patient had a brain tumor and no chance to live," says Hinkey. "His doctors gave him days. I cracked it and gave him 17 years. I became known as 'the miracle doctor,' or 'the one you see last.' Hundreds of people came to me, having been written-off after seeing 15 to 20 doctors and healers each, with no help. I didn't lose one patient to their disease or trauma in the first seven years of my practice."
Miraculous, to be sure—but again, where's the science to back up that it's not a fluke?
"When Dr. Willis Harman, futurist at Stanford and co-founder of Stanford Research Institute and Noetic Sciences with astronaut Edgar Mitchell, came to me with a brain tumor and lived, he tested my work," Hinkey says. "He declared it the single most powerful thing they'd ever measured. A doctor from the Pentagon brain-mind lab showed up and tested 105 people for a month, before and after, to determine that it was the single most potent, accurate and
transformational work ever measured, that it worked every time and that there was nothing like it—or me—on Earth."
Despite the Western skepticism surrounding work such as his, the fact that Hinkey has become so widely known and sought after in his 49 years of practice is a testament to the power of his abilities—both in online and phone sessions, as well as in person. Still, the plateau-area transplant faces one major challenge: "Since I moved here, I'm like the best-kept secret."
Sessions with Hinkey may include drawing his patients' energy bodies, both inside and out, to reveal problem areas or "conducting an energetic exam of the systems, glands, organs, nerves, blood vessels, brain waves, chakras or energy centers, and so forth to uncover the reason for the session. Is it disease? Or a stuck past? Is it dysfunction? Or radical transformation? Is it a baby step? Or Spiritual progress? Or does it just seem like a good idea at the time? What I say or do could startle you, awaken you, remind you or free you. Progress and transformation are totally possible. At the very least, you'll enjoy some fun conversation and learn some ways to follow-up or open your lifestyle to healing and greater wellbeing."
Art is also an important part of Hinkey's diagnostic, transformational and therapeutic process with his new patients. "Diagnostic art opened my own spiritual progress and gave me a major aspect to help others open themselves to massive healing results. I teach this to willing doctors, and often draw my patients."
Hinkey and his partner, Beata Gola, show Steve's work as art to patrons in their newly opened gallery, Art Highlands Gallery, located in Highlands. More than 40 artists' work fills the gallery spaces, each selected for their creative talents and spiritual progress in life. "Every artist we represent is a true creator loving integrity," Hinkey says.
To anyone seeking more for their own life, Hinkey offers this advice: "Expect the unexpected. Live life to the fullest, even if you are bedridden or think you're too old or damaged or angry or lost to even enjoy one second. Even in agony there is joy. It is my honor to help you do that."
For more information, call 310.488.8310 or visit stevehinkey.com