Summer Soirée
08 Jun 2021
On the plateau, conversations about the arts, conservation and humanitarian efforts thrill just as much as golf, croquet, gardening, outdoor activities and book clubs
By Kat Ford
Photos Tiho Trichkov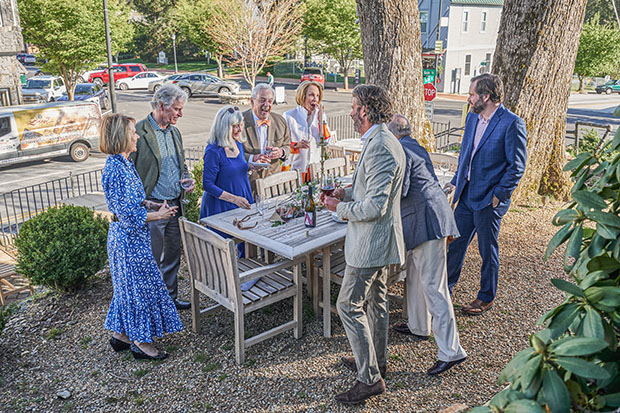 Who doesn't love a summer pastime where stories are told, ideas swapped and revelry enjoyed? With the backdrop of Highlander Mountain House, where owner Jason Reeves created their Salon Series, designed to illuminate the unique surroundings of Appalachia and the creative work that it inspires, we invited nine guests to speak with us about what learning, leadership and philanthropy mean to them. Surrounded by floral arrangements created by Kirk Moore of Oakleaf Flower & Garden, known for their signature style crafted with attention to historical and horticultural significance and celebrating the plateau's sense of place, we asked our guests to consider five simple questions.
What is your educational/occupational background, and how has it influenced your interest in learning, leadership and giving back to your community?
What are your favorite avenues for learning or experiencing the arts and sciences while on the plateau?
Which local nonprofits and causes align closest with your vision of a better tomorrow?
What does community-minded leadership mean to you?
If someone were to ask you how they can get involved in learning, leadership or supporting nonprofits during a soirée this summer, what would you say?
Jason Reeves
Charleston, SC, and Highlands, NC, when on the plateau
1. I have a bachelor's degree in economics from Sewanee, a master's in preservation from Boston University and a master's in real estate and urban design from Harvard. I have been a student of history my entire life growing up in Virginia. My mother was curator of two notable house museums, and we lived in a series of historic homes in the countryside that we restored. I witnessed the transformation of slow and steady development threatening irreplaceable historical and natural assets. I learned that green space, historical resources and involved people are essential components of a strong community, so preservation and conservation became a calling and a passion for me. It has influenced almost everything I've done in my professional and philanthropical life.
2. I am big on the layers of history and historic context, so the Highlands and Cashiers historical societies are always where I start. In terms of the arts, The Bascom is such an important component of this community for education; my hotel has partnered with them on artist in residence programs during our Salon Series.
3. The historical and preservation societies of Highlands and Cashiers, including the Highlands-Cashiers Land Trust.
4. To me, it means that we are stewards of this community and this beautiful part of the world. We need to have a long view of the way it is preserved when growth happens.
5. Email Kat Ford, managing editor of Plateau! She's an amazing resource for getting involved! (Plateau Magazine featured a nonprofit roundup story in our February/March 2021 issue, readers can view this article online at www.theplateaumag.com.)
Diane and Ray McPhail, Highlands, NCI have a triple-major BA from Ole Miss, an MFA from Georgia State, an MS for University of Vermont, and a Doctor of Ministry from UCS, California.
1. Diane: I have a triple-major B.A. from Ole Miss, an M.F.A. from Georgia State, an M.S. from the University of Vermont, and a doctor of ministry degree from UCS, California. My years as a therapist and spiritual retreat leader have made me keenly aware of the often-hidden difficulties people face. My life has always been focused on involvement in my community, with special interest in working to meet such needs, including our local initiatives to provide student scholarships, having been a beneficiary of that myself.
1. Ray: My educational background consists of a B.A. from Mississippi College and a M.S. from Georgia Tech.

2. Diane: As an artist myself, The Bascom has been a priority for me since it was housed in the library years ago. It has been an exciting journey to participate in its growth into a major regional center at multiple levels. One of my most rewarding experiences as a volunteer was working with the Literacy & Learning Center, using my experience as an art therapist, using drawing and storytelling to help kids master difficult and confusing English words. Recently I have been very involved with the local vaccine clinics. What those vital services have accomplished on the plateau is both reassuring and exciting. For my own learning experience, I am a big supporter of the CLE and the range of high-level presentations they offer, including a trip to Cuba I would never have had other opportunity to do. I am an avid Rotarian, which provides me with means to accomplish a great deal in multiple areas. I am also on the board for the Counseling & Psychotherapy Center of Highlands.
2. Ray: I really appreciate the lectures at CLE and the music events at the Performing Arts Center.
3. The free health and dental clinics, Pisgah Legal Services, REACH, the Literacy & Learning Center and the Counseling & Psychotherapy Center of Highlands.

4. Diane: There are so many ways to serve community needs, from financial support to deep personal engagement. The truth is that we need all of that and no one person can do everything. But if each of us does even one small part to serve the needs of others here, for example, donating used clothing to Fibbers, our combined involvement makes an immense difference in how we all are able to live here.
4. Ray: For me, it's a function of making contributions. My hat is off to those who donate their time.

5. We'd love for there to be an evening opportunity to hear presentations from one or more of the nonprofits on their needs and the avenues of involvement each has to offer, as well as how the different nonprofits intertwine to support each other.
Justin Souma
Highlands, NC
1. I graduated from Furman University Greenville, SC, with a B.A. in business administration, became a financial advisor in 2004 with A.G. Edwards and Sons, currently with Benjamin F. Edwards & Co, in Highlands, NC, since 2015. My work gives me the opportunity to engage with so many different people and entities. The transparent conversations with nonprofits about their needs and with individuals who are planning their own legacy provides me a unique perspective for the community.
2. The Bascom is the steadfast, traditional experience, but I also enjoy the spontaneity of the pop-up experience provided by the various arts and crafts exhibits on The Village Green in Cashiers and the Kelsey-Hutchinson Founders Park in Highlands. I love having Highlands Biological Station to take my family to in the summertime. The Cashiers Historical Society's annual symposium and Heritage Apple Day are great ways to learn about the community.
3. The plateau is blessed with an exceptionally strong Rotary presence, made up mostly of local business owners and community leaders. Rotary supports so many nonprofits, such as the Highlands Food Bank, Highlands Scholarship Fund, and the Blue Ridge Free Dental Clinic, to name a few, with the goal of providing opportunities to better the lives of our permanent community members.
4. It means working to find a balance between the growth of the plateau and making sure we don't leave behind the people that make it such a wonderful place to live.
5. Volunteer! Reach out to the nearest chamber of commerce and find out what nonprofit events might interest you and volunteer to help during the event. You never know whom you might meet while lending a hand.
Bev and Wally Seinsheimer
Charleston, SC, and Cashiers, NC, when on the plateau
1. Bev: I have a B.S. in nursing from the University of Virginia; I was a cardiac nurse then a historic real estate broker. Being a nurse brings a compassion for caring, and I learned the importance of giving back as a young adult.
1. Wally: I went to Tulane and the University of Cincinnati. My career was in real estate development, community service was a part of my family's culture, and mine began in high school. Community involvement in each place I lived was my initial activity.

2. Our interest in collecting art led Bev to board involvement at The Bascom, and Wally's experience in healthcare led him to the Highlands-Cashiers Hospital board. From these experiences, we learned about the communities' other needs and jumped into most of them.

3. Protecting our natural beauty, resources and quality of life from conservancy to improved governance.

4. Giving to a place that gives all of us so much and bringing ideas from our prior experiences to give back.

5. Inquire as to what are their interests, passions and skills. Seek out matching organizations and be prepared to give time, talent and treasure.
Renee Byrd
Cashiers, NC
1. During my undergraduate studies in horticulture and graduate degree in plant and environmental sciences at Clemson University, many of my classes focused on service-based learning. These experiences not only allowed students to apply what was learned in the classroom to real-world challenges, but also instilled an appreciation for the importance of collaboration in communities.
2. So much can be learned by connecting and having conversations with others in the community from various backgrounds. We are also fortunate to have many educational opportunities through organizations such as The Bascom, The Village Green, The Highlands Biological Station, and the Southern Highlands Reserve, among many others.
3. The Village Green in Cashiers holds a special place in my heart. The park provides opportunities for community members and visitors of all ages to experience nature, discover, learn and become conscious stewards of the earth.
4. Community-minded leadership revolves around a collaboration of diverse members of a community with the goal of sustainably improving the health and well-being of the community and its environment. Leadership success depends greatly on motivation to create positive change in the community and willingness to listen and learn from various perspectives.
5. I am grateful that there is a diverse, interconnected network of nonprofit organizations and volunteer opportunities that are focused on the well-being of our local and regional community and environment. Reaching out to any of the organizations that resonate with your interests, knowledge and experience for learning or volunteer opportunities will positively impact the community.
Jody and Wood Lovell, Highlands, NC
1. Jody: I attended both the Ohio State University undergraduate and law school furthering my education in London, England, with a master's in international business law and qualifying as an English solicitor.
1. Wood: I attended Tulane University and, after graduating, went into the military, then formed a real estate management company in Atlanta.
1: Both: In our youth, going to public libraries and discovering the myriad opportunities for gaining knowledge and learning made a deep impression. Consequently, Wood currently serves on the boards of The Hudson Library, The Macon County Library and The Fontana Regional Library System. We support all the local charities, as each has a noble purpose. We love the arts and were early supporters of The Bascom by naming the gift shop after Wood's parents, Carolyn and Dr. Wood Lovell.
2. This area is so active with numerous opportunities to experience the arts and sciences. We attend many events throughout the season and support local artists and charities.
3. We have served in "umbrella" groups which give to all of the charities. Wood was president of the Highlands Community Foundation for several years. This noteworthy organization accepts grants and makes donations to numerous charitable causes. Jody was a founding member of Cullasaja Women's Outreach, an organization that distributes approximately $100,000 annually to various local charities. All of the nonprofits on the plateau serve very worthy causes.
4. Community-minded leadership means serving by humble example and quietly contributing and encouraging dedicated volunteers.
5. There are so many opportunities to get involved. Wood encourages local supporters to volunteer at the Hudson Library's Bookworm- a bookshop where the proceeds support the library. Every nonprofit is searching for volunteers. We suggest that you ask locals for their recommendations for opportunities and visit the nonprofits that speak to your heart.