Ziplining The Plateau
08 Jun 2021
The outdoor activity you didn't know you'd love
By: Brittany Conley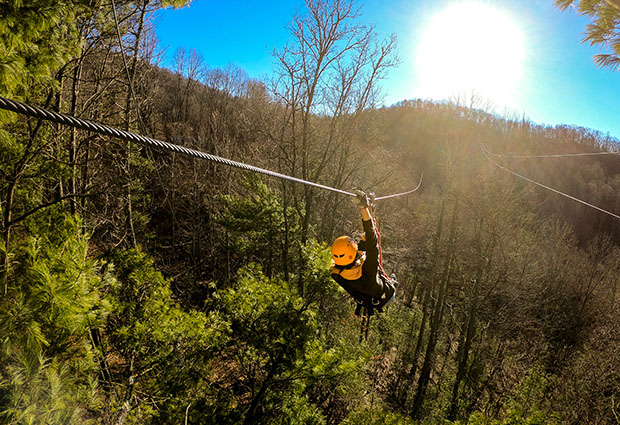 There are a lot of thrills in these hills. While watersports and hiking may get the bulk of attention around here, if you've ever envied the freedom of one of our peregrine falcons soaring through the sky or thought it might be fun flitting from one tree limb to the next like a rambunctious squirrel, The Highlands-Cashiers Plateau has something a little different in store for you. Ziplining tours are taking outdoor recreation by storm, creating enthusiasts with every heart-pumping, adrenaline-fueled adventure. And you don't have to look far for a place to glide through the trees—there are two great ziplining facilities right here in our neck of the woods.
Brief History of Ziplining
Contrary to what you might think, ziplining isn't actually new at all. There is evidence to support that ziplines have been used for many generations in places such as the Swiss Alps and the Himalayan mountain ranges as modes of transportation for both people and supplies.
Modern ziplines, however, were popularized after biologists began using them in the 1970s to study Costa Rican rainforests with as little natural disturbance as possible. Upon realizing we were capable of seeing so much of the natural world without interrupting it, the first commercial and eco-friendly canopy tours soon followed, with the trend quickly spreading across the globe. Still though, the true boom in the industry began just around twenty years ago and has been skyrocketing ever since.
Highlands Aerial Park
Spanning nearly 100 acres just outside of town, Highlands Aerial Park is on a mission to elevate your family's fun. With eight impressive ziplines and a whole heap of other activities, such as their Giant Mountain Swing, Dual 40' Tree Climbs, UTV tours, and a family challenge course, there are thrills found on every inch of the property, from mild to mind-blowing—they even offer activities for the littlest members of your family, or anyone who might be unsure about zipping across the treetops. Guests can take a gentle stroll along their trail to High Holly Creek where you can enjoy a scavenger hunt or try your hand at geocaching. The amazing staff welcomes you to try it all.
"We are a family park," says the park's CEO, Kurt Damron. "That's why we exist. To build multigenerational memories." During our chat, Damron emphasized the park's approach to ensuring everyone, young and young-at-heart, has an unforgettable time. From day one, guides are trained on world-class customer service and how to assess guests' needs, as well as how to help ease any potential trepidation for first-timers to ziplines utilizing the ground school training as well as the beginner line affectionately known as The Bunny Zip. "It's expected some people will be terrified," says Damron, but he's certain his highly trained staff can help soothe those newcomer nerves and ensure everyone has a great time.
The Half Mountaintop Tour gives you access to four ziplines, ranging from 45 feet high to 400 feet long, and will take roughly an hour to complete. The Full Mountaintop Tour takes you on all eight ziplines, including the massive Squealing Mare, on which you will soar between two mountain peaks 210 feet off the ground for a whopping 1,550 feet! Both the half and full tours are sure to please the adventurers in your party with two dedicated and experienced guides, a variety of aerial elements and a rush like you've never experienced before.
Sapphire Valley Resort
Sapphire Valley Resort is known for providing the residents of Sapphire, NC, nothing less than the very best amenities year-round. Luckily, a few of those highly coveted activities are available to the adventure-seeking public as well. Their golfing is top-notch, and their tennis courts are great, too. But for anyone looking to kick their adrenaline into overdrive, let Sapphire Valley introduce you to The Vordach!
The Vordach is a canopy tour that will have you flying through the trees on a total of 12 ziplines. If it's your first time ziplining, Sapphire Valley Resort's zipline manager, Zach Millis, assures that it usually only takes a few minutes to overcome those fears. "Sometimes we just let them hang back and let the others go, so they can tell us what's bothering them without feeling embarrassed in front of the others," Millis says. "It seems to help [them] if they're taken out of that situation." Millis also says that some people even choose the rappelling option offered at The Vordach to face their fears.
Just like many places, The Vordach was closed due to COVID-19, but they have plans to reopen soon, so keep an eye out on their website and social media channels for an opening date and times, as well as for updated pricing.
Five Tips for Beginners
If you're anxious to give ziplining a try, there are a few things you can do to help make your adventure the best it can be and memorable for all the right reasons.
What you wear matters. Closed-toe shoes are required. You don't want your favorite sandals flying off into the woods, never to be seen again! And wearing comfortable clothing you can easily move around in is also recommended.

It's probably not a good time for selfies. While most assuredly tempting, in the pursuit of the perfect Instagram shot, you may drop your phone in the process. Be sure to check the rules of the ziplining facility before your trip.

Secure your belongings to your person or leave them safely on the ground.

Rely on your guides. They are trained and there to help make your trip amazing and to keep you safe. If you have questions, concerns or anxieties: speak up.

Last, but definitely not least—Heed all safety protocol! Everyone wants you to have a great time, but the first step to having a wonderful trip is keeping everyone safe. Make sure you and your group are listening during training and being self-aware the entire time.
It might be hard to imagine that The Highlands-Cashiers Plateau could possibly get any more exciting than you already knew it to be. But whether you're looking to make lasting memories with your children or grandchildren, or if you want to round up your staff for some epic team-building exercises, you'd be hard-pressed to find a better opportunity than zipping through our lush forests.
If you feel you're ready to steel your nerves, both Highlands Aerial Park and Sapphire Valley Resort are ready to guide you on the adventure of a lifetime. You can get more information and check for any COVID-related closures or delays by checking them out on their social media channels, calling or visiting them online.
Highlands Aerial Park
828-759-5146
Sapphire Valley Resort
828-619-0097