Story Over Stigma
02 Dec 2022
Coach Joanne P. McCallie's Fight for Mental Health
By LIESEL SCHMIDT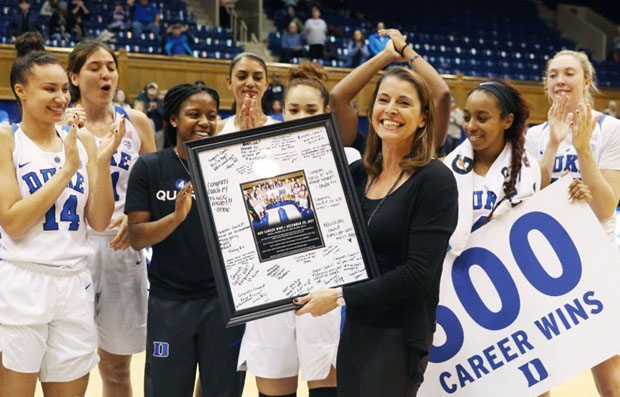 With all its chemical reactions and neural pathways that control not only our bodies, but also our emotions and psychological responses, the brain is a wonderous, complex thing. One factor can affect a myriad of other aspects of our lives and our health—and in the case of bipolar disorder, the chemistry causing imbalances in mood is something that can be incredibly harmful and make functional life impossible.
As common as mood and anxiety disorders are in today's world, there's still a stigma attached, so much so that seeking treatment can be a source of shame. De-shaming means talking about these issues and bringing them into the light, so that those who suffer don't feel they have to struggle in secret or in silence. All it takes is getting the conversation going. But that conversation must come from someone who speaks from personal experience, who is willing to stand up and be a face for an issue that has been hiding in the shadows.
As an outspoken advocate for brain health, elite basketball coach Joanne P. McCallie, known affectionately as "Coach P," has become that face, bravely stepping into the spotlight to bring attention to bipolar disorder as well as other mood disorders and anxiety issues. In her new memoir, Secret Warrior, she explores her own journey through bipolar disorder and how she learned not only to manage it, but also how she finally came to a place of compliance in realizing that something was wrong.
Diagnosed at age 30, McCallie was four years into her career as the head coach at University of Maine and the mother of an 18-month-old baby girl when she had her first manic episode. Life was clicking. Her career was taking off, her team was winning championships and recruiting was up. But there were still factors that worried the young coach and kept her up at night, triggering an episode of mania so severe that her husband, family and friends had to intervene. Under the guise of a gynecological exam, her husband John enlisted medical help from her doctor. And then, on one sunny fall day, he drove her to a hospital in Bangor, Maine, to admit her under psychiatric care.
Over the next two days, she remained adamant and even combative. In her mind, there was absolutely nothing wrong, and she was being held against her will. "I was not in a place of acceptance or compliance and really didn't think I should have been there," McCallie recalls. And so, she brought in a lawyer who facilitated her release after only two days.
Back home, she could have remained in denial. She could have walked away from the family and friends who were trying so hard to offer their help and support. But that human connection, as she says now, is what opened her eyes—that, and the weight of motherhood. "I realized I needed to get better for my daughter," she says. "That made me accept my condition and become willing to take the steps I needed to get well."
Those steps meant finding a psychologist and starting medications that would correct the chemical imbalances in her brain causing the bipolar disorder. "I still didn't want to take the meds right away," McCallie admits.
As effective as treatment was, there was a point that McCallie stopped taking her medication. The result was another episode—this time of depression rather than mania. "I learned a lot from that," she says. "I realized that this was my life and I needed to manage it."
Her plan forward included finding a psychiatrist who was more relatable to her, someone who explained the unique qualities of her brain. "She showed me that it wasn't all bad, that I'm smart, creative, organized and motivated as well as a high-performer," McCallie says. "She was also very convinced that if I took control of my bipolar, I'd be better than I'd ever been."
Taking control did, indeed, catapult her success even further, making her a more effective coach and improving her relationships with her players. Naturally, that translated into wins on the court. "I realized that when I'd gone off my meds and wasn't taking care of myself, I was letting my team down," McCallie notes.
She spent the next two decades coaching her teams to success, and after 28 years of head coaching, McCallie hung up her whistle and sat down to write. "I'd moved to Durham, North Carolina, and been at Duke University for 13 years by then, and my career was just at that point where it was winding down," she explains of what inspired her to write a book as open as Secret Warrior. "It was incredibly cathartic, but I knew that I couldn't have written it while I was still coaching. The media would have made my career all about my bipolar disorder, and if I was aggressive on the sidelines, they would have said it was an episode. Now that I've stepped back from basketball, I'm still a coach—I'll always be a coach—but more of a coach in life, in motivating people."
Part of motivating and coaching now is the speaking she does—for students, student athletes, administrators and various companies—all as part of the larger goal of raising funds for the brain health foundation she intends to create. In being candid about her own struggles and everything she has overcome, McCallie has opened the doors to others. "I have a tagline of 'Stories Over Stigmas,' and that's all about creating a human connection through sharing that enables you to take action in your life."
Always the coach, McCallie may no longer be along the sidelines of a basketball court—but the impact she's making is still a part of an incredible legacy.
Secret Warrior is available online at Amazon.com and in audiobook format at Audible.com.