Harnessing The Wild
02 Dec 2022
Falconry on the plateau with Peter Kipp
By MANDY MURRY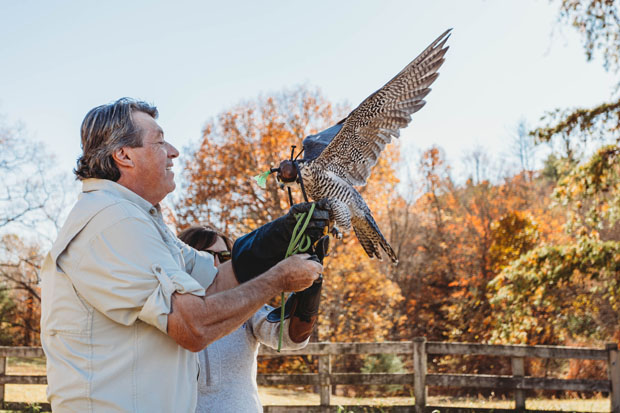 A once nomadic survival practice in the arid Arabian desert some 4,000 years ago, the art of falconry has crossed the globe as both a sport and a vessel for environmental appreciation. For more than 40 years, local Master Falconer Peter Kipp has taken his birds to schools, camps, assisted living communities, libraries, and other public venues, sharing his passion for the sport and the connection between falconry, the environment and healthy ecosystems. Today, Kipp is able to take small intimate groups out to learn about falconry and its environmental connection.
The history of falconry is disputed among historians and falconers. There is reason to believe that falconry began as early as 12,000 years ago. Human remains found in the Fertile Crescent, where modern-day Syria and northern Turkey are located, have been associated with mass quantities of hawk and eagle bones, suggesting this man-and-animal relationship existed prior to that of the horse-and-human relationship.
The ancient technique has played a major role in the saving of critically endangered bird of prey species and the rehabilitation of sick, injured, and abandoned birds of prey. Kipp was licensed for raptor rehab back in the early 80s and was a volunteer and consultant on the reintroduction of the Peregrine Falcon on Whiteside Mountain near Highlands in 1987. Many falconers such as Kipp are devoted to the conservation and protection of our air, water, wildlife and habitats. Kipp's friend, mentor, and colleague Jim Fowler of Mutual of Omaha's Wild Kingdom is a prime example of that.
Accordingly, some of the world's earliest known avian conservation laws, as far back as the 14th century, were established for the protection of prized falconry species. Drawing on this centuries-long legacy, falconers are now looking to their practice to not only protect and foster wild raptor populations but to protect and foster the habitats where they thrive.
The techniques for trapping and training birds of prey are thousands of years old and what Kipp calls time-tested. They have worked for thousands of years, and they will work for thousands more. Falconry is a practice with an historic impact on mankind, complementary to the impact of horses and dogs, only these birds of prey cannot be domesticated, which means they are acquired from their natural habitat or captive bred. Falconers have a connection to and understanding of the environment and thus recognize the natural capabilities of falcons, hawks and other birds of prey.
At the age of eight, Kipp stood eye-locked with a blood-red-eyed Northern Goshawk in the forest of his family's Connecticut property. The raptor, protecting a nearby nest, made all sorts of commotion to ward him off, but Kipp, in awe, stood steadfast. With encouragement from his father, the two pulled Birds of America and Encyclopedia Britannica off the shelf to look up the bird and falconry, and that was it for Kipp. Falconry became his calling and lifelong passion. At 12, Kipp caught his first red-tailed hawk from the wild, a ritual of becoming a falconer, and he has never looked back. Kipp now has 52 years of training and experience and is a sought-after educator in the field.
Falconry is not so much about a successful hunt as it is about a successful flight, which is a direct result of the training process. Falconry is a practice, each flight its own accomplishment and learning experience. It takes patience, time and education. It is an act of love, an act of "harnessing the wild," which Kipp has been doing for decades on the plateau.
Peter and then falconry apprentice Jeff Curtis of Curtis Wright Outfitters started Curtis Wright Falconry in 2014, one of only 20 or so outfits in the United States federally licensed for falconry education. Jeff is now a Master Falconer as well, and both offer a unique experience to get up close and personal with these incredible beauties.
During an outing, one can expect a magical experience working with the winged ones and a glimpse into a mystical tradition and working relationship between man and animal. Many of Kipp's clients use the words magical, spiritual and healing. I have had the opportunity to experience this great adventure. Having a raptor take flight and return to your arm is such an incredible moment. Words cannot express the royalty of this sport or how it feels to lock eyes with such a creature. Understanding is experiential.
"In nature, everything is interconnected and interdependent," Kipp explains. "Nature is a wonderfully perfect place, and all things have a purpose. Hawks are cool, falcons and eagles are cool, and we use all those in falconry, but they are no cooler than a cricket, snake, mouse or tree. The Predator/Prey relationship is one of the most important relationships as only the fastest, strongest and smartest escape the predator. Therefore only they reproduce, keeping the integrity of the gene pool of the prey species at its highest level."
Kipp challenges people's preconceived notions of animal intelligence and sentience. Each bird is unique and extremely intelligent, with its own likes, dislikes, and idiosyncrasies - not so very different from us.
Falconry has taught Kipp many things but the most important lesson is a love for all creatures great and small, and a desire to share that love.
CONTACT INFO:

Master Falconer Peter Kipp
828.553.5063
Curtiswrightoutfitters.com/falconry
Master Falconer Jeff Curtis
828.645.8700
Curtiswrightoutfitters.com/falconry