See you on the court
02 Aug 2022
Pickleball Takes Over in Highlands and Beyond
By Adie Lee
Photos by Chelsea Cronkrite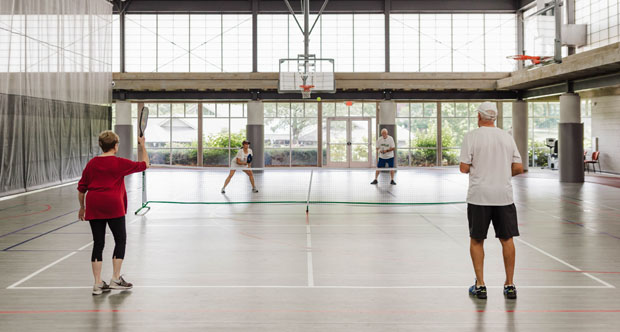 In our younger years, most of us heeded the adage from parents and coaches, urging us to "be a good sport." Just like a team's MVP, pickleball's rising popularity can be attributed to a spirit of fair play and inclusivity. If you've not been properly acquainted just yet, pickleball is part-badminton, part-tennis and part-Ping Pong, played indoors in the gym or outside on tennis courts marked at 20' x 44', creating a compact field of play.
Just Dink It
Pickleball, America's fastest-growing sport, was created in 1965 on Banbridge Island, just outside of Seattle. Vacationing neighbors, U.S. congressman Joel Pritchard and his buddy, co-creator Barney McCallum, collected a hodgepodge of equipment including wooden paddles and wiffle balls and shooed the children outside to the nearby badminton court. The adults soon took over, creating rules for their unconventional game. For example, shots like "the dink," a high, soft thwack of the ball after a bounce, must only be hit from a certain part of the court. Even the Pritchard family dog—who regularly ran off with the ball—enjoyed the new game. His name? Pickles.
In 2021, a record 4.8 million Americans reported playing pickleball. It's trending in Jackson County, too. Eric Farmer, site manager for the Jackson County Parks and Recreation Department, said over a dozen members show up each day the department opens its courts for pickleball play. The department introduced pickleball in September 2021, after completing a previously-planned renovation on both the gymnasium and aerobic rooms at the Cashiers/Glenville Recreation Center on Frank Allen Road.
With new Tarkett Omnisports flooring installed, the updated facility makes for an ideal, joint-friendly local home to the sport. It also doesn't hurt that pickleball is rooted in forward movement, so players are less susceptible to injury than they might be playing tennis.
Farmer said the number of both residents and visitors inquiring about pickleball is on the rise. He attributes the increase to the accessibility of the game.
"Pickleball players can be any age; everyone who plays likes that it is a fast-moving, easy-to-learn game," he said. Perhaps the most notable indicator of the game's staying power was the 2021 launch of Major League Pickleball (MLP). Owners include noted Ted-Talker and author Brené Brown and Marc Lasry, co-owner of the Milwaukee Bucks basketball team. Later this year, at least three Southeastern cities will welcome "Crush Yard," a new game-and-eatery concept establishment based on the sport and featuring multiple pickleball courts.
Pick Up Power
Pickleball can be played as doubles or singles, making it the perfect pick-up game where only the serving team or opponent can score. While pickleball has grown considerably since its scrappy start more than 50 years ago, there is a reason the game resonates with former pro-athletes, tennis players and the rest of us just the same. According to Farmer, it's the welcoming spirit of the game.
"I've seen folks mesh (with one another) for a pick-up game who've never met and probably wouldn't have crossed paths otherwise," he said. "At one point, each player is a beginner, learning to keep score, how to serve and return."
Farmer thinks most people remember their first pickleball game. Some players discover improved physicality, like better balance and quicker reflexes. Most importantly, players enjoy a camaraderie facilitated by the genuine willingness to teach, and encourage one another.
Currently pickleball is offered as a pick-up sport at the Cashiers/Glenville Recreation Center. Farmer hopes to expand programming as the season changes, noting he will consider the formation of league play and regularly scheduled clinics. Additional availability for weekly pickleball play is in discussion.
Jackson County Parks and Recreation Department has various facilities for open play pickleball. The Cashiers/Glenville Recreation Department has two dedicated outdoor pickleball courts. Additionally, the main gymnasium transforms into pickleball courts each Wednesday and Friday from 12-3 p.m. Courts are available on a first-come, first-serve basis. Pick-up play is $1 for three hours of court time for anyone interested in participating.
Other options for those starting out include beginners play in August on Mondays, Wednesdays and Fridays from 9:30-11 a.m. at the Mark Watson Park in Sylva. Additionally, courts can be reserved for more intermediate players those days from 8-9:30am. During these hours, nets, balls and paddles are provided.
The First Methodist Church in Sylva hosts all levels from 6-8 p.m. on Tuesdays. Intermediate and advanced pickleballers also play on Tuesdays and Thursdays from 1-3 p.m. at the church. Nets are provided for players to set up themselves and players should bring their own balls and paddles. Please call ahead, as hours are subject to change.
For more information on Jackson County Parks and Recreation Department programming, including pickleball, visit www.rec.jacksonnc.org/ or call 828-631-2020. Sign up for the department's e-newsletter by visiting the website and clicking on the Newsletter tab.