Reliving History with an Eye Toward the Future
05 Apr 2023
Walkers reflect on the Journey to Salem during Women's History Month
By JUDY ROYAL
Photos by LUCY ROSE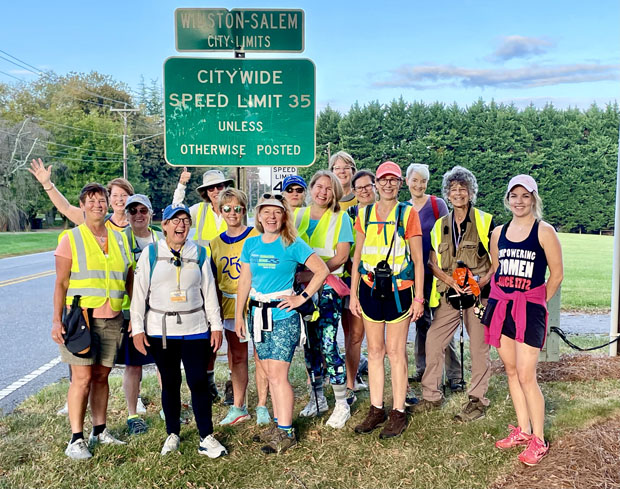 It's been well over a year since five women – including one with ties to the plateau – walked 500 miles over 29 days to re-create a historic expedition, but National Women's History Month in March gave them a chance to reflect on the unforgettable experience and share how it transformed their lives.
Longtime Cashiers resident Marcia Shawler was among the "Fabulous Five," a group of Salem Academy and College alumnae who completed the monumental Journey to Salem in October 2021 to honor the 250th anniversary of the Winston-Salem institutions. The women made the entire trip from Bethlehem, PA, to Salem Square on the college's campus, walking six to eight hours and about 20 miles per day for a month with no days off.
"I was so proud to be with such amazing women who all had this purpose to support our college and boarding school by re-creating what the founders had done," Shawler said.
Although there have been some individual endeavors, this Journey to Salem was the first organized, large-scale effort to re-create the 1766 trek of 16 brave young women seeking to build a new life in the fledgling Moravian community of Bethabara in North Carolina. Extensive planning included mapping out a route as historically accurate as possible and walking on the same days of the original journey, which was documented in a detailed journal by 16-year-old Salome Meurer. Five and a half years after the trip, the Moravians founded a school for girls in Salem, appointing one of the 1766 walkers, Elisabeth Oesterlein, its first teacher. The school provided the girls as rigorous an education as the boys received because Moravians believed this was essential, a revolutionary idea before The Revolution. This school became Salem Academy and College, which celebrated its 250th anniversary throughout the 2021-2022 academic year.
Shawler had originally signed up to walk for just a week, but after a few days she realized she wanted to stay the course for the entire journey with the other four women.
"It was so impactful for me to imagine these ladies who first walked 250 years ago," she said. "I was thinking of that every day while I walked. If they had not done it, Winston-Salem would have been completely different, and so would all the people who went to school there. Lives would have been different."
A van driver and logistics manager, both Salem College alumnae, supported the group by transporting food and supplies, making lodging reservations and handling other needs; none of the "Fabulous Five" – who ranged in age from 40s to late 60s – ever opted to ride in the van as they followed the original walk route and pushed through blisters, pain and other physical challenges, Shawler said.
The women stayed mostly in hotels and inns along the way and except for a few donations footed the bill for their own food and accommodations, she said.
In addition to the core group of 500-mile walkers, there were three other women – including the logistics manager – who walked over 300 miles of the journey and hundreds more who joined for a day at a time. Countless others stepped in at key points, especially at the beginning and end, or participated virtually.
Lucy Rose, who lives in New York City and is one of the "Fabulous Five," said she has always been interested in making the Journey to Salem, even before an organized effort got off the ground.
"I wanted to do it to re-create history," she said. "I wanted to do it to support Salem and to rally alums. I wanted to do it to test myself physically and mentally."
While Rose admits the trip was difficult at times, she said the obstacles resulted in the group forming stronger bonds. They all remain close friends and keep in touch on a regular basis, she said.
"The physical challenges of walking that far for that long certainly added up over time, but we supported each other, and we just kept walking," Rose said. "It was amazing how quickly we learned what each other needed."
While the Journey to Salem was largely re-created as a nod to history, it also marked a new beginning for Salem Academy and College, she said.
"For us, it was walking from the past into the future," Rose said. "Those women were so transformative in their time, and Salem is boldly moving forward, emulating their courage and vision, to ensure a thriving, sustainable future for another 250 years."
A documentary chronicling the "Journey to Salem" premiered on PBS on March 15. It is available for streaming on the PBS app on Roku, Apple TV or mobile devices.