May We All Be Well
05 Apr 2023
The Counseling Center promotes access to mental health care
By Marianne Leek
Photos by Dylan Lytle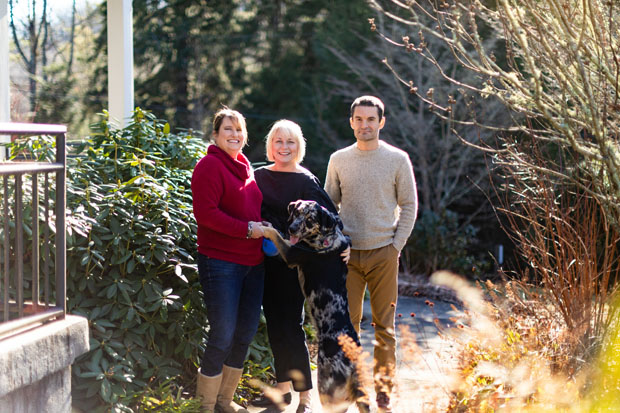 Many of us invest in our education; some of us invest in real estate or the stock market; all of us purchase items to make our living spaces and daily lives more comfortable. We frequently attempt to improve our physical health by purchasing exercise equipment and healthier food options, especially as we enter a new year. However, few of us take the time to regularly assess and personally invest in our mental health and well-being. Conversely, our mental well-being affects every other aspect of our lives—the quality of our relationships, work satisfaction, how we process and react to stressful situations, and ultimately how we gauge our self-worth. Body, mind, and spirit are intricately connected, requiring daily maintenance and care.
In an ever-changing and uncertain world, now more than ever, people are struggling with increased stress, anxiety, and depression, and too few are making their mental health and well-being a priority. This can be because of a perceived stigma about mental illness, the inability to pay for counseling services, overwhelming feelings of hopelessness, or simply not knowing how to go about finding the help they need. The Counseling Center is an incredible local resource with kind, compassionate therapists who provide high-quality mental health services intended to strengthen and help heal individuals and families, regardless of their financial circumstances.
It seems as if all of us have either experienced a mental health condition or know someone who is currently in crisis. According to the Center for Disease Control, "1 in 5 Americans will experience a mental illness in a given year. 1 in 5 children, either currently or at some point during their life, have had a seriously debilitating mental illness. 1 in 25 Americans lives with a serious mental illness, such as schizophrenia, bipolar disorder, or major depression." Leslie Manning, The Counseling Center's Executive Director, clarified the difference between mental and behavioral health, "The terms 'behavioral health' and 'mental health' are often used interchangeably, but they don't always mean the same thing. Mental health pertains entirely to a person's psychological state, while behavioral health includes not just a person's state of mind but also their physical condition. Mental health includes our emotional, psychological, and social well-being. It affects how we think, feel, and act. It also helps determine how we handle stress, relate to others, and make healthy choices. A mental illness is a medical condition that disrupts a person's thinking, feeling, mood, ability to relate to others, and daily functioning."
Manning explained why people are oftentimes hesitant to seek treatment for a mental health condition, "Many people don't seek treatment or remain unaware that their symptoms could be connected to a mental health condition. People may expect a person with serious mental illness to look visibly different from others, and they may tell someone who doesn't 'look ill' to 'get over it' through willpower. These misperceptions add to the challenges of living with a mental health condition."
According to the National Alliance on Mental Illness, rural Americans experience higher rates of depression and suicide than people who live in urban areas, but they are less likely to access mental health care services. Manning elaborated on the stigma and social barriers associated with mental health in rural communities, "The stigma associated with mental health challenges can be a major barrier to seeking help for people living in rural communities. Some people don't readily understand or accept that mental illness is a legitimate medical condition, but rather view it as a personal weakness or character flaw. Of course, worries about the financial burden of investing in therapy and their mental wellness can be overwhelming. The Counseling Center is here to help with not only lowering the stigma around mental health care but also to ease the financial burden, so it is accessible to all people, regardless of their circumstances."
The Counseling Center currently has two therapists on staff, Tracy Stribling Franklin, LCMHC, and Michael Greene, LCSWA, both of whom offer psychotherapy ("talk therapy") and are accepting new patients. Greene is bilingual in English and Spanish and is a Licensed Clinical Social Worker Associate whose training and experience have focused primarily on behavioral health, counseling/psychotherapy, behavioral health integration in primary care settings, and working with populations considered vulnerable. Franklin primarily utilizes Cognitive Behavioral Therapy to help her clients. Her goal is to "help people identify ways to alter their own thinking in order to improve communication and decrease feelings of fear, anxiety, sadness, loneliness, etc. By utilizing active listening skills and applying different therapeutic approaches, I strive to help my clients recognize patterns in behaviors and/or negative thoughts that may be keeping them from living the life they desire. Small changes can be made to help clients recognize these patterns and live a more fulfilling and meaningful life."
For those struggling with mental health or for those who are simply working to become the best versions of themselves, accessing quality therapy is as easy as reaching out to The Counseling Center and requesting an appointment via their website, sending an email, or calling directly. Manning explained the center's streamlined process, "Patients can request a specific provider or ask for the first available provider. At this time, we do not accept insurance or Medicaid, so we are on a sliding scale but even more specifically, we are donation-based. During the first consult or 'intake meeting' the therapist and client will have an open and honest conversation about the payment rate. We typically use a case-by-case basis for clients. We are here for everyone: those who can pay and those who are concerned about the cost. We ask that clients invest at least $25 an hour toward their counseling but any additional amount helps offset our expenses and will help pay for therapy for others. For example, if finances are not an immediate concern for an individual or family, a client can pay closer to a full rate, $125 or $150. Typically, our therapists like to see new clients weekly at the start of therapy. After the first few sessions, the therapist and client will discuss together how therapy is going and estimate the duration of therapy. This approach is helpful for the client to estimate the cost of their therapy. Usually, counseling sessions are 50 minutes long unless otherwise determined. Most of the sessions take place in the Peggy Crosby Center in Highlands. The mission is to provide access to mental health care here on the plateau, and our therapists are very comfortable figuring out a fee that works for you."
The statistics regarding the current state of those struggling with mental health are daunting. The pandemic and the resulting economic instability have weighed heavily on those dealing with mental health conditions and exacerbated substance use, but according to a survey conducted by The Cleveland Clinic in 2022, the main reasons people don't seek treatment are they are too busy, a primary caregiver for a loved one, or simply don't know how to find the help or support they need. According to The National Alliance on Mental Illness, nearly 50 million American adults experienced a mental illness this past year, and over half of those adults did not receive the treatment they needed, while 1 in 6 youth aged 6-17 experienced a mental health disorder in the past year, and suicide remains the second leading cause of death among people aged 10-14. It's also important to note that 50% of all lifetime mental illness begins by age 14, and 75% by 24, making mental health prevention and treatment an essential part of our daily lives.
The Counseling Center will continue its work to support its local communities in 2023 through sponsoring a "grief group" open to anyone who has recently experienced loss. This particular group will be a closed group, meeting weekly to offer support and healing. 2023 will also have an increased focus on suicide prevention and awareness in the plateau community, and because of a generous grant from Rotary Club of Highlands-Mountaintop, the center is able to sponsor suicide prevention and intervention training for 100 community members. This training will equip community members and leaders to better recognize suicidal thoughts and teach them effective intervention strategies and techniques. With May being Mental Health Awareness month, the Counseling Center has thematic activities planned focusing on the need to "Bee Kind." The Center also regularly updates its website with links to podcasts, articles, and other helpful resources, and looks forward to raising mental health awareness not only during the month of May but all year long.
According to Manning, "There are many tools that can improve the experience on the road to wellness: medication, counseling (therapy), social support and education. Therapy, for example, can take many forms, from learning relaxation skills to intensively reworking your thinking patterns and developing coping strategies." Tracy Stribling Franklin and Michael Greene offered some final thoughts to those dealing with immediate stress or anxiety suggesting the following, "Take a deep breath and ask yourself if this will matter in a day/week/month. Most of the time, what you're stressing won't matter in time and you can let it go!" While Greene encourages focusing on nurturing and maintaining healthy relationships and building meaningful connections with others, "One of the most significant contributors to mental health is the quality of our relationships, and connections to family and community are among the most important. Maintaining strong connections requires effort (e.g., taking the time to visit, having conversations, sending thoughtful texts, offering help, etc.). All of this becomes more difficult the busier we are. However, over the long run, these efforts are especially beneficial to our sense of wellbeing and, ultimately, our health."
For more information, please email, info@counseling-center.org or call the Counseling Center at 864.481.0598.
According to the National Alliance on Mental Illness (NAMI), trying to tell the difference between what expected behaviors are and what might be the signs of a mental illness isn't always easy. Each illness has its own symptoms, but some common signs of mental illness in adults and adolescents can include the following:
Excessive worrying or fear

Feeling excessively sad or low

Confused thinking or problems concentrating and learning

Extreme mood changes, including uncontrollable "highs" or feelings of euphoria

Prolonged or strong feelings of irritability or anger

Avoiding friends and social activities

Difficulties understanding or relating to other people

Changes in sleeping habits or feeling tired and low energy

Changes in eating habits such as increased hunger or lack of appetite

Changes in sex drive

Difficulty perceiving reality (delusions or hallucinations, in which a person experiences and senses things that don't exist in objective reality)

Inability to perceive changes in one's own feelings, behavior or personality ("lack of insight" or anosognosia)

Overuse of substances like alcohol or drugs

Thinking about suicide

Inability to carry out daily activities or handle daily problems and stress
Mental health conditions can also begin to develop in young children. Because they're still learning how to identify and talk about thoughts and emotions, their most obvious symptoms are behavioral. Symptoms in children may include the following:
Changes in school performance

Excessive worry or anxiety, for instance fighting to avoid bed or school

Hyperactive behavior

Frequent nightmares

Frequent disobedience or aggression

Frequent temper