Protect and Preserve
02 Feb 2023
Dr. Gary Wein and his leadership at The Highlands-Cashiers Land Trust
Story by BRENDON VOELKER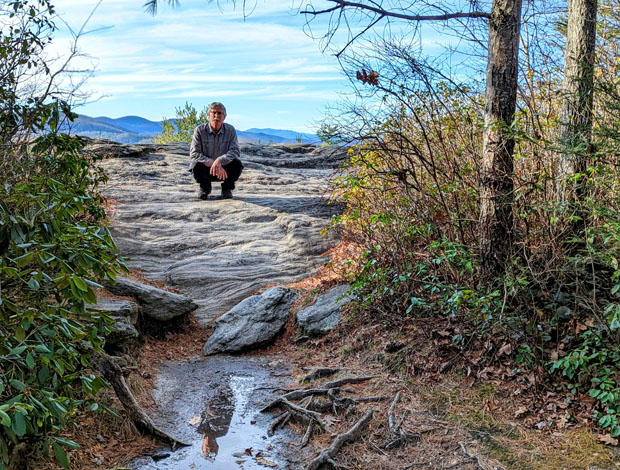 Tucked away deep in an eastern Kentucky holler, an 1850's cabin rests on 55-acres of forest alongside a fork of the Kentucky River. Here, water flows north into the Ohio, then westward into the Mississippi before embarking on a journey down to the Gulf of Mexico. At the headwaters of these streams, Dr. Gary Wein and his wife, Dr. Beverly Collins, will enjoy their retirement while focusing on a small list of projects they have set their sails on. While his wife is "not quite a coal miner's daughter," Dr. Wein jokes how the movie was filmed just up the same holler. In fact, one of those projects happens to be a shallow-bottomed sailboat he hopes to learn how to sail on the Great Lakes in coming years.
For nearly 17 years, Dr. Wein has led the Highlands-Cashiers Land Trust (HCLT) through a whirlwind of projects and accomplished more in that time than many of his predecessors combined. Come June 30th of 2023, his longest continual employment will come to an end. Wein's spouse, Dr. Beverly Collins, a full biology professor, has an identical retirement date after a distinguished tenure at Western Carolina University in nearby Sylva.
Dr. Wein may be one of the most pivotal employees to have ever held a position at HCLT. An organization that began in 1883 as a small association responsible for installing park benches in a local hiking and walking area, HCLT worked through a couple of decades of transition before conserving their first official property in 1909. First known as the Satulah Summit Society, then later the Ravenel Park Association in 1914, these two organizations incorporated in 1987 to become the Highlands Land Trust.
In 2004, the Highlands Land Trust evolved into the Highlands-Cashiers Land Trust, and Dr. Wein began his role shortly after in 2006. The HCLT began with about 800 conserved acres, but now totals 3,700 acres spread across two western North Carolina counties.
While Dr. Wein is proud of all HCLT's properties, Satulah Mountain may be one of his all-time favorites. It's "different every time I go," Dr. Wein states, a testament to the unending display of rare plants that include dwarf juniper and Hartweg's locust, a non-thorny variety that can be found in various areas around the plateau. Similar plants can be found at the Shadow of the Bear Overlook, also known as Rhode's Big View on US-64.
Another unique property lies in northern Jackson County not far from Cedar Cliff Lake. A dense stand of native red cedar frames a rock outcropping with some specimens over 165 years old. Nearly every one of them have been struck by lightning at this point, yet the dull hues of the maturing trees still stand the testament of time.
Of all his accomplishments in his time at HCLT, one of the longest projects to completion was the Horse Cove Preserve. Due to delays with land ownership, it took nearly six years for the project to come to fruition. Once a bog ecosystem prior to development in the early 1700's, rare plants, wildlife and rich history abound in the area, and its ultimate conservation was an incredible feat. Here, the fresh mountain springs drain southwards into the Savannah River Basin, an area with which Dr. Wein is all too familiar.
Wein's education includes an undergraduate degree in Biology, a MS in plant systematics (taxonomy), and ultimately a PHD in Botany and Plant Physiology from Rutgers University, with a dissertation on the population ecology of trout lily. From there he moved forward in his career where he landed at the Savannah River Site (SRS) near Augusta, Georgia. He worked there from 1985 to 2006 with a couple of brief intermissions for other ventures.
After transitioning and moving up in roles, he took on the title of Division of Wetlands Ecology Research Manager. He equates the position to that of William T. Riker in Star Trek: The Next Generation. His job was to "make it so." In the early 2000's he worked for Bechtel Savannah River Inc., an engineering company cleaning up the SRS. One of his favorite projects was a remote area survey, where he had the opportunity to paddle a stream that hadn't seen a canoe in over 100 years.
Dr. Wein and his wife Beverly will focus their retirement on learning how to sail, building a woodworking shop, weaving, flood-proofing their house and building a greater "nest" for them to enjoy in their holler. He plans to remain a liaison for HCLT and hopes to work with local conservation organizations in his area as time allows. The idea of starting a form of eco-tourism or guiding business is also a potential project down the road. For years, Dr. Wein has personally led tours for the land trust, a way to give back to donors and members and allow them to see special places they have helped to conserve.
Dr. Wein has no idea who is going to fill his shoes, but NED (the New Executive Director) has a financially stable organization awaiting him. Not only has Wein built a successful organization, but he has also built one with a "great reputation" and an excellent staff, he boasts. He hopes the next Executive Director can focus on a goal to "conserve all of Macon and Jackson Counties," but he proclaims that with a playful twinkle in his eye.
In reality, he hopes HCLT will continue to grow and that there will be increased focus on the Cashiers area, a small unincorporated pocket of Jackson County that contains McKinney Meadow, a public access pollinator garden just minutes from the town's main crossroads. Another property on Laurel Knob Road, Edward Baker Preserve, is also being developed so the public may enjoy a hiking trail just minutes from Lake Glenville.
Dr. Wein is a pioneer in his field and respected by leaders in countless professions. His time at HCLT has led to its largest growth since its inception. He will be greatly missed by his staff, the community and countless more as he enjoys his retirement in Kentucky. During his tenure at both HCLT and the SRS, one of the most valuable lessons he has learned is to "never take work home," although he adds sheepishly, "not that I actually accomplished that." Despite his aim to stay attached to conservation work, this philosophy will undoubtedly continue into retirement as he sets sights on a future of sailing along the Great Lakes.
A 501(c)3 tax-exempt charity, the Highlands-Cashiers Land Trust relies on the support of its members, donors, volunteers, sponsors and business partners. Learn how you can contribute to HCLT and their mission by visiting www.hicashlt.org. Their goal to protect and preserve our land for tomorrow can only be accomplished with your support.
BIO
Dr. Gary Wein
Executive Director of the Highlands-Cashiers Land Trust
Hometown: North Tonawanda, New York
Family: Married to Dr. Beverly Collins, full biology professor at Western Carolina University
Education: Undergraduate studies in Biology at Niagara University, PhD in Botany and Plant Physiology at Rutgers University
Favorite hike in Highlands: Satulah Mountain, where he can explore rare plants including Hartweg's locust, dwarf juniper, krigia, oat grass and sphagnum moss. "It's different every time I go," he states.
Local affiliations: Highlands Biological Station, Friends of Founders Park, Cashiers Chamber Development Committee, Western Carolina University
Fun fact: Worked as a Ranger at the Philmont Scout Ranch in New Mexico where he first began leading eco-tours at the age of 21.