Preservation Versus Progress
25 Jan 2020
The future looks bright for Highlands, as discussed with the town's Mayor Patrick Taylor
By DIANE PELTZ Photo by STEPHANIE WILSON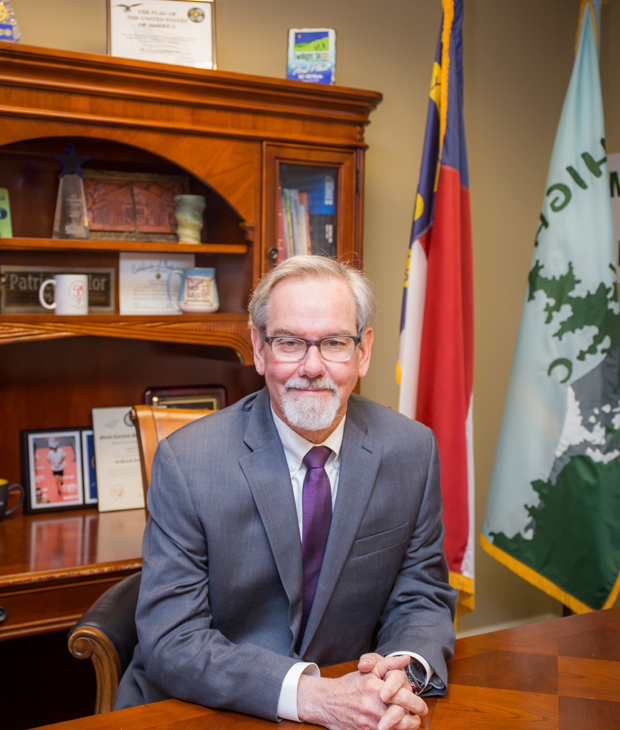 The town of Highlands sits atop the Great Smoky Mountains and was named for its lofty elevation of 4,118 ft. It boasts a year-round population of approximately 969 full-time residents, among them being Mayor Patrick Taylor. Taylor was born 71 years ago in Valdosta, Georgia. He has been the Mayor of Highlands since 2013.
Taylor graduated from Valdosta High School in 1966 and went on to earn a BA in Art from Valdosta State University in 1970. He continued his studies at the University of Georgia after serving a three-year term in the US Army Signal Corp, and received an MA in Art Education in 1978. He was awarded the Vietnam Service Medal and Art Commendation Medal while in the service. Taylor completed his studies earning a PhD in Art at that same university in 1982.
Aside from his job as Mayor, Taylor owns and operates Taylor Pottery. There, he produces one of a kind functional and expressive stoneware objects such as coffee mugs and animal jugs. The coffee mugs are available for sale at Bucks Coffee Shop in Cashiers, NC and also along with other works at Smitten on Main Street in Highlands. Folks also come to his studio to take in his plethora of pottery creations.
A Man of Many Hats
Mayor Taylor enjoys a long tenure of teaching at several area universities. His term, instructing at Kennesaw State University, spanned 17 years while also becoming the founding chair of the Department of Visual Arts. In addition, he held the title of Department of Art Chai at Piedmont College, where he taught for 7 years. The accomplishments he acquired working with students, faculty, deans, securing resources, managing budgets, meeting evaluation standards and developing programs are many of the skills that are similar to being involved in operating a municipality.
After retiring from his years of teaching at the university, Taylor was ready for a change. Although he already qualified to run a municipality, he decided to serve North Carolina as a Magistrate of Highlands. As Magistrate, Taylor, he was in charge of issuing warrants, setting conditions of release and bail, and determining probable cause for any charge issued by law enforcement. He also issued involuntary commitments and performed wedding ceremonies. He was on call 24-7 as the Highlands Magistrate, although he would sometimes travel elsewhere in Macon County, if needed. If anyone was arrested, they were brought before him to determine probable cause, charges, and bonding.
The position of Mayor is part-time, paying $5,000 yearly. Job duties include presiding over all town board meetings, attending ceremonial functions on behalf of the town, representing the town at all state and government meetings and lobbying state legislatures for issues related to municipalities. Taylor's day normally starts at the office around 9 a.m. He meets with staff and citizens on most days. He has an open-door policy for residents and proudly proclaims, "many folks just drop by town hall and if I'm there, I invite them into my office to talk." Included in his busy routine is a 500-word column that he writes for the papers entitled "Mayor on Duty." He tries to communicate what is going on in town government on a weekly basis. He also takes part in a weekly radio show on WHLC, appropriately called "Ask the Mayor." From March to November he holds a "Community Coffee with the Mayor" at the Hudson Library. It is held from 11 a.m. to 12 p.m. on the last Friday of each month. There, Taylor plans a program and/or brings in guest speakers that discuss community, county, regional, or state issues.
Recently Taylor was the recipient of the Dogwood Award, from North Carolina Attorney General Josh Stein. He was recognized along with 21 other recipients from across the state for his work in advocating for the smaller hospitals in the recent sale of Mission Healthcare to HCA. This award honors North Carolinians who are dedicated to keeping people safe, healthy and happy in their communities. Each of the recipients have been working to address the issues that make North Carolina safer and stronger, including testing sexual assault kits, fighting drug addiction, protecting the environment, addressing food insecurity, improving people's health and facilitating reentry of formerly incarcerated people.
A Promising Outlook for Highland's Future
Taylor's perspective outlook for the town of Highlands in 2020 is to focus on completing a comprehensive plan for the coming year. He asserts, "we need a plan for the future that will put the community in a strategic position to respond to rapid change, driven by technology and economic forces. We also need to continue to improve infrastructure, especially paving town roads. We will light up, and begin operating the fiber optic network in Highlands that is currently under construction. It is a challenging balancing act. How many visitors do we want to attract? How many can we accommodate?"
The Mayor is also concerned with the business of short-term rentals that the town board will have to address. Preserving Highland's wonderful natural environment, while trying to sustain economic progress at the same time is an issue currently on his mind. Some of the positives for Highlands is the strong economic outlook which is derived form the robust real estate and tax values. Taylor explains, "we are a very substantial part of the Macon County tax base. Our economy is driven by tourism. As long as the national economy is strong and people have discretionary income, our economy will remain robust. A recession would hurt Highlands just like any other part of the country, maybe even more in the real estate, second home market."
Although Highlands is a small town in full-time residents, they have to operate like a larger town. They have their own electric, water and sewer operations along with their own sanitation and recreation departments. Highlands also operates their own road, police and fire departments. During tourist season as many as 5,000 – 7,000 visitors call the town of Highlands their vacation spot. The Highlands plateau generates about 70% of all the room occupancy in Macon County. The property tax base on the plateau from Jackson County line to the Georgia state line constitutes almost half the tax value of the county.
Taylor has constantly used the phrase "Preservation versus Progress." That dynamic has always been a challenge in Highlands. How do they preserve what they have, a beautiful small town in a wonderful natural environment, and at the same time sustain a viable economy? With rapid, expanding growth across the nation, maintaining this balance in Highlands will be a great challenge.