Cupid Finds His Mark
25 Jan 2020
A chance meeting brings on love and romance
By CAROL M. BRYSON, Author and Historian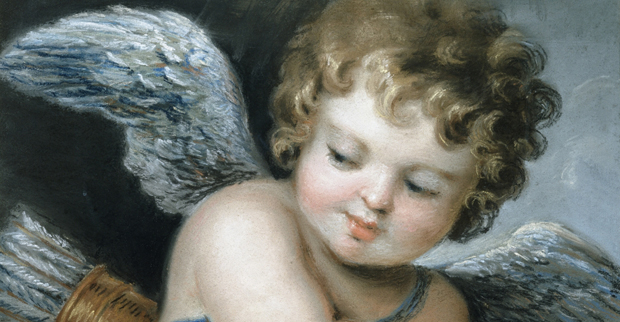 In 1885 Highlands NC, two Cupids, members of St. Valentine's Guard, struck with direct aim when they swooped down on an evangelistic gathering in Highlands. These little mischievous, chubby baby boy angels were the matchmakers of the past. Greek mythology has it that they were the children of the goddess Venus. You knew you were struck by their arrows when a strange, animalistic curiosity took over your mind. When two hearts were struck at once, a glance meeting of the eyes between a maiden and suitor spread across their faces to matching foolish grins, caused by imaginative thoughts of romance.
George N. Williams who had come to Highlands from Marion, South Carolina near Charleston, to attend a Camp Meeting, was seated in the large tent, crowded with people attending one of the many scheduled sermons to be held during the weekend gathering. Advertised heavily, many people were attending the Camp Meeting from all over the South, including Georgia and South Carolina. Several visitors had arrived by a hired horse-drawn wagon from the depot in Walhalla, South Carolina. Some of the most notable preachers of the time would meet to strive to bring enthusiastic inspiration to the pilgrimage of the faithful, and to those seeking a new beginning.
Seated up front in the choir was 22-year-old Alice Radford from Augusta, Georgia. Her face was naturally blushed with a pink glow caused by her racing heart, and her tingling skin sensing an invisible magnetism coming from her left.
George Williams, in his mid-forties, was a blacksmith and a widower with a 15-year-old son and a 13-year-old daughter back home in Marion. George tried to concentrate on the words of the sermon to no avail. He found himself drawn to peer at the beautiful face of Miss Radford with fascination.
After the service, George learned who she was and asked for an introduction. Wanting to spend more time with her, he offered to walk her back to her lodging.
The next morning, George returned to accompany her to another sermon in the tent. Afterwards, he admitted his overwhelming attraction to her. He was so pleased when Alice expressed that she was mutually overwhelmed and was saddened to know that they would soon be going back to their separate homes. George, distraught at the thought, begged her to marry him and leave with him as his wife. Alice happily consented.
George excitedly set out to make quick arrangements. He sought the help of Reverend J. W. Walker and arrived back at Alice's lodging at 4 o'clock that afternoon with the Reverend in a horse-drawn carriage. Instead of staying for another sermon in the tent, together they drove out past the Shortoff community, and continued along the wagon road through the Jodytown community of Norton, to the tiny village nestled along the Tuckasegee River called Hamburg. There they visited the Reverend's friend, storekeeper and local Justice of the Peace, Charles Luther Woodring, who performed the wedding rites.
After the whirlwind courtship and marriage, the couple went to inform her family in Augusta, Georgia where she and others in her family, had been employed in a mill. In a short while, the newly-weds set out for the groom's home.
The 1900 census finds them living on Frazer Street in Georgetown, South Carolina. By then, Alice and George's household included their four children and George's two older children, plus they had taken in three boarders. George's occupation had evolved from being a blacksmith to being a mechanic. After 15 years together, it seems the Cupids had struck a lasting love. The couple ventured to homesteading in the Kansas territory after their children had grown up. Alice passed away about 1915 in Kansas and George was not far behind her.