Pasco County Scalloping
05 Oct 2022
This great getaway may get you hooked on hunting for scallops. The rewards can be sublimely delicious.
By Katie McElveen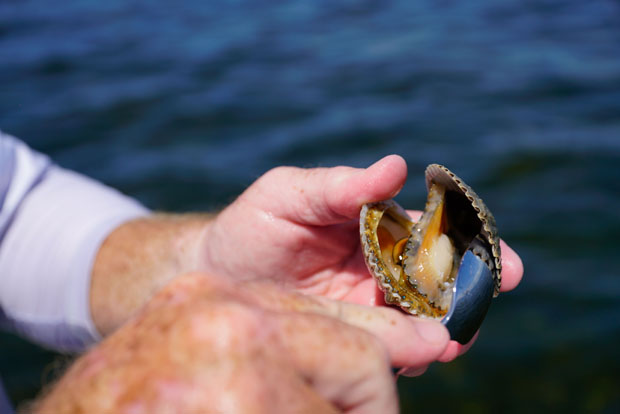 As our boat drops anchor in the Gulf of Mexico just west of New Port Ritchey, Florida, our captain, Curt Romanowski with Florida Backwater Charters, is issuing a few last-minute instructions before we hit the water to try our hand at hunting for scallops. "It's sort of like looking for Easter eggs," he says. "Once you know what you're looking for, they're pretty easy to spot. Oh, and if you get nervous, just stand up." Indeed. Though we'll be snorkeling, the warm, calm water is only about four feet deep.
Now, I'm underwater and I'm laughing. I'd heard that scallops could swim; I'd even watched videos of the surprisingly mobile bivalves propelling themselves through the sea, but somehow I hadn't been ready for the well-timed thrust that allowed the large bay scallop I'd just pulled from a thatch of turtle grass to slip joyfully from my grasp. Swimming isn't a scallop's only skill. They can also see, thanks to dozens of bright blue eyes—mirrors, actually--that line the upper and lower shells and glow with remarkable iridescence.
Still, it took me just 30 minutes of diving and laughing to fill my mesh bag with scallops, most of which had gone in peacefully. As we haul ourselves from the water, Captain Curt pulls a scallop from my bag and, using a silver spoon, deftly separates the edible muscle from, well, everything else. I slurp it straight from the shell, a tiny morsel that tastes of the sea, but with a scallop's signature sweetness. The rest of the bounty went into a cooler. Later, we would feast.
Though I'd come to Pasco County to try my hand at scalloping, during my time in the area I discovered that Florida's Sports Coast, as it's been named, is an easy, low-key destination filled with fun outdoorsy activities and great restaurants. Boat charters abound – you can captain yourself or book a vessel and let somebody else do the driving – and it's fun to get out on the Gulf, either to scallop or to visit one of the islands scattered about. One of the most popular is Anclote Key State Park, which is located three miles off shore. The long, narrow atoll is fringed by ivory white sand; the Gulf is calm and warm. Captain Larry, with Windsong Charters, told us that, on weekends, the beach is filled with day trippers.
North of Anclote, Durney Key is just a half mile off the coast and easy paddling distance from Werner-Boyce Salt Springs State Park, where an orange-blazed kayak trail leads through swamps, tidal marshes and marine forest to the Gulf. Birdwatchers can spot Bald Eagles, Roseate spoonbills and other birds on a network of pathways that wind through the 4,000-acre park.
Base yourself in New Port Richey, a tiny riverfront town that was popular with silent film stars in the 1920s and 1930s. The city came back into the spotlight in the 1960s when Johnny Cash and his wife, June Carter Cash, began making regular visits to the city to spend time with June's parents, who lived just outside of town. They often brought their friend the Rev. Billy Graham.
Today, Main Street bustles with restaurants like Social NPR, where a rooftop bar looks out over pretty Sims Park, and Sip on Grand, for tapas and terrific wines by the glass. Save enough space and calories for homemade ice cream in flavors like Peanut Butter Captain Crunch, Key Lime Pie and Mango at Cotee River Creamery, which conveniently shares space with Infusion Brewing Company.
Stay at the Hacienda Hotel, which reopened in September after a full top-to-tails renovation. First opened in 1927, the Mediterranean-styled pink stucco hotel was a showpiece, with elegant ballrooms, marble baths and a grand staircase that looked down into the lobby bar. By the 1970s it had been converted to senior apartments; the site was abandoned in the late 1990s. In 2018, Jim Gunderson, who also owns Mt. Dora's Lakeside Inn, purchased the property and began what became a three-year odyssey to bring new life to the unique 40-room property. Though little from the original Hacienda could be salvaged, a few touchpoints have survived including wrought-iron chandeliers, an ornately carved fountain and several architectural elements. Sunny rooms, some with shared patios, are decorated in soft shades of blue and buff; oversized black and white historic photographs of the hotel and surrounding area decorate the walls.
And now, finally, it was time to dig into those scallops. We'd been invited by Brian and Greg Lake, and their wives, Shannon and Christina, to join them for dinner at their stilt house, one of a handful that stand like storks in a small cluster a mile or so off shore. First constructed as fishing camps, the one-room structures lack running water and electricity, but more than make up for it in rustic beauty and 360-degree views of the water.
As the sun set, we sat on the breezy porch, sipping local beer and eating a medley of scallop dishes prepared by Chef Ben Pumo. Still sweet, but with a softer texture and none of the brininess they'd had while raw, the bay scallops were succulent and delicious. They were followed by another local specialty, kumquat pie, which resembles Key lime pie, but has a complexity not found in other citrus fruits. I discovered that kumquat season begins in November, which, to me, sounds just about right for my next trip to Pasco County.