The Elegance of Mountain Casual
05 Oct 2022
A Day at the Vineyard
Photography: Chelsea Cronkrite
Styling: Paula Price
Models: Madi Pasztor, Stephanie Weis and Tre Davis with Ursula Wiedmann Models.
Special thanks to The Vineyard at 37 High Holly in Scaly Mountain
Johnny Was peacock mesh dress, $575, at A Jones and Company, 3 Chestnut Square, Cashiers.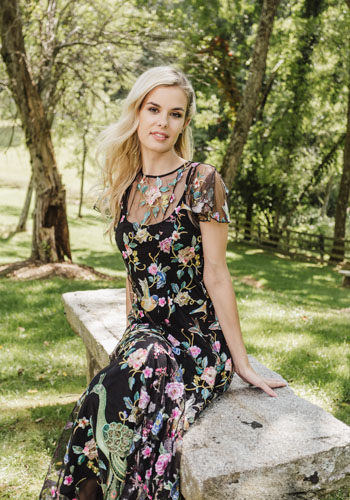 Dress by Oliphant, $315; hat by Classy Cloth, $48; Gracewear Shield of Faith earrings, $38, small gold plated cuff, $64; white turquoise bracelet, $48, at Gracewear, 82 Village Walk Wy., Cashiers.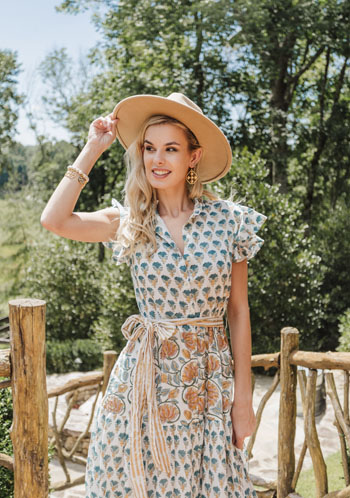 Liquid leather gaucho pants, cotton black turtleneck and olive green one-size-fits-all wrap by Clara Sunwoo. Velvet gloves with leopard tie, velvet fedora and skilled artisan scarf handmade in Italy, Julie Vos jewelry, at Robin's Nest, 426 State Rte. 107, Cashiers.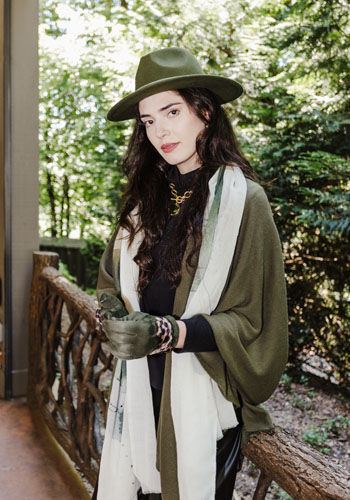 Frank Lyman jacket, $299; Azi black shimmer tee, $79; Insight black pant, $115, at Spoiled Rotten, 343 Main St., Highlands.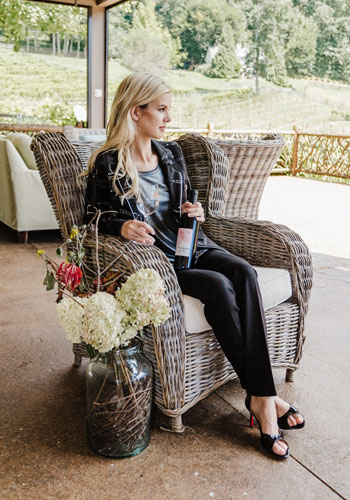 Azi jacket, $198; Tee by Tina smooth tank, $42; Lior Jane jean, $149; Birghton necklace, $92; Brighton bracelet, $72; Brighton earrings, $56, at The Look Boutique, 137 State Rte 107, Cashiers.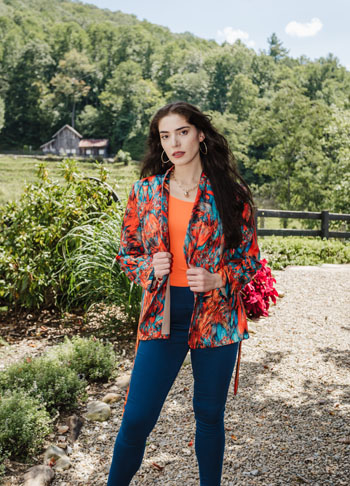 On Madi (far left): Textured coat, $775; sleeveless cashmere turtleneck, $299; Lara Shaft jeans, $319 and Voile Blanche Shoes, $275. On Tre (center): Manto quilted suede jacket, $1,695; Peter Millar olive 1/4 zip sweater, $248; Tintoria Mattei olive and navy pane shirt, $299; Meyer charcoal herringbone pant, $299; Martin Dingman saddle sneakers, $275. On Stephanie (far right): Beaded leather jacket, $695; Rib mock neck top, $219; Lola shaft jeans, $319; Voile Blanche shoes, $299, at TJ Baileys, 95 State Rte. 107, Cashiers.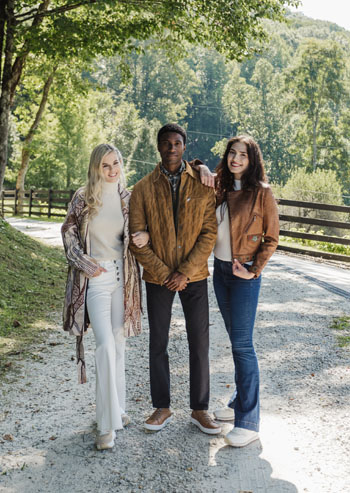 Color-blocked cardigan by Henriette Steffensen, $189; tan tank by Planet, $142; ivory front zip pant by Estelle + Fin, $142; necklace and pendant by Shay, $2,485; Black tall boots by Altelier, $268, at Wish and Shoes, 211 S. 4th St., Highlands.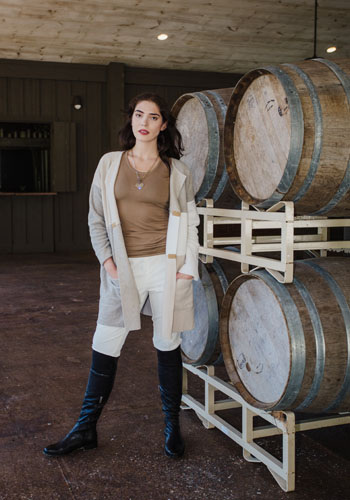 Loveshack Fancy Shontelle dress, $545; ENewton bracelets in gold and onyx, $48 each; ENewton cherish gold locket choker, $235, at Wit's End, 384 Main St. #849, Highlands.