One Young Mind at a Time
03 Dec 2022
The tale of a Texan's path to North Carolina and how he's changing the world
By BRITTANY CONLEY
Photos By CHELSEA CRONKRITE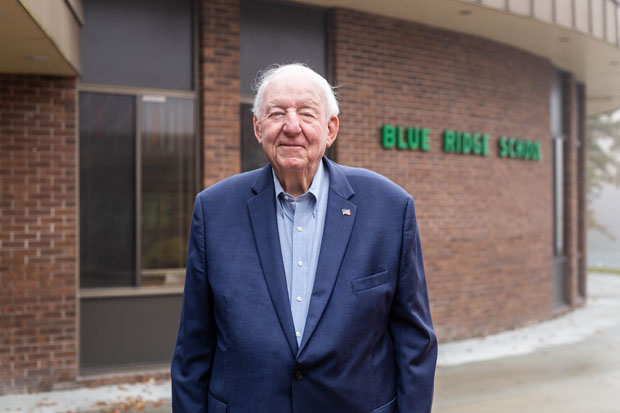 Right now, it is all too easy to focus on the shortages. You can't turn on the news without hearing of something being hard to find or future expectations falling short. It's easy to get mired down, to feel a little less hopeful. But there is plenty of abundance right in front of us, and in this very community there is no shortage of people working hard to keep hope alive. At the forefront of that noble mission is Texas transplant-turned-local resident Carl Hyde, whose goal is to see to it that students and teachers at Blue Ridge School and Early College have everything they need to be successful.
If you've ever had the pleasure of talking to Carl, you'll have undoubtedly picked up on his deeply southern accent with its Texan twist. That specific drawl and cadence is unmistakable and has the ability to both put people at ease and make them sit back and listen to whatever Mr. Hyde has to say–and is all the explanation one needs to understand why his nickname is, fittingly, Rawhyde.
As a little boy born in Lubbock, Carl had a big imagination and believed his future would involve wrangling beef cattle or conquering a corner of the oil industry, but after his father came back from the Philippines at the end of World War II and his family moved to Midland, TX, new experiences and interests took Rawhyde on a different path. Focused on an education, Carl graduated from Texas Tech University, which served as a springboard for the next chapter in his life.
The most influential thing to happen to Carl wasn't making a name for himself in the paper industry, which he did in his 25-year tenure with the Scott Paper Company, or even bravely and proudly serving his country in the Army Reserve, which he did from 1962 to 1968. It was meeting and marrying the love of his life, Barbara, who was the catalyst for all of his very best adventures.
Carl and Barbara married in 1963, and 59 years later the admiration and love they have for one another is undeniably the most present thing in the room. As their family grew with the splendid addition of their two sons, Billy and Ken, the Hydes made a leap of faith and moved to Atlanta in 1968. In 1985, Carl took the reins as Vice President of Sales and Marketing for the produce processor, Dixon Tom-A-Toe Company. The very-much-a-Texan Rawhyde and his family found themselves among the Georgia Peaches for almost 40 years.
During the decades in Atlanta, Carl and Barbara often travelled to the plateau and, as avid golfers and tennis players, spent plenty of time teeing off at the illustrious greens and country clubs of the Highlands-Cashiers Plateau, a respite that spoke to them immediately. When Dixon Tom-A-Toe Company sold in 1999, Mr. Hyde decided it was high time to slow down and enjoy all life has to offer with his family. It didn't take long after retiring to realize that in order to truly enjoy the things that meant the most to them, a genuine change of pace and scenery was in order. There was little, if any, debate about their new destination, and in 2004, Carl and Barbara Hyde became permanent residents of the plateau with their new home in Sapphire.
Since planting roots in these hills, Mr. Hyde found far more than golfing to occupy his time and talents, though golf is still very much a favorite pastime and occasional conduit for the good works to which he has devoted himself. While active in many local organizations, the heart of Mr. Hyde's passion lies in his work with the group of volunteers that make up the non-profit organization Blue Ridge School Education Foundation, in which Mr. Hyde volunteers his time as president.
"It's all about the kids," says Hyde, whose deep, languid voice ticks a bit faster as he speaks with great pride in his team, all of whom volunteer their time, and the incredible achievements they've enjoyed working in tandem with the Blue Ridge School to meet its most urgent needs. "The mission of our foundation is to supplement educational funds for the needs of the faculty and the students to make sure they have materials and technology for classrooms to drive their academic achievements. We work in concert with the school administration and faculty to make sure the students have the best materials and most up-to-date technology aids available," he says.
Among their numerous accomplishments, the BRSEF has recently helped to expand the offerings of Blue Ridge School by funding a second Pre-K classroom, providing the necessary materials, furniture, and even the funds for hiring the teacher. From the earliest beginnings of a child's education to the promise of bright futures through generous scholarships for graduating seniors, Mr. Hyde and his team have a clear vision of the importance of their work and the impact it has on the plateau for decades to come.
While Mr. Hyde may seem focused solely on quality education, the truth is he has a much broader picture in mind: the betterment of the entire community. "I have always been a believer that a community needs strong schools to be viable. And a strong school system can't survive and grow without a community to believe in it," he says. Well-educated graduates often either stick around or come back to the plateau and start their families and businesses here, creating a symbiotic relationship, a fact hardly lost on Mr. Hyde and his team.
Mr. Hyde takes great interest in all aspects of his growing community. He works with local authorities toward sustainable growth and takes part in charitable golf tournaments for any number of causes, including the humane society, Cashiers Cares and The Country Club of Sapphire Valley (CCSV) Cares. He also supports the grassroots effort to fund and implement a second location for the Glenville-Cashiers rescue group. It's a lot for anyone to take on, but Carl and Barbara do so with open hearts simply out of love for the place they call home. "We're community-oriented people. We love living up here full time. We made the right choice; it's a great community. It's interesting to watch these places grow and go forward," says Hyde.
Whether you call him Carl, Mr. Hyde, or you are close enough to call him Rawhyde, perhaps Mr. Hyde's favorite monikers are Dad and Pop, a name coined by his four beloved grandchildren. As much as he does for the residents of the Highlands-Cashiers Plateau, his heart is steadfastly devoted to his family. He always has them in mind, hoping to build a legacy they will be proud of. And for those who live here, even if you've never met him or heard his name until this moment, he has touched your lives through his incalculable good works. It feels strange to refer to Carl Hyde as a transplant to the plateau. Even though he was born and raised in Texas and spent nearly four decades in Georgia, his heart and his soul are embedded here. His efforts are intrinsically woven into the tight-knit community we all know and love. Oh, what a world it would be if every community had a pillar like our Carl Hyde.
BIO

Carl Hyde
Volunteer President of the Blue Ridge School Education Foundation, Inc.
Hometown: Midland, Texas
Family: Married to Barbara in 1963. They have two sons, Billy and Ken, and four grandchildren.
Education: Graduated Texas Tech University with a Bachelor of Business Administration with a Major in Marketing and Minor in Economics.
Local affiliations: Cashiers United Methodist Church, Cashiers Valley Rotary Club, Cashiers Rotary Club Charities, Inc., The Country Club of Sapphire Valley, Blue Ridge School Education Foundation, Inc.
Fun fact: Played trumpet and cornet in marching band in high school.