Elevate the Holiday Experience
03 Dec 2022
Creating an inviting table makes everyone feel at home
By JUDY ROYAL
Photos by CHELSEA CRONKRITE
Everyone looks forward to the food during the holidays, but those who truly love entertaining know it's just as important to prepare a feast for the eyes when hosting festive gatherings.
"This time of year, I always try to make the table pretty," said Kristin Jorgensen, owner of The Barn, which offers cooking classes and workshops. "I think it's the fun part of entertaining."
Her advice? Don't be afraid to step into the great outdoors to gather items that will complement your setup by imparting the beauty of the mountains. "I love the foraging of branches and leaves," Jorgensen said. "I always love real, natural kinds of things."
When setting the table like it's a standard weeknight dinner just won't do, there are several locally owned retailers ready to help you wow your guests the moment they walk into the dining room. Centerpieces, glassware, flatware, linens, serving plates and decorative finishing touches come together to create tablescapes that transform your event from mundane to memorable.
Acorns
212 S. 4th St., Highlands
acornshighlandsnc.com
Featuring luxury shopping in a rustic downtown Highlands setting, Acorns offers furniture and home décor in both contemporary and antique styles. You'll discover an abundance of choices, from fun and eclectic finds to upscale and elegant showstoppers.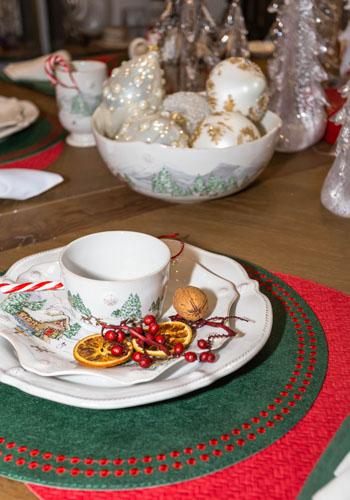 "We love entertaining at the holidays and sharing these special moments with loved ones, people we don't get to see on a regular basis, making new memories and just being together," Acorns Assistant Manager Sinead Proscia said. "Creating a festive tablescape is always so much fun because it just adds that extra elegance to your home, and it elevates the holiday experience. It's such a fun way to add your personality. You can build on your collection each year to create these beautiful traditions that are personal to you and your home."
The Acorns staff has created a Christmas-colored tablescape filled with the new holiday collection from Juliska, a brand that invites you to "overdo it a little" with layers of texture, color and patterns when it comes to holiday festivities. The artwork on the plateware is hand-illustrated with the mythical folklore of the North Pole; the workshop, elves, village, Santa's cottage and more enliven the classic shapes. The glass trees from Simon Pearce, a signature of the brand, come in a range of sizes and styles. From small, sapling-sized to stately and tall, they can be clear, dusted with "snow," wrapped, dappled or silvered. Scattered throughout the place settings are decorative berries, fruits, candy canes, pinecones and nuts as well as shimmering ornaments. This winter wonderland on a table sets the tone for a traditional, yet impressive holiday gathering.
Featured items include: Juliska Berry & Thread plates, ramekins, mugs, platter and side plates; Simon Pearce evergreen hand-blown glass Christmas trees; Bodrum table linens, including Pearls placemats in Forest/Red.
ACP Home Interiors
1990 Dillard Road, Highlands
www.acphomeinteriors.com
ACP Home Interiors showcases furniture and accessories in industrial, farmhouse, transitional and mountain chic designs. The family-owned business strives to find unique and beautiful items to "feather your nest." Bernard Molyneux founded the company in 1983 and ran it with his wife Stephanie for many years before their daughter Kerri launched the Highlands location in 2018.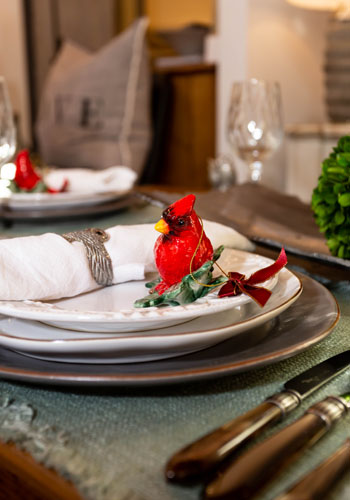 "We enjoy being part of the community and look forward to people stopping in just to say hello," Stephanie said. "We also work hard to keep the store interesting with new shipments arriving weekly, so there's always something new and exciting to see."
"It's not unusual to see an uptick in people buying things for the table this time of year," she said. "I just think it's nice to do something different for the holidays because they're special and you want to make people feel special the moment they walk through the door. What better way to do that than the dining table? It's just an elevated experience."
Many people are now getting back into gathering and entertaining following more than two years of COVID restrictions. So, with family and friends visiting more, a terrific tablescape is once again a priority. Preferring more of a "comfortable elegance," Stephanie said she always wants her table to feel welcoming and inviting rather than full of fragile items everyone is afraid to touch. The family put together a tablescape incorporating durable dishes and flatware that can go right in the dishwasher when the meal is over. Their love for animals is evident with touches that include owls, cardinals and elks, and each place setting includes an ornament that guests may take home.
"It's a gift, and it's something pretty for the table," Stephanie said. "I love this dual functionality."
Featured items include: Skyros Designs Isabella plates on top; Skyros Designs Cantaria plates underneath; Spode ornaments at each place setting; Skyros Designs Porto Latte stainless-steel flatware; Skyros Designs Abigail glassware; Pom Pom at Home linens and placemats; Vagabond House pewter owl napkin rings; Vagabond House wooden pewter elk ice bucket; Vagabond House pewter owl salt and pepper shakers on a wooden branch.
ckSWAN
233 N. 4th St., Highlands
www.ckswan.com
Ashley Harllee, owner of ckSWAN, describes her store as "an established and growing fine home furnishings and gift store with an emphasis in home furnishings and gift needs, custom upholstered furniture, bed and bath linens, garden, kids, decorative accessories, apothecary, garden, books, art and jewelry." The 3,400-square-foot loft-style showroom displays her carefully curated collections of goods that include both vintage antique and contemporary inventory. It has been part of the Highlands business community since 1989. ckSWAN's diverse product range – which spans locales, eras and styles – includes plenty of items to top your table.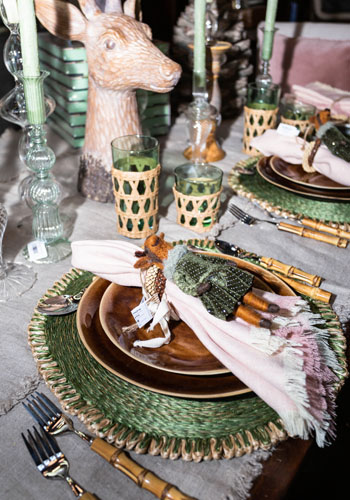 "I enjoy entertaining, especially for friends and family," Harllee said. "I love the creative process that goes into preparing a fabulous meal and enjoying it on a beautiful table setting. A festive tablescape can really set the ambiance of the evening. This is often accomplished by the layering of color and texture in linens, glassware, dinnerware and flowers or greenery with the addition of candlelight and your own prized collections for that more personal touch."
"Don't be afraid to move away from red and green for holiday décor that's just as festive as the traditional combination of hues," Harllee added. Her tablescape uses a pink, green and brown landscape for dinnerware, table linens and plentiful candles of all sizes, with whimsical ornaments in the deer and color theme at each place setting for party favors, a fun keepsake that will remind guests of your gathering for years to come. A deer centerpiece with ascending antlers and flatware reminiscent of branches solidify the nature theme, a popular motif for mountain living.
If the deer ornament is not your thing, you'll find plenty of other choices at ckSWAN. The shop has been stocking tree adornments since early October in a wide array of colors, sizes and styles.
Dutchmans Casual Living
342 Main St., Highlands
www.dutchmanscasualliving.com
Dutchmans Casual Living started in Highlands 22 years ago and now has six retail locations in North Carolina and Georgia. The Highlands location, situated in the bustling heart of town, is a two-story building that houses a colorful inventory of all things home. Striving to provide a wide variety of products that will appeal to anyone's taste, Dutchmans offers furniture, lighting, rugs, bedding and home goods, including plenty of dining décor to make your meals memorable.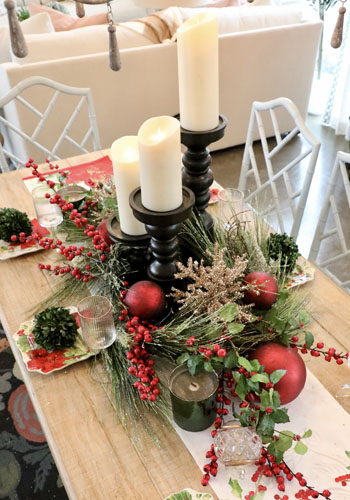 "Entertaining brings friends and family together, and the absolute joy of planning a meal from the table décor to the food shows the love you put in and creates treasured memories forever," said Stephanie Nieuwendijk-Bramble, founder, owner and creative director of Dutchmans. "A tablescape for any occasion is made up of many layers, starting with a simple tablecloth or table runner that can be a neutral color, then placing candle holders of varied sizes. The candles do not have to all be the same. In fact, a mix of pillar and taper candles adds dimension. Next intertwine garland or fresh Christmas greenery and berry branches for a natural look. You can always add in a little sparkle with Christmas baubles. Place settings can start with beautiful chargers and plates and festive napkins and napkin rings. The final touch is a handmade place card."
Featured items include: Colorful and festive 12-inch square floral dessert plates made of dolomite material featuring bright red amaryllis and poinsettia mixed with berries and green foliage; elegant blurred-effect optic white wine glasses with gold rim; LightLi flameless, remote-ready pillar candles in cream with melted smooth edges, offering a flame that dances like a traditional candle; mango wood black candle holders with a square base and distressed look, which are very sturdy to have at the center of the table as decoration.
The Summer House
2089 Dillard Road, Highlands
www.summerhousehighlands.com
The Summer House has been a fixture in Highlands since 1996, when Paula and Barry Jones moved their small retail storefront in Scaly Mountain to 35 acres of an old apple orchard to create a complete home-furnishing complex. The business is a whole-house concept that features a variety of showrooms decorated into vignettes that can transfer directly into customers' own spaces.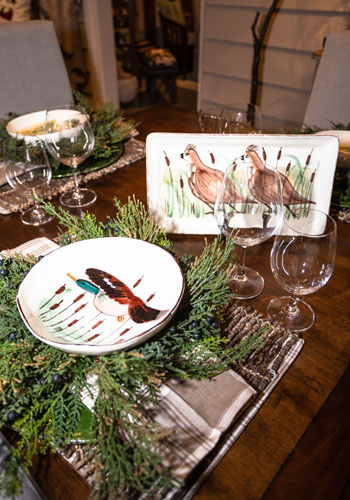 "The Summer House feels like home," Manager Rebecca McCracken said. "I want people to be able to envision that our things would be fun to have at their house. We offer a comfy, cozy vibe."
Customers looking for unique tabletop items will find a great selection of specialty pieces at The Summer House. "My favorite part of entertaining is the decorating," McCracken said. "Bringing in the little details is what really ties a space together. I love using nature to inspire those elements. Classic style with natural elements never leads you astray. Creating an inviting table makes all your family and friends feel at home, and I want everyone to feel comfortable at my table."
The Summer House put together a traditional rustic tablescape that can work in mountain homes throughout the year, but it offers elements that can be interchanged for more festive touches during the holidays. A classic pattern with lots of natural texture, it features a neutral plaid placemat with a twig overlay, followed by a classic green charger. The highlight is the animal-themed plates complemented by small wreaths and a simply folded neutral plaid napkin.
"If you have a great timeless setting, you can always bring in the holiday elements throughout the rest of the table," McCracken said. "To make the tablescape ready for the holiday season, incorporate red placemats and napkins into the setting to make it perfect for Christmas. If you have great plates and silverware, then it makes it easier to bring in the holiday touches."
Featured items include: Vietri Wildlife dinnerware; Lucaris titanium crystal glassware; faux Oregon juniper candle rings for the wreaths.