Tom Sawyer Christmas Tree Farm reminds us that "boughs so green in summertime, stay bravely green in wintertime," while these lovely cold weather fashions have us hoping to find them under the tree this holiday season.
Photos by CHELSEA CRONKRITE
Model: Ashlie Mitchell Lanning
Model: Douglas Lanning
Location: Tom Sawyer Christmas Tree Farm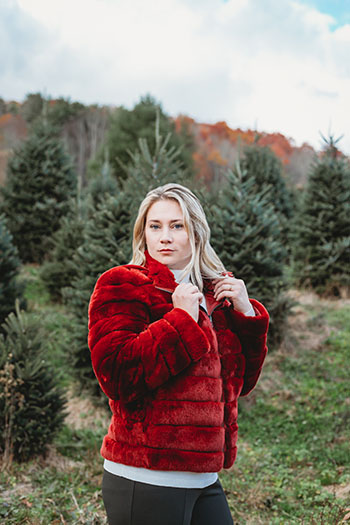 SPOILED ROTTEN - HIGHLANDS, NC
Metric Knits reversible rabbit fur coat in ruby, $625; Metric Knits mock turtleneck in ivory; $85; Lynn Ritchie pull-on pant in green, $125; all at Spoiled Rotten.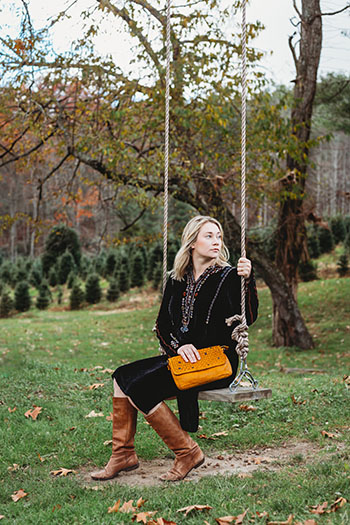 A JONES - CASHIERS, NC
Johnny Was "Fiza" tunic, $320; Kompanero mustard clutch, $229; all at A Jones Company.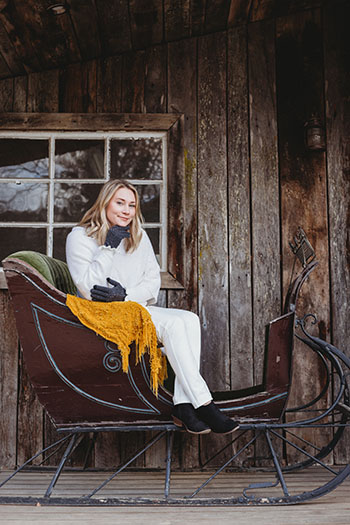 WITSEND - HIGHLANDS, NC
Maddie pant in pearl, $145; Crystal poncho in pearl, $326; Cable hat in ivory, $99; Crystal gloves in charcoal, $128; Ivory turtleneck, $75; all at Wit's End.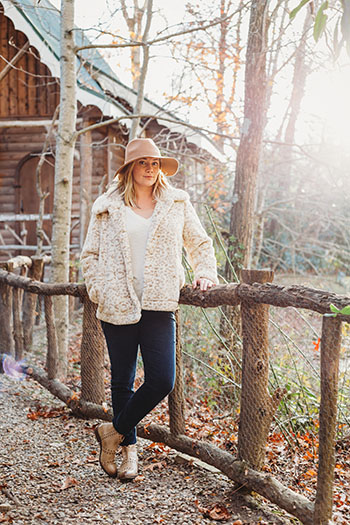 ANNAWEAR - HIGHLANDS, NC
Z Supply sweater; Z Supply fur coat; Hudson jeans; Diba True booties; all at Annawear.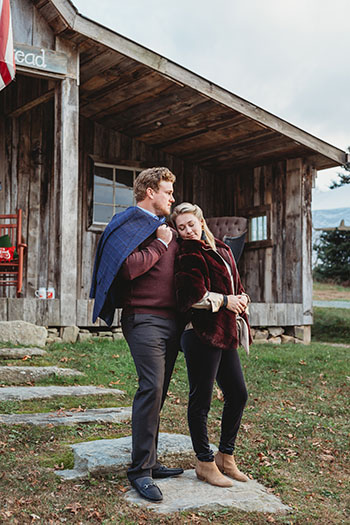 TJ BAILEY - CASHIERS + HIGHLANDS, NC
On Her
Lindy liquid gold shirt, $329; Pull-on skinny velvet trouser in charcoal, $250; Rex cape coat in burgundy, $1495; all at TJ Bailey's.
On Him
Crown soft nappa trim ¼ zip sweater in currant, $248; Esquire sport coat, $995;
Light blue textured micro-circle shirt, $250; Enrico comfort wool trouser in brown, $248; all at TJ Bailey's.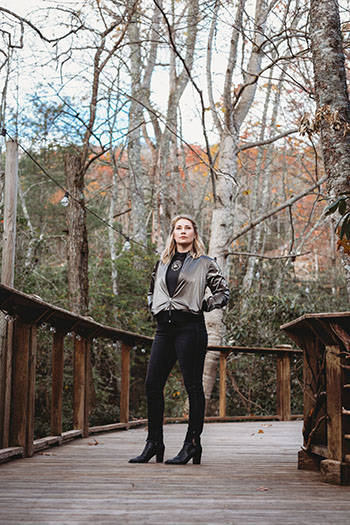 WISH + SHOES - HIGHLANDS, NC
Lotus Eaters metallic bomber, $315; Stonefield black ankle jean, $110; Lotus Eaters black metallic turtleneck, $95; Silent D black woven bootie, $204; Dress 2 Kill metal sculpted necklace, $188; all at Wish & Shoes.