From venues to vendors, the plateau has what brides want
By: Kat Ford
Photos: Eloise Blog, Macy O'Connell Jepsen, JCM Photography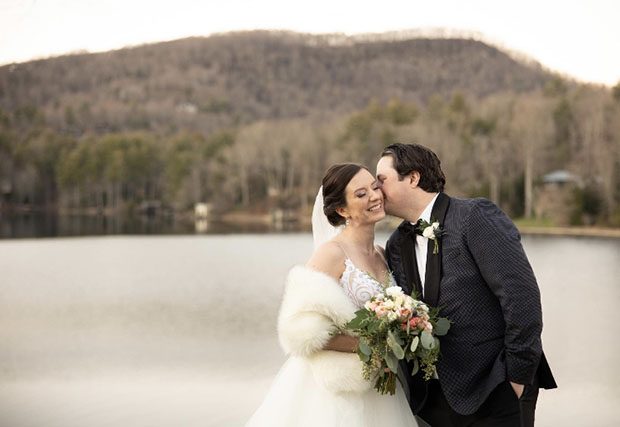 One of the most exciting experiences in celebrating a union is witnessing how the couple chooses to express their uniqueness-from setting to attire, food to flowers. Every detail is selected to create a day of romance and magic for the bride, groom, friends and family. We've highlighted a handful of the plateau's vendors and venues ranging from elopements to elevated nuptial backdrops. With a professional dream team like this at your side, a special day becomes the memory of a lifetime.
Venues
Castle Ladyhawke
833.522.7853
www.castleladyhawke.com
Romance abounds at Castle Ladyhawke, tucked away on 60 acres in Tuckasegee, about 20 minutes from Cashiers, and surrounded by the Blue Ridge Mountains. At over 10,000 square feet, Castle Ladyhawke has wedding options for less than 15 and up to 140 people. No matter which package you choose, your wedding affords you the exclusive use of the entire Castle and grounds including the use of the Great Hall, Carriage House, tower deck, kitchen, pub and garden for the duration of your event. With that type of royal treatment, all that's missing are the glass slippers.
Flat Mountain Farm
828.487.4174
www.flatmountainfarm.com
Purchased in 2019 by the husband and wife duo of Shutze Studio, this newly renovated 28-acre haven will house up to 17 and host between 100-125 guests when it opens in the summer of 2021. Margaret Shutze worked as a designer for Wilson Associates out of Miami, working on prestigious projects such as the Boca Raton Resort and Club, A Waldorf Astoria Resort, while Chris Shutze has been creating specialty homes with award-winning architects for 20 years. With this all-star duo at the helm, a retreat property complete with three cabins, barn, private lake and lawn has never felt so luxurious.
Greystone Inn
828.966.4700
www.greystoneinn.com
The Greystone Inn is a historic mansion, built with love by Lucy Armstrong in 1910 as an escape to the healing waters and mountains of Lake Toxaway. As a venue, it offers nine wedding backdrops, destined to send your imagination soaring, including saying "I do" while cruising on a handcrafted mahogany boat with 20 of your nearest and dearest. With options ranging from rooms that accommodate as many as 120, a boathouse, grassy outdoor lawn or an indoor library with stone fireplace, the Greystone Inn has all the magic to make your dream come true- no matter the size.
Julep Farms
706.960.9600
www.julep.farm
Sitting on 22 acres in Dillard, GA, about 30 minutes from Highlands, Julep Farms is a modern farm resort complete with picturesque pastures, persimmon lined creek beds, and ever-changing mountain vistas. Two venues are available that can host 45 to 200 depending on your event size, and accommodations available on the sprawling location will create lasting memories for guests. Stay in one of the four cottages, purchase freshly grown flowers from the market, sip espresso at the coffee bar, enjoy a cocktail in the formal gardens and enjoy games or dancing under the stars on the Julep Croquet Lawn- all while never stepping foot off property.
Lonesome Valley
828.743.7696
www.lonesomevalley.com
Exchange your vows against the backdrop of the largest box canyon east of the Mississippi at Lonesome Valley, located in Cashiers. The rustic and elegant Jennings Barn serves up an exceptional culinary experience for guests, who during April, May, September, October and November will have a rare chance of experiencing the serene solitude and open spaces that residents of Lonesome Valley refer to as canyon living.
Oakleaf Home Farm
828.526.8000
www.oakleafstyle.com
A long champion of the intersection of history, nature, the arts and horticulture, Oakleaf Flower and Garden has partnered with a forward-thinking landowner in Highlands to create Oakleaf Home Farm. Situated on 17 acres at the base of Black Rock in beautiful Horse Cove, this experiential development will create a backdrop for elopements, weddings, sportsman's weekends and cherished family gatherings. Enjoy a combination of pristine pastureland, historic apple orchards, ponds, streams, and flora and fauna so rare that a Highlands-Cashiers Land Trust Conservation Easement protects the property.
Old Edwards Inn & Spa
828.787.2610
www.oldedwardshospitality.com
Old Edwards Inn & Spa has become a wedding favorite for many visitors to the plateau, known for their rustic-inspired elegance. The Orchard House offers natural light through massive retractable glass doors, creating an open-air pavilion opening to a lush English-style garden. The Barn, built in the 1900s, stands on heart pine flooring with a stone fireplace reaching up to soaring beams and chandeliers. Half-Mile Farm features an expansive green lawn, gently sloping to a charming lake dock, creating a breathtaking backdrop. With a stunning 15 venues to choose from, there is an option to meet any bride's style with guaranteed Old Edward's flair.
Rockwood Lodge
828.526.8919
www.rockwoodlodgenc.com
Atop one of the highest peaks in Highlands sits Rockwood Lodge, a 350-acre family-owned retreat that features eight bedrooms and multiple gathering areas, including a chef's kitchen, dining room and outdoor fire pit. Designed with natural wood and stone and furnished with fine antiques, Rockwood Lodge utilizes natural elements within its luxury design to offer a rustic aesthetic with modern comforts. If you are looking to make the intimate memory of a lifetime, look no further.
Sawyer Family Farmstead
828.743.5456
www.sawyerfamilyfarmstead.com
An active Christmas tree farm, Sawyer Family Farmstead overlooks Lake Glenville on 80 acres of rolling hills accented with fields of evergreen trees, grapevines and blueberry bushes framed by mountain laurel and rhododendron. Surrounded by nature that exhilarates the senses, guests leave a hilltop ceremony with refreshed hearts and minds as they make their way to the reception barn, cocktail area, porch and firepit for a romantic and cozy feel. Farmstead weddings can be as intimate as 12 or as large as 250 guests. Every wedding is unique, and at Sawyer Family Farmstead, you are free to design your day your way.
Secret Waters Highlands
404.520.9279
www.secretwatershighlands.com
Located on a privately-owned property for decades, the owners of this awe-inspiring waterfall were so enthralled with its natural beauty that they felt obligated to share it. Secret Waters Highlands offers a breathtaking waterfall venue to tie the knot for those seeking intimate weddings and elopements. Perhaps the most stunning feature, the stone staircase that leads to a moss-covered alter beneath the waterfall, creates a scene straight out of a motion picture. Memorable photo opportunities are found throughout the venue, like their doorway to nowhere, whimsical rope bridge and spectacular lower falls.
The Vineyards at Bettys Creek
828.506.3139
www.thevineyardsatbettyscreek.com
Located between Sylva and Franklin, The Vineyards at Bettys Creek offers five ceremony locations, each with a unique background. Hundreds of acres on the property have been placed into conservation protection to preserve the vast plants and animals that make this venue incomparable in natural beauty. Couples seeking the ultimate wedding experience can rent the entire venue out for a full weekend, including the Groom's Barn, Honeymoon Cottage and five en suite bedrooms at the Dunkard Barn Lodge. With manicured gardens, orchards, vineyards, creeks, waterfalls and trout ponds, guests will have a hard time determining which enchanting stroll to take next.
The Vineyard at 37 High Holly
828.482.5573
www.thevineyardat37highholly.com
With 13 different varietals under vine, The Vineyard at 37 High Holly decided to share their alluring 45-acre venue with future brides and grooms after the property became the stage of their own daughter's wedding. A 5,400 square-foot open-air pavilion is equipped with a full-service commercial kitchen and can accommodate 299 guests. The main ceremony area is within the vineyard and orchard. Property lodging can accommodate up to 64 people and amenities like a wine cellar, award-winning dahlia garden, pond and spring house make this an idyllic mountain vineyard getaway.
Vendors
Altaterra Events
828.200.1211
www.altaterraevents.com
With over a decade of global industry experience working on the event teams of Martha Stewart Weddings and Old Edwards Inn & Spa, Altaterra Events brings expertise, poise, connections and creative thinking to plan your momentous day. Knowing that you have that kind of powerhouse ensuring each and every detail is carefully curated and executed is enough to make any bride, or mother of the bride, sigh with relief.
Floressence Flowers
828.490.1231
www.floressenceflowers.net
Building on the concept of a sense of place and pulling inspiration from the mountains surrounding them, Floressence Flowers uses lush biodiversity and seasonal touches to manifest works of blossomy art. If your special day calls for arrangements that are truly showstoppers- the kind of statement pieces that transform a room and spring forth into the heart of your guests etched into their memories forever, Floressence Flowers can bring your fairy tale to life.
Marty Rosenfield
828.421.1789
With 40 years of food service experience, Marty brings the culinary savvy of a seasoned professional capable of planning for an event serving 2000 to his clients. Serving between 25 and 100, he strives for optimum customer satisfaction and works with couples to create a custom menu for their guests. If you ask a local lucky enough to have attended one of his private dinner parties, they will be the first to tell you that his are meals worth celebrating.
Oakleaf Flower & Garden
828.526.8000
www.oakleafstyle.com
With a passion for making every event stylish with a unique and whimsical botanical twist, Oakleaf pulls from their deep reservoirs of horticultural, historical and artistic knowledge to invoke elegant charm for brides and grooms. Striving for a collaborative creative experience, whether for an intimate elopement or an elaborate soirée, Oakleaf gives great thought and imagination to every event, making sure that your florals effortlessly express the love you are celebrating.
Rosewood Market
828.526.0383
Chef Tim Lundy brings 35 years of combined classically trained culinary and event design experience to a couple's wedding, where farm-to-table menus are his forte. An international professional speaker on the subjects of Culinary Design, Event and Wedding Design & Décor, Tim launched his first book as a collaboration with ten other chefs titled "Inside the Recipe Box of the Catering Chef" in 2009. Swing by Rosewood Market and find out what locals already know, there's catering, and then there is Rosewood.
Sweetlife Highlands
Shoksi2002@yahoo.com
Pastry chef and chocolatier Oksana Shchelgachova has been wowing the plateau with her edible petit gâteaux since she started Sweetlife Highlands at the urging of her private clients in 2017. You likely have seen her creative confections at Midpoint Highlands, displayed in all of their delicious, whimsical glory. With all-natural ingredients and mostly gluten-free, these cakes are guaranteed to be the icing on top of an already perfect day.
Terri Clark
828.399.0338
www.terriclarkphotography.com
With a degree in commercial photography and over twenty years of experience, Terri views wedding photography as a form of photojournalism. Offering photography packages for both elopements and weddings, Terri stresses the importance of finding the right photographer as a couple will relive the memories of their wedding day through the eye of their photographer for the rest of their lives. Terri builds strong relationships with each wedding client which may be why she's received WeddingWire's five-star Couple's Choice award for the past four years.