Mountain Spa Paradise
04 Oct 2020
Taking relaxation to the next plateau
By ERIN D'ELIA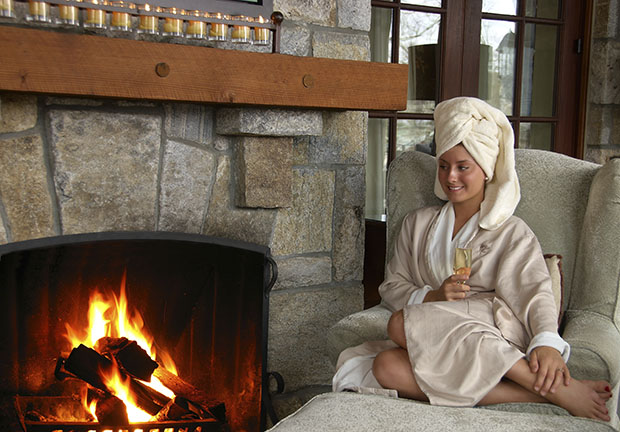 Traveling to the mountains is how most of us think of taking time to unplug, sleep in, dine out, indulge in things that we deny ourselves and explore nature's adventures. 2020 is no exception to this thought as everyone is finding their way up the winding roads and joining those who call the plateau home. The North Carolina mountains offer-up a full array of activities that include pampering yourself with a trip to everyone's favorite local spas for deep relaxation and healing. In that spirit, we have made our way to various scared spaces to explore the offerings of some of the most famous spas on the mountain to let you know what experiences are waiting.
Canyon Spa
828.743.0006
www.lonesomevalley.com
Lonesome Valley, a fantastic spread of beautiful views and hospitality, is settled on an expansive 800 acres. The spa is located in the former Caretaker's Cottage which has been gracefully restored, providing a new style of caregiving to the Lonesome Valley community and the public around it. At Lonesome Valley, from the Canyon Kitchen to the Spa, all have the mantra of is nothing is rushed; everything is already waiting for you. Their skilled, involved staff and wellness providers go to every length to ensure you are heard and understood when it comes to your Canyon Spa experience—offering up a full arrangement of treatments for skin, body and massages. This spa likes to think of each offering as a starting point when booking—letting the individual wellness provider take it that extra step further by customizing the treatment based on the guests' concerns and what their bodies are saying. The guest experience also includes their well-stocked showers with complimentary family made soaps and lotions and walks through the gardens. Call ahead as walk-in appointments are often not available.
Cashiers Spa
828.553.6300
www.cashiersspa.com
A calming place of inspiration that brings the essence of nature's tranquility through the transformative power of combined photographic artwork, and talented massage therapists as you pass through the front door and are welcomed into a cozy heart filled lounge. This team of massage therapists brought together a unique space famed by the locals and sought after by seasonal travelers through their collective passions. Cashiers Spa's offerings are centered around relaxing all of the senses. Starting with soothing aromatherapy and waterfall sounds to help you prepare for relaxing, therapeutic and healing body treatments. Each session is customized to help a guest work through whatever current physical aches and pains they are feeling to bring about a genuinely healing experience. No guest leaves without lasting advice to help as they continue throughout their days until the next massage. Clients can book various durations for their massage therapies as well as house calls, where Cashiers Spa travels to you. Call ahead to make an appointment.
Greystone Inn Spa
828.966.4700
www.greystoneinn.com

For generations, many people have sought the mountains as a magical place for deep healing and transformation. It is why Lucy Armstrong decided in 1910 to spend her time enjoying the waters and mountains of Lake Toxaway and by 1915 had built her home nestled on a unique peninsula along the lake. Now the Greystone Inn, this boutique hotel offers a variety of experiences to appeal to every taste and desire, helping guests indulge in the healing properties of this temperate rainforest. The friendly and professional staff offer various personalized services to relax and rejuvenate every part of your being, from outdoor activities like hiking and paddleboarding, to mind and body programs like yoga and meditation to enrich your soul. The spa is ready to deliver long, luxurious hot stone massages, deeply nourishing mud body treatments and signature and age-defying facials. Retreats for wellness and renewal find their perfect location as the culinary, adventure planning and spa teams are always ready to exceed your needs. Whether you are looking to get away with family, your best girlfriends, or submerge yourself in your own transformation, the Greystone Inn and Spa are waiting to delight your every desire.
Old Edwards Inn & Spa
828.526.9877
www.oldedwardshospitality.com
When you think of a spa settled in the center of Highlands, NC, 4,000 feet in the air mountain plateau, you envision Old Edwards Inn—adorned with a luxury spa supplying every amenity. When planning to visit, it is a full day of surprises that will make lasting memories for any occasion. Each spa treatment starts with the option to enjoy their multi-headed showers, sauna, steam room, mineral whirlpool, two serenity solariums, or spa café and are exclusively reserved for appointment guests, spa suite guests and members. Old Edwards Inn & Spa has a full arrangement of treatments including hair and nails, skincare, body wraps, scrubs, touchless and massage therapies. Once you have concluded your relaxing beginnings and services, there is no worry about getting back to your room or home, as each of the men's or women's locker rooms are outfitted with every detail needed to prepare for the rest of the day enjoying the other benefits of the property or dining experiences. Wellness does not stop at the spa as the Inn also offers various classes on yoga, aqua therapies, sound healings, fitness and more to guests and members. Schedule your spa services well in advance to ensure availability. Early-week openings are for the public, later week appointments are reserved for guests.
Skyterra
828.548.1454
www.skyterrawellness.com
Skyterra Wellness Retreat is a magical place to transform. Whether your life is filled with stress, you are looking to heal or just need peace and silence, this vast nature retreat is fully outfitted to help you grow into a new and supported lifestyle. Offering daily classes in coming together, exploring your truths, yoga, meditation, personal fitness and a team to learn about your dietary needs. Skyterra provides more than 60 class offerings each week and guests customize their schedule to their interests. Their spa in the trees offers unique opportunities to receive healing work from inspirational wellness providers. The spa embraces the tone of change by using products created from others' healing journeys—offering body treatments from onsite made honey, aromatherapies infused with every session's intention, energy healings rooted in various training modalities and massages in sacred spaces for each person that walks through the door. Each guest is given the freedom to enjoy the spa's sprawling valley views and some casual shopping to enjoy your complete metamorphosis. If you wish to book your experience, contact the spa directly. Please, no walk-ins.
Due to changes in COVID-19 guidelines, while any of these serene mountain spa experiences are just a phone call away, please inquire about what services and amenities are currently available for guests before booking.