Mixology Magic
06 Oct 2020
Shrubs are the missing ingredient in your artisanal arsenal
By KAT FORD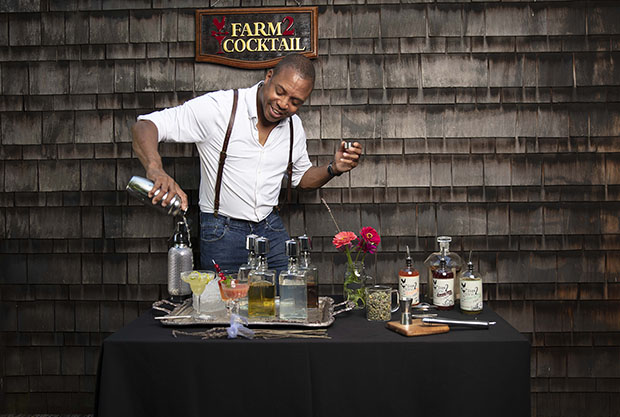 Me? I'm a tequila girl- añejo, on the rocks, salted rim, extra lime has been my poison for over a decade. In the COVID-19 era, I don't get to belly up to a bar often, so going out is a treat. When dining with friends at Midpoint in Highlands one evening, I felt a little fancy and asked the bartender for a fresh-tasting margarita. His kind eyes and warm energy made me feel safe to stray from my trusty inebriant of choice. With one taste, I knew this wasn't just a margarita; this was 'the margarita.' The margarita that would bring me back to this same barstool when out with friends. My bartender, Carlton, smiled the kind of grin that knows a particular type of secret. In this case, the secret is the shrub, his shrub recipe, to be exact. My new favorite margarita's magic is thanks to Carlton Chamblin's artisanal line of shrubs, Farm2Cocktail.
Chamblin takes the word 'artisanal' to a higher standard when it comes to mixology. With an educational background in art history, he isn't only looking to create a specialty cocktail. He is fascinated with each unique libation's history, seeking a way to offer his contribution to the drink's expanding narrative. Why just imbibe when you can bequeath?
Shrubs, also known as drinking vinegar, were common in colonial America. Vinegar was used in the absence of citrus juices in the off-season to preserve fruits and berries. Shrubs have seen a resurgence in popularity over the last decade or so in craft cocktails. Use this sweet yet acidic non-alcoholic mixer in various manners from soda water to your favorite distilled beverage; for the culinarily inclined, try a shrub in a salad dressing or marinade.
Farm2Cocktail currently offers five flavors for your creative palate blueberry lemongrass, cucumber mint, peach lavender, strawberry peppercorn and vanilla pear- each made with farm-fresh and natural ingredients. Like any good student of history, Chamblin is always eager to teach. The Farm2Cocktail offerings don't stop with secret syrups to help you play mixologist. Chamblin offers classes to help you become a mixologist, creating cocktails every bit as beautiful as the ones he serves to his loyal clientele. Private events are also on the menu, anything from weddings to corporate parties. Chamblin intends to expand his product and service options in the future, with culinary items like salad dressings and marinades and low sugar soda options on the top of his list.
As the fall leaves turn, many will reach for a spirit that matches the season. For Chamblin, this is yet another way to share his love of artisanal mixology. Farm2Cocktail has a robust blog presence offering both the family-friendly (can you say shrub snow cone?!) and the liquor-inspired, with a dash of culinary delight. He recommends using his vanilla pear shrub for autumn sipping, and he plans on posting plenty of recipes to inspire fans. To purchase one of Farm2Cocktail's shrub products, visit the website or stop by Mountain Fresh Grocery in Highlands. With a collection of these naturally infused elixirs, you will be serving dinner party guests with that same secret-knowing grin. It's up to you if you want to share the magic.
Farm2Cocktail
(828) 482-5324