Curated Cuisine
06 Oct 2020
From ingredients to dessert, Midpoint offers guests refined variety
By BRIDGET CALLAHAN
Photos by CHELSEA CRONKRITE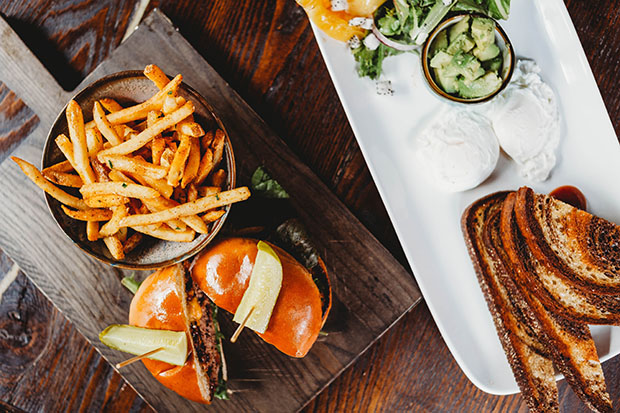 When Kristina Donikian asked Scott Crowe to be her business partner in a new restaurant venture, he says it felt like agreeing to run off to Vegas to get married.
"We were driving down the road, eating lunch. I remember she was driving and went around a curve really fast, then asked me if I wanted to be her partner," Crowe says.
"He said yes really quickly," Donikian adds.
The two met over lunch one day, sitting at the bar in a local North Carolina restaurant. It was the start of a business partnership that has transformed the once beloved Cyprus restaurant space into a haven of warm, modern global cuisine and jaw-dropping desserts.
For both Donikian and Crowe, world travel, and the foods that come along with it, are the great loves of their lives. Crowe's career includes founding a successful travel company and serving as the tourism commissioner for Charleston, where he was regularly involved in high profile events like the Charleston Wine & Food Festival. Donikian has worked for restaurants since growing up in Bulgaria, as a server, host, manager and general manager. After coming to North Carolina as an exchange student, she tried out New England and Chicago but eventually ended up coming back.
"I came back to this area because it was my first, and best, memory of America. I fell in love with the mountains and the people," Donikian says.
The two world travelers have built themselves a menu at Midpoint that reflects all their own favorite foods and dishes. The plates span the globe, from Ecuadorian ceviche to chicken ramen and Carolina trout. The variety is very much on purpose, Crowe says.
"People come to us because we have something for everyone on the menu. We have a burger, of course. I think we have the best burger in town. But let's say Grandma and Grandpa have their daughter and son-in-law visiting from Boca Raton, and they order the seaweed pasta salad. That couple comes back a week later and tells us we made their weekend because they were worried they'd come up and have to eat barbecue all week. Instead, they came to a small mountain town and got something up to the standards of Paris or Hong Kong," Crowe says.
The menu changes daily, sometimes even hourly, if they find something great at the local markets. As with any menu based on sourcing seasonally, that means dishes can disappear and reappear depending on hurricanes or droughts. Last week, the popular spiny lobster they serve was unavailable because their suppliers were evacuating for a hurricane. But having those personal relationships with vendors is one of the aspects of being a restaurateur that Crowe likes best.
"You get to know people firsthand at the farm. You know the fisherman bringing you your soft-shell crabs, we know who the two guys on the boat in Maryland are, and if we need something, they're going to try and get it because they know us," Crowe says.
Those soft-shell crabs are currently featuring in a new menu item that Donikian says is her favorite of the moment: fried soft-shell crab spring rolls served with pickled cucumbers and carrots, avocado mousse and golden caviar.
"It's one of the best things I've ever had. If I want to win someone over immediately, I would serve them that," Donikian says. Another newer menu addition, Korean barbecued salmon or shrimp served over vegetable fried rice, has become the staff favorite. It's a little peppery, a little sweet, served with a thinly shredded cucumber salad to cut the richness of the sauce and topped with a golden fried egg.
From buttery shrimp and grits to watermelon gazpacho and Moroccan lamb shank tagine with couscous, a party of five can go halfway around the world and back. While the BBQ has quickly risen to the top of everyone's lists, the current reigning champs of the menu are the Madras sea bass curry and Brazilian moqueca, a spicy coconut seafood stew that comes to the table served in an actual coconut.
Whatever you order, be prepared to leave room for dessert. In fact, their pastry chef was the first employee Donikian hired.
"We wanted people to experience amazing food, amazing drinks and totally shocking desserts. I don't think you can find any desserts like this; the closest place is Miami- there's a place that does something similar. I told Scott I know this girl; we have to have her. You're going to love her style," Donikian says.
Pastry chef Oksana, no last name needed, crafts elaborate petit gâteau, an artful style of French pastry that is indeed hard to find. Luckily, the guilt of destroying a work of art will fade when you taste these masterful creations of custards, fruits, mousses, cakes and chocolate.
"People take photos of the desserts all day long; they can't believe they're edible," Donikian says.
The Midpoint patio fills up most days, and especially with fall leaf season in full swing, reservations are recommended. But for those a little wary of dining out still, the spacious open-air dining room is outfitted for maximum air circulation, and Donikian and Crowe have worked hard to provide an environment all customers and staff can feel safe in. If you're looking for a gorgeous meal, in a gorgeous space, with a gorgeous dessert? This is the place to be.
332 Main St.
Highlands, NC
(828) 526-2277
www.midpointhighlandsnc.com