Events Calendar Feb-Mar 2020
25 Jan 2020
Looking to fill your social calendar?
We've got the rundown on what to do and explore.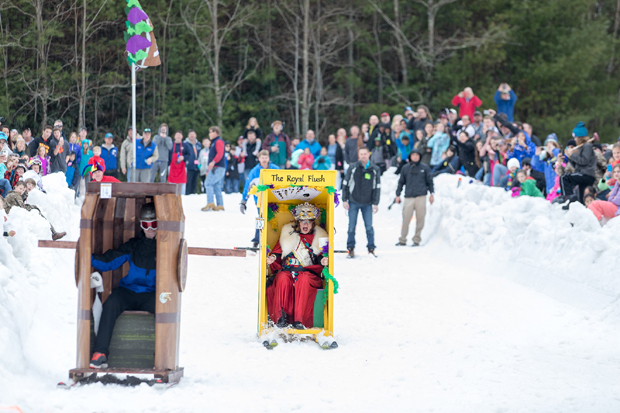 ONGOING / MONTHLY
The Bascom Exhibitions
The Bascom: A Center For The Visual Arts, offers free admission exhibitions year-round. Winter Gallery Hours are Friday, Saturday, and Monday 10 am – 5 pm / Sunday 1 pm - 4 pm. Current exhibitions include: 100 Miles (showcasing faculty and student's art from universities within a 100-mile radius of Highlands, NC) and W.R.A.P. (showcasing Winter Resident Artist Program recipient Gabrielle Duggan).
Family Experiences: The Highlands and Cashiers Libraries
The plateau's libraries in both Highlands and Cashiers offer exciting and enriching experiences for the family all month long.
Hudson Library (Highlands) (828) 526-3031
1st Wednesday at 3:30 pm: Children's/Family Movie
3rd Wednesday at 2:00 pm: Recently Released Movie
Thursdays at 10:40 am: Family Storytime - Best for children 3-6, open to all.
Thursdays at 3:30 pm: Kid Zone - Best for children in grades K-3, open to older and younger participants.
Albert Carlton-Cashiers Library (828) 743-0215
2nd Wednesday at 5:30 pm: Bibliophiles Book Club
Tuesdays at 3:45 pm: A monthly activity for early elementary age children to encourage imagination and reading for pleasure.
Wednesdays at 10 am: PreK Storytime - For children 0-5, featuring books, crafts, and songs.
Wednesdays at 1 pm: Mah Jong games sponsored by the Friends of the Library.
Thursdays at 3:45 pm: Recently Released Movie
Wine Tastings
Thursdays through March
Join Meritage Bistro in Highlands for wine tastings (5 selected wines weekly) and complementary tapas, $10 per person. 4 pm – 5:30 pm. (828) 526-1019
FEBRUARY
Harry Potter Night
February 6
Hudson Library: 3:30 pm – Billy Love from The Bascom: A Center For The Visual Arts, will have great Hogwarts-themed arts & crafts, get sorted into your Hogwarts House, and much more fun awaits! Costumes optional. (828) 526-3031
Albert Carlton-Cashiers Library: 5 pm- Join the Albert Carlton-Cashiers Library for a magical evening with games, crafts, and activities to explore the wonderful world of Harry Potter. (828) 743-0215
Exhibition Reception for 100 Miles and W.R.A.P.
February 7
The Bascom: A Center For The Visual Arts invites members of the community to the exhibition reception of 100 Miles and W.R.A.P. Light refreshments will be provided. 4 pm. (828) 526-4949
Academy Awards Red Carpet Event
February 9
Highlands Playhouse will host an Academy Awards red carpet event. We will live stream the red carpet arrivals, interspersed with trailers from nominated films. (828) 526-2695, or for full details, visit www.highlandsplayhouse.org
Outhouse Races
February 15
Named a 'Top 20' event in the Southeast for February by Southeast Tourism Society, the Outhouse Races at Sapphire Valley Ski Resort attracts spectators from across the southeast. Dozens of outhouses race to compete for the throne. Come watch homemade outhouses with skis attached and cheer on those brave enough to see if the outhouse crashes and burns, or sails across the finish line. 3pm. (828) 743-7663, sapphirevalleyresort.com
Ashley Campbell
February 21
Live at The Smoky Mountain Center For The Performing Arts, Ashley Campbell, daughter of country legend Glen Campbell. Songwriter. Singer. Banjo player. Ashley Campbell juggles all three rolls, armed with the ability not only to dream up a modern country song, but to deliver it too. 7:30 pm, Tickets $15 - $25. (828) 524-1598
Hugh Acheson Dinner at The Farm
February 22
Enjoy a delicious evening where Hugh Acheson, the co-owner of Athens, Georgia restaurant 5&10, Atlanta restaurant Empire State South, as well as Atlanta coffee shop Spiller Park Coffee, will be cooking up his favorite dishes! Food & Wine Magazine named him Best New Chef back in 2002 and the James Beard Foundation awarded him Best Chef Southeast in 2012. Hugh has developed a style of his own forging together the beauty of the South with the flavors of Europe. 6:30 pm, Tickets $165 per person. Call for reservations. (828) 787-2635 or (828) 787-2916. oldedwardsinn.com/hughacheson
Killer Bees Farm and Honey Culinary Tour
February 22
Experience the role of honeybees in the Pisgah National Forest. Learn about the life of a hive, sustainable bee stewardship, the qualities of artisanal honey and how it is processed. 9:30 am, Tickets $105 per person. (312) 909-5878
Mardi Gras In The Mountains
February 22
Shop and play in downtown Franklin while enjoying a children's and pet costume contest, pantomime music parade, and community fellowship in the spirit of Mardi Gras. 2 pm. (828) 369-0092, www.franklin-chamber.com
Handel's Agrippina
February 29
The Met Opera live on screen at the Highlands Performing Art Center. As the imperious title empress, mezzo-soprano Joyce DiDonato leads the Met premiere of Handel's tale of deception and deceit. 12:55 pm, Tickets $26. (828) 526-9047, www.highlandspac.net
MARCH
Artist Talk with W.R.A.P Recipient
March 7
Join The Bascom: A Center For The Visual Arts and Resident Artist Gabrielle Duggan for an artist talk in the Thompson Gallery. Ms. Duggan will be discussing the work in her exhibition installation, Not the Whale Song, But… 4 pm.(828) 526-4949
Cashiers Historical Society Heritage Apple Day
March 14
A free educational event for all ages, pay tribute to the significance of apples in the early years of the Cashiers Valley. Learn how to graft and receive a free grafted heirloom apple tree while enjoying snacks, local history, kids' games, and live music. Held at the Cashiers Community Center, 11 am – 2 pm. (828) 743-7710, www.cashiershistoricalsociety.org
Wagner's Der Fliegende Holländer
March 14
The Met Opera live on screen at the Highlands Performing Art Center. The great bass-baritone Sir Bryn Terfel returns to the company for the first time since 2012, in the title role of the cursed sea captain doomed to sail the open ocean for eternity. 12:55 pm, Tickets $26. (828) 526-9047
10th Annual Assault on Black Rock
March 21
Assault on Black Rock is a 7-mile trail race in Sylva, NC, with 2,770' of elevation gain, with an entire ascent for the first half of the race and a descent for the second half of the race.The trail race weaves through the spruce forests along the spine of the Plott Balsam Mountains on challenging gravel and dirt roads.T-shirts are included with registration for the first 100 runners, and awards will be given for top 3 male and female finishers. All proceeds go to the Humane Society of Jackson County, NC. 9 am – 11 am, Tickets $30 on race day. (828) 506-2802, www.discoverjacksonnc.com
Great Art On Screen, Frida – Viva La Vida
March 25
The Highlands Performing Art Center and The Bascom: A Center For The Visual Arts present Great Art On Screen. Frida - Viva La Vida highlights the two sides of Frida Kahlo's spirit: a revolutionary pioneering artist of contemporary feminism and a human being tormented by agony and love. 5:30 pm, Tickets $16. (828) 526-9047
Community Coffee
March 27
Mayor Patrick Taylor will be at the Hudson Library in Highlands for the first Community Coffee of 2020⸺it's always an interesting and informative event! This month's refreshments are provided by the Center for Life Enrichment. 11 am. (828) 526-3031
A Youth Theatre Production of Aladdin Jr.
March 27 – 28
Presented by the Overlook Theatre Company at the Smoky Mountain Center For The Performing Arts. This magical musical based on the 1992 animated feature is filled with classic tunes, tons of heart and a lot of punch, pizzazz, yahoo and how! 7 pm, Tickets $13. (828) 524-1598
Chefs in the House with Bill Smith & Justin Burdett of Crook's Corner
March 28
Half-Mile Farm is delighted to present up close and personal experiences with some of the South's most acclaimed chefs, in their Chefs in the House dinner series. Limited seating will make for memorable evenings amid the bucolic lakeside setting of a luxury country inn. Crook's Corner was awarded the James Beard Foundation's 2011 America's Classic Award and has a focus on Southern classic comfort food. 6:30 pm, Tickets $155 per person. Call for reservations. (828) 787-2635 or (828) 787-2916, www.halfmilefarm.com/chefdinners