In the Spirit of Giving
14 Jan 2023
Mountain Theatre Company launches its Theatre for Young Audiences program
By KRISTIN E. LANDFIELD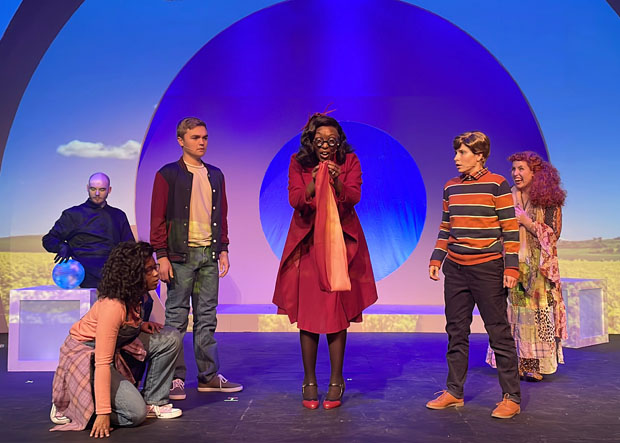 The origins of theatre in the West trace back to ancient Greece, where Athenians performed in community festivals, sharing in rites and rituals at the temple of Dionysus. Still today, there remain extant texts of 5th and 6th century B.C. playwrights. These performances were central to the lives of early Greeks, who recognized theatrical expression as a means for communal sympathy. Theatre served as a method to understand the lives of humans in relation to the gods and their fellows.
Records of gift-giving date back even further. Many anthropologists and evolutionary neuroscientists believe that early hominids exchanged gifts as a means of bonding and reciprocal altruism. Such gifts established connections within communities and therefore promoted survival. Gifts remain a significant way in which we express affection, gratitude and commitment. They are for celebration, condolence and mending fractured bonds.
The Mountain Theatre Company (MTC) embraces not only excellent theatre but also this ancient tradition of giving. This season marks 84 years of offerings. It also marks the advent of an exciting Theatre for Young Audiences program, in which MTC will expand its legacy to younger audiences. MTC's executive artistic director, Scott Daniel, explains that while the "mountains are where we gather to escape and embrace the wonders of nature, the theatre is where we escape and embrace the gifts and stories shared by passionate artists." These are the stories that help us grow, and it is MTC's mission to make them available to our youth.
One of the most wonderful things about theatre is its communal nature. Many of us consume an overwhelming amount of media on small devices, which categorically changes the experience from being a member of an audience to being an individual follower of content. The etymology for theatre derives from the Greek verb theasthai, meaning "to behold, to observe." We're often alone scrolling rather than beholding among our fellows. Theatre is intimate and immediate. It teaches empathy and engagement; it lends physical expression to complex archetypes of human experience. Willingness to unveil our hearts, which is exactly what theatre offers, is perhaps our greatest gift to others. There is power in vulnerability. Such is the art of stage performance: vulnerable generosity.
MTC embarked on its first Theatre for Young Audiences performance with A Wrinkle in Time, which opened on November 4 at The Highlands Playhouse. Adapted from the Newberry Medal winning novel by Madeleine L'Engle, with the playscript by John Glore, A Wrinkle in Time tells the timeless story of good and evil, the redemptive power of love and how those things that make us different can be our greatest gifts. This book was a treasured gift to me as a young person, as it has been to countless readers for 60 years.
Director Lindsay Garner Hostetler was drawn to this story because "it does not ignore the fact that children know darkness," both in the world and in themselves. But it also illustrates that children have strength and are drawn to and can find "their own internal light" and the confidence to "share that light in the world."
In the play, Meg and Charles Wallace, with help from neighbor Calvin, travel in time in hopes of finding and rescuing their father. They are guided in their journey by Mrs. Whatsit, a being of light who had once been a star, and Mrs. Who, representing all motherly love. In their journey, they must lean on each other and their inherent gifts. The acting carried the show, with standout performances by Kaléa Leverette (Meg), Veronica Vale Duffy (Charles Wallace) and Shoshana Canali (Mrs. Whatsit). Anquanizia Hall and Jacob Elliott, both of whom played multiple characters, and Ben Butters (Calvin) were likewise superb. Based on the standing ovation that followed the performance, the audience, young and old alike, appeared to agree.
With the generous support of donors (especially local non-profit thrift store Mountain Findings), MTC has made this season's Theatre for Young Audiences plays free to all school children and their families in Macon, Jackson, Rabun & Transylvania counties. On its holiday wish list, TMC hopes to expand its sponsorship, donor, patron, and volunteer support base, especially as they move to the Highlands Performing Arts Center in 2023. Ticket sales only cover 40% of their operating budget, so community investment is essential as they continue in their 84-year legacy of offering professional theatre to our local community. To learn more and share in their spirit of community giving, go to www.mountaintheatre.com