Event Calendar Jan-Feb 2022-23
03 Dec 2022
Looking to fill your social calendar? We've got the rundown on what to do and explore this winter.
DECEMBER & JANUARY
ONGOING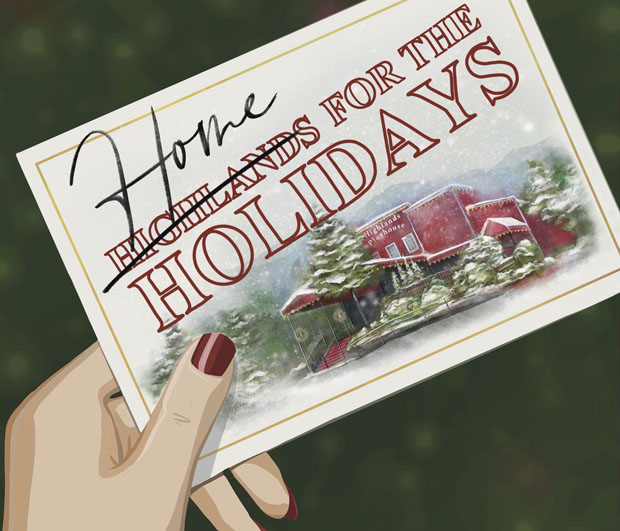 Home for the Holidays
Various dates and times from December 16 to December 31
Written and directed by Scott Daniel and presented by Mountain Theatre Company. Celebrate the holiday season by singing along to your favorite holiday hits while being dazzled by high-energy choreography, beautiful costumes, a triple threat cast and incredible live musicians. Featuring classics like "I'll Be Home for Christmas," "Go Tell It on The Mountain," "O Holy Night" and many more! The Historic Highlands Playhouse, 362 Oak Street, Highlands. Tickets are $45.
Bluegrass Wednesdays with Nitrograss at The Ugly Dog Pub.
Come and enjoy dinner and music with beloved bluegrass band, Nitrograss. Table Reservations required ($10/seat). Call Kellye to reserve your table. 828.318.5762. Seating starts at 5:30 p.m. Music from 6 to 9 p.m. Ugly Dog Pub, 294 S. 4th Street, Highlands.
Thursday Night Trivia at The High Dive. Test your trivia skills at Highland's funkiest watering hole. The High Dive opens at 4 p.m. Trivia begins at 7:30 p.m. Thirsty Thursday includes pints for $3.50 and pitchers for $12. The High Dive, 476 Carolina Way, Highlands. 7:30 p.m. to 10 p.m.
DECEMBER
One Christmas Night in Memphis
December 9
Presented by Smoky Mountain Center for the Performing Arts. Get ready for a holiday night of rockabilly, country, gospel and pure 1950's rock and roll. This high energy concert takes you back to December 4, 1956, the night when four of the biggest names in early rock and roll - Elvis Presley, Carl Perkins, Jerry Lee Lewis and Johnny Cash - gathered together for an impromptu jam session at the legendary Sun Studios in Memphis. Smoky Mountain Center for the Performing Arts, 1028 Georgia Road, Franklin. Tickets range from $25 to $38.
Santa in the Park, Letters to Santa and Photo Opportunities
December 10 and 17
Santa will appear in the park each Saturday (weather permitting) to hear wishes from children and pets of all ages. Santa will also periodically sneak into the park to retrieve letters placed in a special mailbox from the North Pole! Stop by the park any time to drop off letters or see the festive decorating of Santa's sleigh by his elves. Be sure to bring your camera! Saturday, December 10 and Saturday, December 17, 11 a.m. to 3 p.m. Those who desire a Santa visit with their pet are encouraged to select the December 17 date. Kelsey-Hutchinson Founders Park, 411 Pine Street, Highlands. Free.
Fireside at The Farm, A holiday evening with Mike Kinnebrew
December 15
Settle into the magical ambience of The Farm and relax to holiday music with the charming and treasured singer-songwriter Mike Kinnebrew. 6 to 8 p.m. The Farm at Old Edwards Inn, 336 Arnold Road, Highlands. Public welcome. $40 for the public; $25 for Inn guests. Cash bar and complimentary light bites.
Highlands Wreaths Across America
December 17
Wreaths Across America will be at Highlands Community Building and then Highlands Cemetery to remember and honor our veterans through the laying of Remembrance Wreaths on the graves of our country's fallen heroes and the act of saying the name of every veteran aloud. Ceremony begins at noon at the Highlands Community Building, 869 North 4th Street, Highlands. For questions, please contact Phil Potts, Highlands Location Coordinator 828.200.9753. Free.
Rudolph the Red Nose Reindeer – The Musical
December 16 & 17
Presented by The Overlook Theatre Company, this musical adaption of the beloved television special features all your favorite characters, including Santa, Mrs. Claus, Hermey the Elf, Bumble the Abominable Snow Monster, Clarice, Yukon Cornelius and, of course, Rudolph. It is an adventure that teaches us that what makes you different can be what makes you special. Smoky Mountain Center for the Performing Arts, 1028 Georgia Road, Franklin. Tickets $13 in advance, $15 at the door.
JANUARY
Snow Fest at 4118
January 28 – 29
Presented by Highlands Chamber of Commerce and Visit Highlands, NC, Snow Fest is back and better than ever! Bring friends and family for guaranteed winter fun in the park. Outdoor activity is just the ticket to fight off those winter blues. Enjoy a snowball toss, ice slides, s'mores, snowga (a twist on yoga) and more, including The Highlands Ice Rink. Kelsey-Hutchinson Founders Park, 411 Pine Street, Highlands. Free.