The Allure of the Past
02 Feb 2023
Four fabulous and unique antiquing spots for your shopping pleasure
By JUDY ROYAL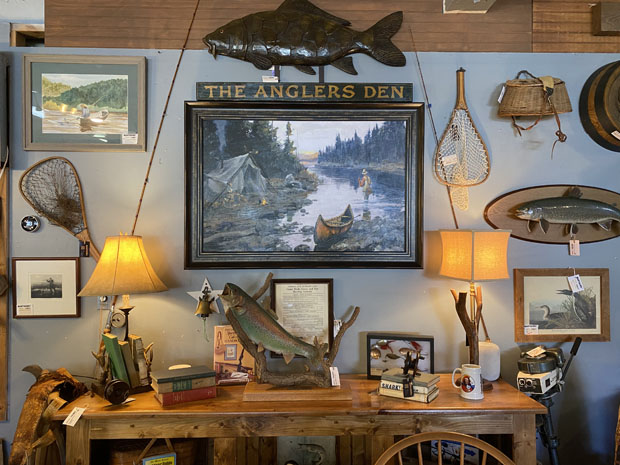 Antique shops are full of treasures just waiting to be discovered. Customers never know what they might find when they enter, and many of them will tell you it's that thrill of the hunt that keeps them coming back to scour the shelves full of nostalgia and memories.
Whether you're looking for a specific item or just browsing for surprises from the past, there are many local venues to check out when you're ready for some antiquing.
Mantiques
68 W. Main St., Brevard
www.mantiquesnc.com
Like many local businesses, Mantiques was born out of a desire to spend more time in the mountains. In 2012, Carl and Cheryl Littlefield were looking for a way to escape the Florida heat and humidity for half the year during their retirement years, so they opened a Cashiers shop that would allow them to share unique collectibles and the stories of finding these treasures.
In July 2018 on Carl Littlefield's 70th birthday, Mantiques opened a second location in a 1930s building that served as a former Ford dealership in Brevard. The four-level, 16,000-square-foot space is described as "a combination museum, treasure chest and scavenger hunt all rolled into a rustic clapboard sanctuary of awesomeness." True to its name, the store reflects a masculine feel but also appeals to women. With the recent sale of the original Cashiers shop, Brevard now houses the sole location of Mantiques.
The Littlefields love things with a history and are excited when these treasures find their way to new, loving homes. They strive to create an immersive experience that stays with customers long after they leave. When shopping at Mantiques, you might find wooden phone booths, sailboat chandeliers, leather furniture, vinyl albums and military collectibles, to name just a few possibilities. With the owners constantly on the hunt, the inventory is always changing and allowing new stories to unfold for its customers, some of whom drive from hours away.
"I think what sets Mantiques apart from many other vintage/antique stores is the staff and the staging," Manager Gretchen Shaw said. "We have a unique way of taking a wide array of styles and items and making it flow rather than being chopped up into booth space. We also work hard to keep things moving and changing so that each time people come in, it is different and exciting."
Reclamations
99 Cherrywood Drive, Highlands
www.facebook.com/ReclamationsCashiers
Architectural salvage company Reclamations has been specializing in giving Old World materials a new breath of life through modern design for the past 12 years.
"We opened with a dream in 2011 and have been expanding, growing and learning every day," Owner Jeff Sikes said. "We also sell finished furniture products and an assortment of unique outdoor furniture and reclaimed décor. What really makes the products special is the knowledge and care that our team puts into curating each piece so that it finds a home where it fits in and where the history of the piece can be preserved."
Reclamations' customers run the gamut from casual browsers popping in to discover fun finds to homeowners looking to redesign their living spaces, he said.
"Everyone is always excited to come into the store because of the sheer amount of unique and interesting merchandise in stock," Sikes said. "I think that our passion for what we do and the expertise of our team really separates us from our competitors. We strive to find the right piece for you, and if we do not have it in stock, we will search high and low until we find it."
Those involved with the business have been pleasantly surprised by the amount of people who have a true taste and passion for the type of items sold at Reclamations.
"It is rewarding to know that we are doing our part to give antiques a new shot at life and preserve history," Managing Partner Tom Murph said. "I also enjoy the closeness that our team has achieved and the success that we have had in the business by striving to offer unique products. It has been difficult to find products, but we scout high and low, domestic and abroad, to keep the most unique salvaged items in stock."
Underground Salvage Company
228 W. French Broad St., Brevard
www.facebook.com/undergroundsalvageco
Tim and Nancy Hall started Underground Salvage Company in 1996, and back then the business literally lived up to its name.
"We began salvaging old buildings that were being renovated or demolished," Tim Hall said. "We actually sold out of a basement, hence the Underground name origins. Today we are located on the former Brevard Lumber Company property, which operated on this site for over 100 years. We are a family-owned and operated business with an additional staff of knowledgeable people to help with finding the right salvaged materials for your project."
Underground Salvage Company consists of numerous barn-like structures and sheds on 1.5 fenced-in acres. Its primary focus is salvaging buildings and houses from the mid-1800s to the 1940s.
"We salvage locally, regionally and 500 miles away in the Midwest," Tim Hall said. "We have a woodworking shop that has produced many creations, mainly country harvest tables made from salvaged wood. Our most consistent sellers are our tables made of the rare wormy chestnut built from trees that were harvested after the blight that wiped out American chestnut trees by the close of the 1920s."
There are over 800 solid-wood salvaged doors and hardware, beveled and stained-glass windows, salvaged lumber, old plank tongue-and-groove flooring and natural-edged mantel beams at Underground Salvage Company. The business also handles a variety of American antiques.
"One of the surprises we discovered is how many of our customers are conscious of the effect we are making on reducing landfill waste and the value of the quality of salvaged materials," Tim Hall said. "Our customers frequently remark that our business is worth the travel and distance to shop with us. It is common to see them unroll a set of architectural plans to find the right doors, beams and lumber for their projects."
Whistle Stop Depot
145 River Road, Franklin
www.whistlestopantiquesnc.com
Established in late 1999, Owner James VanderWoude's vision for Whistle Stop Depot was to create a place where visitors can see and touch history through the years. The business moved from its original location in 2016 and today houses more than 100 antique dealers under one 26,000-square-foot roof at the historic Cullasaja Elementary School.
The thousands of one-of-a-kind items at Whistle Stop Depot include hand tools, glassware, furniture, reference books, magazines and old-fashioned treats, including Mary Janes, Bazooka bubble gum and candy sticks. Mixed in with the collectibles are some new items that blend the present with the past.
"There is no equation to who wants what and who's looking for what," Manager Shawna Garrett said. "There is no certain age group. There is no profile. When people come into an antique store like this, they just lose themselves in the memories."
Many customers remark that Whistle Stop Depot is more like a museum than an antique store, she added.
"Young generations come in and become absorbed," Garrett said. "They're just fascinated with things they've never seen. It's a rewarding experience seeing the younger generation take an interest in what their ancestors did and how they had to live."
Whistle Stop Depot prides itself on offering a unique shopping venue and attentive staff members who look forward to helping all who enter.
"We care about our dealers and our customers," Garrett said. "We try to make it a special experience for everyone who walks in here. We try to be accommodating to everyone who visits."
After over two decades in business, Whistle Stop Depot has become a destination that attracts people from all over the country, and word-of-mouth keeps the fan base growing.
"Once people come here, they start being regulars, and then they bring their friends," Garrett said.