History Becomes Legend
02 Dec 2022
Flat Mountain Farm Welcomes Guests with a Unique Rustic-Meets-Luxury Ambiance
By DAWN LILES
Stylist: Christy Curcuru of Growing Studio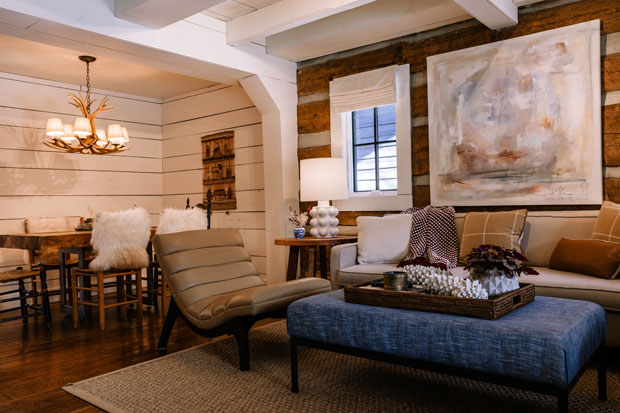 Award-winning designer Margaret Shutze had a vision, combined with the talent, determination and resources to make her dream come true. Along with her husband, Chris, a designer and furniture maker with an impressive portfolio of custom-crafted pieces, they created a micro-resort in Highlands that has welcomed families, brides, grooms and corporate workshop attendees seeking a rustic mountain experience wrapped in luxury amenities.
Work began on Flat Mountain Farm in 2019, when the Shutzes moved to Highlands from Boulder, Colorado with their two young sons. Margaret and Chris knew they wanted to take on a big project, but location was key. "We felt God was leading us on a journey, so we turned to Google to find the right spot," laughs Margaret. Her search criteria included 1) in the mountains, 2) small town, 3) high elevation 4) cute and charming. Highlands came up over and over again. Margaret was familiar with the south, having gone to college in Florida, and they both had been to North Carolina and liked the area, so they contacted a realtor.
They purchased the property from an eighth generation Highlands family who had created a magical, rustic paradise over the last 40 years. The buildings were run down and in desperate need of love and attention. But with three ponds, a waterfall, hiking on site and a location that is less than 10 minutes from the town of Highlands, they knew they had found a new home for their family as well as a place to build their resort.
"After we chose the name Flat Mountain Farm, we discovered that Isabelle Chambers, the mother of the previous owner, had also called the property by that name back in the 1970s when she had a rhododendron farm here," explains Margaret. "We had no idea, so that just felt like another sign that the project was divinely inspired."
Rustic, Natural Elements in Perfect Sync with Luxury Accommodations
Right away, the couple got to work reviving the antique cabins on the property and, with Margaret's upscale, stylish taste, created a luxury experience. "Each cabin has its own personality and its own point of view," says Margaret. "It was important to us to salvage as much of the original buildings as possible and mix old and new. Doing so makes everything feel more residential and less thematic, the same approach I use with hotel interiors," she explains.
The Wren features two bedrooms, two bathrooms and two living rooms, sleeping six. Margaret describes it as "a crisp, casual, tailored J. Crew meets log cabin style." Margaret honored the plateau's history by layering in Native American touches, such as the colorful geometric tribal print on the upstairs balcony floor.
The beautifully appointed chef's kitchen houses appliances by Monogram and an iLVE Italian gas range. The showstopping large white porcelain farmhouse sink was Isabelle Chamber's grandmother's sink (salvaged from the original property) and brought back to mint condition.
Several of the pieces in the living room were designed and built by Chris, whose great great-uncle, Philip Trammell Shutze, was a famed architect and partner of the firm Hentz, Adler and Shutze, which designed many well-known buildings in the Atlanta area.
The primary suite on the main level has vaulted ceilings, a king bed and large ensuite bath with a marble shower. Margaret found the burled wood, mid-century armoire at The Antique Tobacco Barn in Asheville. Upstairs, there is a second king bedroom, looking out on a private balcony with seating. A second living area upstairs boasts a sleeper sofa, vaulted ceilings and another large bathroom with a vintage clawfoot tub. Each bedroom features the same mattresses used by the Four Seasons Hotels & Resorts and is outfitted with luxury Italian linens. Each bathroom is stocked with spa-inspired amenities - shampoo, conditioner, body wash, body lotion, bath salts, shave kits, etc - by Lather.
Outside, Chris and Margaret have created a cozy limestone patio with dining for six, string lights, Adirondack chairs, a firepit and hot tub.
Wander deeper into the property and you'll find a stone path that leads to a second cabin, the Kingfisher, an antique log cabin that was originally located in Burlington, NC and relocated to Flat Mountain Farm. It has three bedrooms, three bathrooms, and sleeps up to ten people. There are two primary suites on the first floor, each with ensuite baths and king beds with the same high-end mattresses and linens found in the Wren cabin. Chris's talents are again on display downstairs, where he designed and built rustic side tables, among other pieces.
Upstairs features a secondary living room with a queen sleeper sofa and a third bedroom/bunk room with four twin beds. Margaret describes the cabin's décor as "Ralph Lauren meets log cabin style."
She says she resisted the urge to brighten the entire space by painting the walls white. "I wanted to keep the warm cabin feel, so instead we had additional windows added to bring in more light," she explains. The cabin's kitchen boasts a center island covered in soapstone and high-end appliances. Margaret calls the upstairs bathroom the "most Instagram-worthy space," with a colorful mural wallpaper, mixing navy blue, green and gold, a rust colored claw foot tub and unlacquered brass hardware.
The Kingfisher cabin is located near a lake on the property and boasts its own small pond fed by a gentle stream. Guests can lounge on the cabin's large deck and dine at the outdoor dining table, which seats ten. Chris built the table from old logs that were part of an original cabin on the property. Guests can also enjoy a fire pit and hot tub.
More Offerings at the Resort
Margaret says, "hospitality is my gift," and she puts that into action daily, whether hosting guests in the properties' two cabins or hosting a wedding, corporate workshop or family gathering.
The Farm recently hosted two sold-out floral workshops in their newly remolded antique barn. Artist Christy Curcuru of Growing Studios led the class on how to create an organic, statement-making wreath. "I love seeing the growing population of young artists come to this area, and I get the chance to work with some really creative people," says Margaret. The antique barn is the perfect space for a wedding reception and guests can spill out onto the large deck, also designed by Chris.
There is never a dull moment on the farm, and Margaret and Chris embrace the craziness and the opportunity to meet new people. However, they're also aware of the neighbors who live around them. "We try to be respectful of our neighbors and turn down any music from an event we are hosting by 10 p.m.," says Margaret. "We truly understand because we live on the property, too."
For more information or to book a cabin or event, go to www.flatmountainfarm.com. Contact Margaret Shutze at hello@flatmountainfarm.com or call (828) 487-4174.