Mary Adair Trumbly leads the Highlands Performing Arts Center and sets the stage for expansion
By Dawn Liles
Photos by Tracy Mendy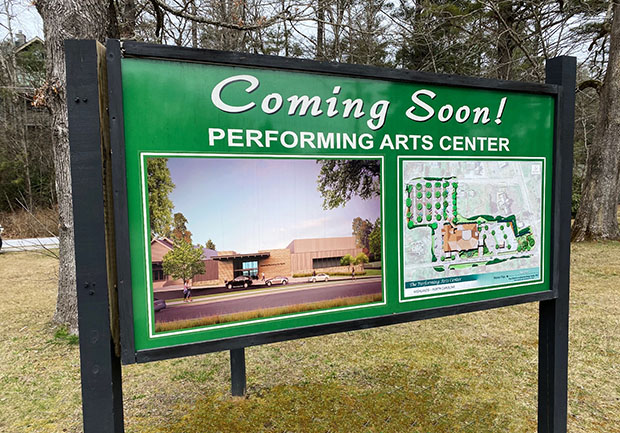 Few industries have been affected more adversely by COVID-19 than the performing arts. But "the show must go on" can still be heard in the resilient voices of those who have worked tirelessly to make the Martin Lipscomb Performing Arts Center (PAC) a cultural destination in Highlands.
"With the generosity of our patrons and supporters, we have been able to come through the pandemic and reschedule our 2020 concerts for this year," said PAC Executive Director Mary Adair Trumbly, who has headed the organization since 2010. "We are hoping that much of our demographic will be vaccinated by the end of May and can come back and enjoy in-person shows again the summer."
Throughout 2020, the PAC has continued to sponsor events including The National Theatre Live, The MET and live streaming events. Additionally, a portable drive-in system for shows can be placed at a customer's site for a private showing or in the PAC's Laurel Street parking lot.
Cancelled 2020 concerts have been rescheduled for this year, in a "reduced COVID-19 compliant" environment of socially distanced seating with all the personal safety requirements in place. The theater normally seats 220 but currently can seat a total of 60 for now, as North Carolina Governor Cooper continues to lift restrictions, hopefully a full house by summer.
And perhaps the best news for patrons is that the theater's planned expansion will continue to move forward. Construction begins in June of this year, with an anticipated completion date of June 2022. With both theaters, the total number of seats will be 516.
Nearly 100 private donors have raised $10 million for the original project, which includes renovating and expanding the existing PAC. The PAC coordinates concerts and fundraising drives to offset the cost of operating the facility and keeps rents low for the nonprofit resident groups.
Initial plans for expansion were first discussed in 2015. Highlands Mayor Pat Taylor had a vision to bring all the performing arts groups under one roof. The facility will be home to the Highlands Cashiers Players, Highlands-Cashiers Chamber Music Festival, Bel Canto, the Highlands Playhouse, youth theaters and live streaming of the New York Metropolitan Opera and the National Theatre of London.
Trumbly expressed that all of those involved are excited with what the architect is proposing for the expansion. "Our new building is a total collaboration between the project manager, architect, our theatrical people and board members. This is very rare. Everyone hears everyone else's concerns and needs. It's been fascinating and very educational."
Leading the Way
Trumbly's love for and interest in the arts began with ballet lessons she took as a little girl growing up in Oklahoma. She continued to excel at ballet and attended the University of Oklahoma to study theater and ballet. At the time, U of O was one of only two colleges in the nation to offer ballet as a major. She was thrilled to study with the famous husband and wife ballet dancers and instructors, Miguel Terekhov and Yvonne Chouteau. She danced professionally for about a year before marrying and settling down to raise a family.
She moved to Highlands over 20 years ago and quickly immersed herself in volunteering and getting to know her new community. "My philosophy has always been - your community is only as good as you make it, not as good as your neighbor makes it, but as good as you make it," said Trumbly. "I believe volunteerism should be a priority for everyone. Plus, it's a great way to get to know a community and other people."
Before being tapped to head the PAC, Trumbly operated a successful art gallery in Highlands, Summit One Gallery. The recession of 2008 caused her to close her doors, but by then, she had made a name for herself in the community and was recognized for her marketing skills and her tremendous energy.
Those traits have served her well as executive director for the PAC, where her responsibilities include fundraising, community relations, management and operations, budgeting, managing staff, administering corporate and individual donor programs, scheduling and operation of events and designing promotional materials.
A History of Enrichment
In 1999, the Highlands-Cashiers Chamber Music Festival partnered with the Highlands Community Players to purchase the Community Bible Church for sale on Chestnut Street. Several prominent local citizens donated generous financial gifts and thus began the Martin Lipscomb Performing Arts Center. The PAC's goal was to provide Highlands with a first-class, low-cost, state-of-the-art facility for nonprofit organizations within the community to use as a venue for performing arts. The building was opened to the community on June 16, 2001.
The PAC continues to broaden its audience demographics to include all age groups and socioeconomic ranges. Its mission is to keep admission and ticket costs to an affordable level, allowing the entire community to enjoy its programs and events. Targeted populations include children and youth, local year-round residents and second homeowners.
Patrons can now do one-stop shopping for memberships, tickets and discounts for events at both the PAC, the Highlands Playhouse and the Highlands Cashiers Players on one website. Go to the PatronPortal and log into the ticketing site at www.highlandsperformingarts.com to view the upcoming season's events.
Bio:
Mary Adair Trumbly
Executive Director, Martin Lipscomb Performing Arts Center
Birthplace: Big Spring, TX, but moved to Oklahoma City at age 3
Family: Three children, eight grandchildren
Education: Attended the University of Oklahoma and studied theater and ballet
Hobbies: Volunteering. She currently serves on the board of directors for the Highlands-Cashiers Hospital, the Highlands Chamber of Commerce (HCoC), Highlands Festivals Inc. as well as The Rotary Club of Highlands. She also enjoys reading and spending time with her family.