Global Tastes, Local Flavor
02 Feb 2023
The owners of Root 64 want to satisfy your palate without depleting your wallet
By BRITTANY CONLEY
Photos by CHELSEA CRONKRITE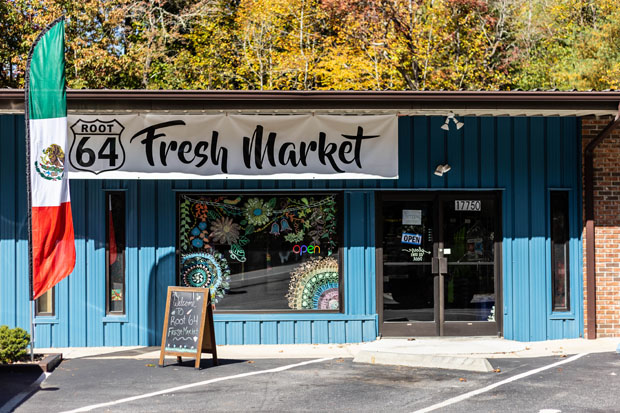 The essence of this new, local grocery store, Root 64, can be summarized as the marriage of a deep love for the Highlands-Cashiers Plateau and the hunger for experiencing cultures and cuisines all over the world. Owner Briony Crowe was destined to be a globetrotter. Born in the UK, her family moved to Florida 30 years ago to be closer to her grandfather. They often traveled back and forth from those sandy white beaches to our rolling hills and hiking trails. As Briony grew up, she found it harder and harder to leave the plateau, so she decided to stay. But the itch to explore the world isn't an itch one truly loses.
Briony's husband and Root 64 co-owner, Scott Crowe, grew up on the plateau. As a young boy, he spent a lot of time observing the lifestyles of those around him. Aspiring to join the ranks of high society, Scott immersed himself in that sphere whenever and wherever possible. He worked at the Wade Hampton Country Club, scrubbing pots and pans and fine tableware in the dish pit. But he absorbed information, little vignettes of what life could offer someone who doesn't just dream but puts action behind those dreams to turn them into reality.
While in college, Scott opened his first business, Cashiers Travelers and Transportation, which flourished and grew until the need for a second business arose, which became an international titan of transportation and logistics–ultimately giving birth to Scott's love of travel and discovery. Scott spent decades traipsing the globe, saturating his life with adventure. Meeting, marrying, and traveling with Briony just made it all the sweeter.
When Scott decided to retire, his ambition didn't agree. Scott jumped at the opportunity to open a restaurant with a friend and almost simultaneously had sparks of what would evolve into Root 64. He just needed Briony's help to bring it to fruition. "I thought of it as a glorified produce stand," says Scott, who had seen how expensive food could be for both residents and restaurants alike, noting the often-precarious logistics of getting food to the plateau and how that can affect prices.
That glorified produce stand didn't stay as such for long, even though Scott often still refers to it as such. After deciding on a brick-and-mortar store, the Crowes relied on Scott's contacts and knowledge of the restaurant industry as well as his extensive expertise in logistics to develop a plan to bring the highest quality foods and beverages from around the world while remaining conscientious of the price point. But it was Briony's creative vision that brought everything together, combining their individual strengths to create a business that expresses who they are and what they value most. "Scott has the business and marketing experience, and I have the creativity and quirkiness to bring it all together for a unique shopping experience," says Briony, who also handles most of the day-to-day operations.
One of the many things that makes Root 64 unique is their strategy to control costs–theirs and their customer's. They encourage customers to pre-order items like steak and seafood, which cuts down tremendously on waste, in turn cutting down on price. Never sacrificing on quality, however, is the true standout. Scott loves visiting the places and people who provide the food that ends up on your table. For the Crowes it is paramount to know exactly where it comes from, and if it doesn't meet their discerning standards, it doesn't end up on their shelves.
Response to Root 64 has been overwhelmingly positive, and the community is hungry for more. The evolution from glorified produce stand to fully-functioning grocer took less than a year, and now it continues as Root 64 will expand its offerings to become more akin to a general store, providing the opportunity to expand the kinds of locally made items they offer, an exciting prospect for the Crowes, who value working with local farmers for in-season and locally-grown produce as well as local makers and artisans.
For residents who may lament the lack of grocery delivery services on the plateau, lament no more. Root 64 is partnering with a brand new, local delivery service so you can get all your favorite meats, cheeses, beverages and more dropped off on your doorstep. "Even if the weather is bad, they can call and get groceries delivered," says Scott. "We love serving our community," says Briony, "and we encourage customers to continue telling us how Root 64 can best serve."
Historically, breaking bread or uncorking wine is an extension of love and friendship. Root 64 embodies that spirit every time a customer walks through the door. It is the perfect place to find something delicious and unique to share with those you love. Find out for yourself by visiting them at 17750 Rosman Hwy in Sapphire. You can also find them across social media.