Southern Cuisine with a European Twist
02 Feb 2023
Elegant farm-to-table dining at Madison's Restaurant
By KAY WEST
Photos by CHELSEA CRONKRITE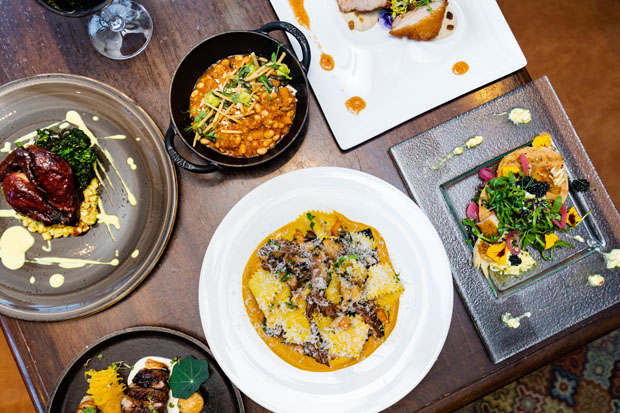 From the brick sidewalk on Main Street, Madison's Restaurant, in the heart of downtown Highlands, is barely visible behind the tall, dense evergreen hedge, but it's hardly a secret. In season, when the weather is amenable, plateau visitors flock to tables in the lush Wine Garden for al fresco dining and to the rooftop for mountain views with their vino. But Madison's, tucked inside the Old Edwards Inn, is a gem in and out of season. It is elegance itself.
The 100 seats at tables spread through the luxuriously appointed rooms are in demand year-round. Guests of the Inn are encouraged to reserve a table when booking accommodations although one need not be an overnight guest to enjoy lunch or dinner at the restaurant. Still, planning ahead is wise.
Understated elegance in the style of English country homes prevails -- slate floors cushioned by woven rugs, painted paneled and stone walls, ceiling to floor sheer drapes across casement windows, golden lighting, landscape paintings, polished wood tables with vases of cut fresh flowers and plush seating upholstered in velvet and leather.
For all its refinement, Madison's is warm and welcoming, from the fireplace and armchairs in the spacious foyer to the graceful and attentive service. The aesthetic of the space and ethos of hospitality blend seamlessly with the restaurant's culinary expression.
Chris Huerta, Executive Chef and Food and Beverage Director of the entire property, has witnessed Madison's evolve since he arrived 15 years ago as a sous chef, swiftly promoted to chef de cuisine. "When I started here, it was white tablecloths and fine china, very much seeking five-diamond status," he says. "With a change in leadership, we moved to a more casual, yet still elegant and sophisticated style. It was more approachable, and we mirrored the menu to do the same."
Executive Sous Chef John Bowles, who turned down a position at the Biltmore in Asheville to come to Madison's as a line cook 11 years ago, recalls the same. "The menus then were more formal, more French and refined. Chris began to move us into more rustic cooking, and we really embraced Appalachian cuisine. We started revolving the menu more around all the ingredients we could source nearby and grow ourselves."
Farm-to-table has become a catch-all phrase, but Madison's is deeply rooted in their commitment to that pathway. Not only do they purchase from a plethora of local and regional growers and makers, but they have established multiple farming sites of their own at Old Edwards Hospitality Group properties to source vegetables, herbs, lettuces, microgreens, edible flowers, honey, eggs and even apples from an orchard at Glen Cove. It is overseen by Director of Farms Matt Clayton, most recently of Serenbe Farms in Palmetto, GA.
Huerta and Bowles bring plenty to the table as well, individually and as a team. Huerta grew up and worked in the south and had significant tenures under European chefs in five star/five diamond hotels and resorts. "When I came here and was able to begin creating my own food for the first time, I leaned into bridging the gap between southern cuisine and European traditions. My goal with Madison's was to create dishes with the best product and attention to technique in the back of the house, but not contrived or pretentious."
Bowles was raised in nearby Franklin and knows the area, the agriculture and cuisine, but he also brought experience from restaurants in Charlotte and Asheville. "It's not unlike the Blackberry Farms model," he notes. "When people come here, they want an authentic experience of regional food."
Madison's menu changes where and when appropriate – the hearty duck chili with white beans, chipotle roasted diced pumpkin, pepitas, crumbled cotija cheese, avocado mousse and crisp fried tortilla sticks will be replaced with lighter soups in warmer months. The smoked Sunburst trout salad is a composition not to miss – flaked hot smoked local trout is strewn across an everything-seasoned crisp evocative of lavash, topped with pickled red onion and arugula dressed with creamy farm egg vinaigrette. Clumps of Pacific sturgeon caviar razzle-dazzle like plump blackberries.
Among the starters, choose between beef tartare, foie gras, diver scallops or pork belly. Hard to go wrong with any, but the pork belly marinaded in maple bourbon and a crisp hot pepper jelly glaze is a sure bet, the richness grounded in a puree of heirloom Alubia Blanca beans, balanced by a tangle of Frisse and champagne vinaigrette.
Bowles says some version of duck will always be on the menu. The night we visited, tender slices of duck breast glistened under a pecan sorghum glaze, plated with meaty trumpet mushrooms and roasted cauliflower puree. Earthy braised short ribs in bone broth with freshly made pappardelle pasta atop butternut squash puree satisfies a winter craving for stew. The sweet (Cheerwine is in the house!) spicy BBQ sauce glazed local Cornish hen with broccolini on a bed of creamed sweet corn was inspired by his young son's love of chicken and broccoli, but grownups will love it, too.
Ditto for the chocolate chip cookie cake, baked to order in a cast iron skillet, drizzled with warm caramel and chocolate sauce, brought hot to the table with a big scoop of ice cream. Pastry chef Lauren Bland says since she added it to the menu, it has surpassed the souffle as the number one dessert.
One particular dish stands out for its one-of-these-things-is-not-like-the-otherness – Art's Southern Meatloaf with gravy, Bowles explains. "Art Williams is our owner, and it was his one and only requirement. It's his family recipe, wrapped in bacon and stuffed with egg, served with mashed potatoes, broccoli and carrots. It will always be on the Madison's menu."
Madison's Restaurant
Located in Old Edwards Inn and Spa
445 Main Street, Highlands 28741
Menu: oldedwardshospitality.com
828.787.2525