Fostering a Sense of Community
01 Jun 2023
The Village Green's Ashlie Mitchell exudes gratitude
By DAWN LILES
Photos by CHELSEA CRONKRITE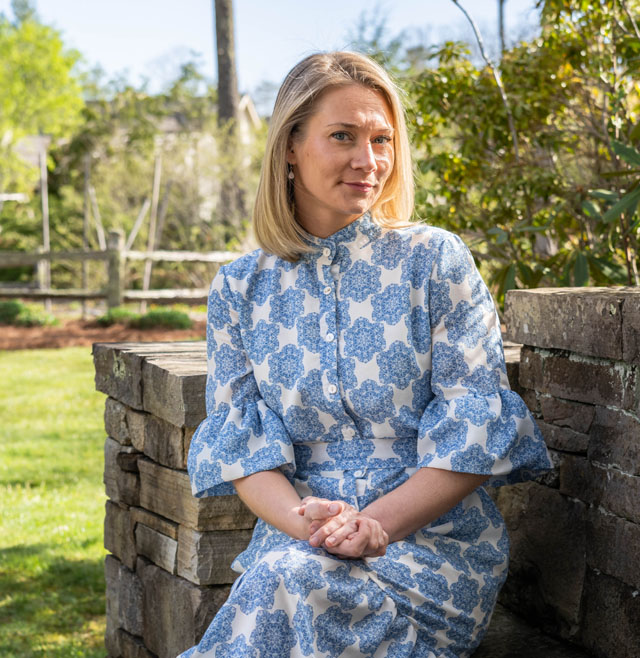 It's a Carolina blue-sky day in Cashiers, and Ashlie Mitchell recommends we meet for our interview outside at the picnic tables near The Village Green playground. It's a perfect suggestion from the Executive Director of The Village Green, who spends much of her time outside of work in the space she is tasked with nurturing and growing.
"I'm one of many people here who love the outdoors and was drawn back to the plateau because of a love for nature and a recognition of the importance of nature in our lives," says Mitchell.
Mitchell was tapped in 2021 to succeed venerated Executive Director Ann Self. Self successfully led the effort to make The Village Green the "Heart of Cashiers" since her appointment in 2012. "It was an incredible honor to be chosen to succeed Ann," says Mitchell. "She's an amazing leader, and she was able to step back, allowing my leadership skills to blossom—but she was always there for advice or questions."
The Village Green's website describes the space as a 13.2-acre park located at the crossroads of Highway 64 and Highway 107. Hosting thousands of visitors and over 80 events each year, The Village Green is not only "The Heart of Cashiers" in its location but also in its ability to draw family and friends together, forming a strong sense of community. The Village Green is truly a park for the people.
Among its many delights, visitors can stroll the paths of the park around grassy lawns, along wetlands and through the forest glade; enjoy a picnic lunch with friends and learn about raptors, honeybees, native plants and bears; celebrate the seasons; capture treasured moments with family and discover art, culture and regional heritage. The Village Green is also a perfect spot to host a wedding, rehearsal dinner, birthday party or reunion.
Former Executive Director Self put in place many of the events and programs that have brought the community together, including Groovin' on the Green, Goblins on the Green, Gobble on the Green, Fireworks Extravaganza on the Green and the annual Christmas Tree Lighting. "A few years ago, we added holiday village lights and left them up through February," explains Mitchell. "It's so nice during the dark and cold of winter to be able to keep those lights on as a beacon when you head into the crossroads."
Mitchell is a sixth-generation Jackson County (Glenville) resident on her mother's side, and she was the first in her family to go to college. She remembers fondly her maternal grandma, Ada Crawford, who like many of that generation, was resourceful, gritty and no-nonsense. One of the things Mitchell loved about her grandma was that she "always had room at the table if you needed a plate and a listening ear. She was that safe place where I learned to be kind and generous to anyone in need."
A native of Macon County and the plateau, Mitchell graduated from Highlands High School and made her way to NC State in Raleigh, where she earned a degree in anthropology and developed an interest in and passion for ethnobiology, the scientific study of dynamic relationships among peoples, biota and environments. "But I quickly realized that jobs for ethnobiologists may be hard to find," laughs Mitchell, "so I decided to focus more on studying and understanding people and how they live their lives."
She headed to the University of Georgia (UGA) to earn her master's degree in social work (MSW) and stumbled upon a new program the department was offering—nonprofit management. "I had never heard of nonprofit management, but I was immediately drawn to it because it involved a combination of all the things I was interested in and felt I could be good at, like marketing, fundraising, psychology, strategic planning and legal issues. I couldn't believe I could have a career that included all of my interests."
She took the skills she developed at UGA and moved into various leadership roles at Mission Health, Nantahala Health Foundation and the Highlands Cashiers Health Foundation as Associate Director. "I learned so much and really enjoyed working with Rhonda Oakley (Director of Operations), Robin Tindall (CEO and Executive Director) and the HCHF Board of Directors."
One of the biggest surprises Mitchell has experienced at The Village Green is the level of engagement from the community, long-time friends and supporters, to just people coming through town. "Many people don't realize we are a 501(c)(3) nonprofit park system that receives no regional, state or federal funding." The Village Green relies solely on the generosity of the community and gladly accepts donations of time, talent, and treasure, so they can continue to offer the programming and events that bring the community together.
Funding sources also include the money raised from a main fundraiser The Village Green puts on every other year. This year will be the Joy Garden Tour – Beauty Beyond the Bend. The mid-July tour will be of four exquisite gardens on display along the historic 107 corridor and the Zachary Tolbert Heirloom Garden. Tickets for the tour can be purchased online at villagegreencashiersnc.com.
One of the cornerstones of The Village Green is Lewis Hall, a 5,400 sq. ft. beautifully designed space used year-round for civic, cultural and educational offerings and as a private event space. Former Board Chair Sue Lewis and her husband, Bill, made a generous donation of $500,000, erasing the debt for Lewis Hall.
"To maintain the grounds here at The Village Green and bring the community free events and programs, we focus on breaking even, operationally," explains Mitchell. "The Lewises' incredible generosity allowed us to strategically focus on operations and capital improvements."
One trait you can't help but notice when spending time with Mitchell is her immense gratitude not only for leaders she has worked with, but for the many community volunteers, her co-worker (yes, that is singular) and the board of directors of The Village Green.
"There is such a sense of pride in this community and support of events. So much work goes into planning the events with only two actual staff members, but the support from the board, volunteers and committees is amazing.
I'm thankful for so many people, particularly Shelby Batchelor, our community event and volunteer coordinator. She is kind, even-keeled and dedicated, and I cherish her and her abilities."
Even the landscaping crew who maintains The Village Green takes personal pride in the space. "We know we are not just a client," says Mitchell, when talking about Nathan Stewart-Payne and his crew at Double Springs Landscaping, who have maintained the park for 10 years.
Mitchell says the Cashiers community has changed a lot just since 2021 when she took the helm, mostly due to COVID-19 and the real estate boom. "My job is to advance a strategic vision for The Village Green, while planning for sustainability, budgeting, fundraising and engaging donors and volunteers."
It's a big job, and Mitchell is a realist, but she says she "teeters on the optimistic side." She says that has its drawbacks, but I think most people who engage with her know her attitude is one of her greatest gifts to our community.
BIO:
Ashlie Mitchell, Executive Director, The Village Green, Cashiers
Hometown: Highlands, NC
Education: Bachelor's degree in anthropology at NC State University and a Master's degree in Social Work at the University of Georgia
Favorite place(s) at the Village Green: The Village Play, Lewis Hall during community events and The Hayes Fairchild Garden.