Keep the Rubber Side Down
01 Jun 2023
Exploring the mountain biking capital of the East
Story and photos by BRENDON VOELKER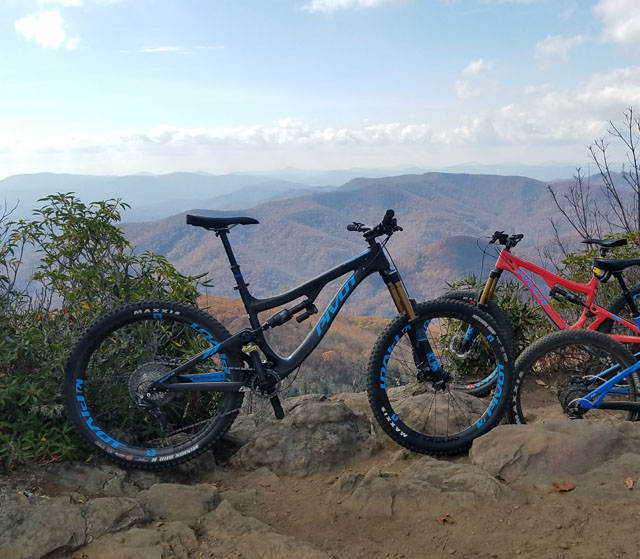 Western North Carolina is host to some of the most diverse, scenic, and unique mountain biking you can find east of the Rockies, though its popularity is due in large part to the aftermath of logging in the early 1900's. In the wake of that era, one peculiar thing remained: weathered roads that mother nature has spent nearly a century attempting to reclaim.
While once built for steam locomotives to haul timber to the nearest mill, these paths have since transitioned into narrow trails, steep descents defined by exposed rocks and roots, and access points to earn mountain top views or explore waterfalls. Whether you're into wide open logging paths, or in search of the gnarliest descents, here are four of the best areas to go mountain biking on and near the Highlands-Cashiers Plateau.
Tsali Recreation Area
Bryson City, NC
Named after a Cherokee Leader, the Tsali trail system on Lake Fontana is one of the oldest in the region. During the creation of the lake, large logging operations scoured the mountains of their resources, leaving abandoned roads and railroad equipment scattered throughout the forest. Today, nature has mostly reclaimed the routes, leaving narrower paths to enjoy by foot, bike, or horse. Thanks to creative planning and clever designs, cyclists and equestrians are kept separated by alternating the days each can enjoy specific trails. To turn this into an overnight trip between April and October, bring along $20 and reserve a campsite near the trailhead complete with water, restrooms, and trash disposal.
Pisgah National Forest
Brevard, NC
To most, Pisgah National Forest is the most acclaimed mountain biking destination in all of Appalachia. For those who have ridden elsewhere, it's frequently compared to Sedona and Moab when referencing variety, difficulty, and remoteness. Brevard serves as the major hub for the Pisgah Ranger District and is just one hour from the crossroads in Cashiers. Once a quaint mountain town, the bustling city draws in riders from around the world in search of its renowned singletrack.
If you're starting out in the area, begin with the Black Mountain Trail, which you can ride to from town. Separated into three distinct sections, the uppermost includes significant amounts of hiking and slow technical terrain that may be more of a hike-a-bike at times. The middle section offers a faster run with lots of rocky chunder and exposed roots, while the lowermost section rounds out the trail with groomed flow trail that is frequently maintained to keep it running fast. All in all, there are few trails that compare to its diversity.
For those seeking a more moderate ride, Daniel Ridge is an excellent place to start. If you're in search of the most challenging trails Pisgah has to offer, make your way over to Pilot Mountain, Farlow Gap, or Trace Ridge, just be sure to grab a map beforehand to ensure you don't ride any trails not open to bikes.
Bent Creek Experimental Forest
Asheville, NC
Nearest to Asheville, Bent Creek is a local favorite and one of the must-visit areas for those closer to the city. Several parking lots, a campground, restrooms, and other amenities are available throughout the experimental forest, and a visit to the North Carolina Arboretum makes for an excellent addition to any ride. For those interested in the history of the area, placards are located throughout the 6,000-acre watershed noting both the methods and dates of previous timber harvesting. Whether you're into gravel riding, fast downhill flow, or just a nice ride through the forest on your lunch break, Bent Creek never disappoints.
Panthertown Valley
Cashiers, NC
While Panthertown Valley is acclaimed for its remote backcountry hikes and waterfalls spread over 9,000-acres, several of the trails through the valley are, in fact, open to bikes, while others remain only open to hikers. One of the more recent additions to Nantahala National Forest in the 1990's, Panthertown's history traces back to Duke Energy and other prior landowners during the construction of Lake Jocassee. Crossing alongside Toxaway Mountain, a large high-voltage transmission line dissects the valley and offers both views and reliable cell reception when you pass beneath it.
While Panthertown doesn't offer the high-speed flow or rocky chunder of other trails on this list, you'll be hard pressed to find a more remote area to enjoy a casual ride around the plateau. Just be sure to pack some hiking shoes and a swimsuit, as countless waterfalls can be found just off the trail. Before your visit, be sure to grab the latest copy of Burt Kornegay's map to help plan your ride.