Family History and Decadent Dishes
02 Aug 2023
Winslow's Hideaway satisfies and delights
By KAY WEST
Photos by CHELSEA CRONKRITE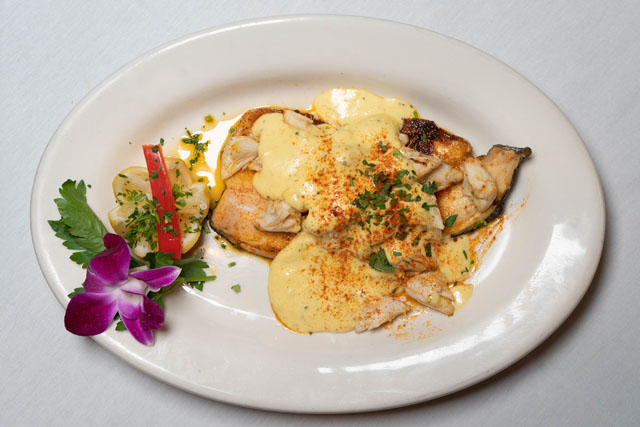 Though the fifth of Winslow Bacon Jones' five restaurants – his fourth in Cashiers – is just five years old, more than a century of history covers the walls of the snug dining room in Winslow's Hideaway. A vintage christening gown, military medals earned in World War II – two Purple Hearts, two Bronze Stars and one Silver Heart, newspaper clippings of the Florida Gator's gridiron greatness in the early part of the 20th century and articles published in Gourmet and Bon Appetit magazines. Photos, paintings, prints, mementoes, awards, certifications and proclamations.
"About 95% of what's on the walls is family related," says Edgar Jones, Winslow and Terri's son and grandson of both Edgar Jones, Gator quarterback and running back from 1922-1926, and Terri's father and WWII hero, Paul McKerahan. "My grandmother Nancy Jones was a collector."
History also resides in the stories told with remarkable recall by Winslow, who grew up in Florida and learned to cook under Owen Guinn, a chef he calls his mentor and honors by dedicating every one of his restaurants to him. "I was just out of college in 1973 looking for a job and heard a man I had worked for was opening a restaurant called Chauncey's. I happened to go by on opening night, and it was nuts. He said, 'Go back in the kitchen. I'm sure the chef will find something for you to do.' The chef, Owen Guinn, put me right to work cleaning up."
A couple days later, Guinn asked Jones if he wanted to learn how to cook, he said yes and that was the start of his culinary career. "He taught me the basics, and from those I was able to create my own style."
A hospitality timeline of Cashiers and Highlands travels along Jones' own. He first made his mark in Cashiers – a family getaway every year – when he and two Florida colleagues made an exploratory trip to the plateau, found an old building with a kitchen in Cashiers and in 1975 opened Yesterday's, which Jones says was the town's first fine dining restaurant.
In 1980, he struck out on his own, opening Winslow's…Dining at Minnie Coles. After one year in business, he moved his valet parker, Terri McKerahan, inside, got her a tuxedo and put her in charge of the front of house. "None of my restaurants would have succeeded without my wife," Winslow says firmly.
Flush with success and ambition, Jones opened a second restaurant in the Coral Gables (Florida) business district, eventually closing Minnie Coles.
A position as executive chef at the Greystone Inn brought him back to the mountains, where he was bitten again by the restaurateur bug, opening his third local restaurant, the Chestnut Club – coincidentally on the day Edgar was born. Three years later, he took a steadier job selling property at Lake Toxaway.
Though Winslow had transitioned out of the restaurant business, Edgar grew up hearing the stories and studying the collection in their Cashiers house. After military boarding school in Florida and then four years serving in the Navy, Edgar came back to Cashiers and approached his father with a crazy idea: "Wouldn't it be fun to open another restaurant?" Even he laughs at his naïve description, but Winslow bit again, and the duo began looking for a location for Winslow and Edgar's Big Adventure.
They found two adjacent spaces – one of which had been Wild Thyme Café – and set to work. Terri Jones installed the memorabilia collection in the restaurant, and Winslow began writing a menu. Edgar's concept – casual steakhouse – differed from his dad's – classic fine dining – but he bowed to seniority. "I've never had a restaurant; he's had four, so I deferred to him."
Winslow's Hideaway opened in July 2018, and history can be found on the menu as well, both in dishes that adhere to classic culinary tradition and greatest hits from Winslow's repertoire.
Among those is escargot, a half-dozen tender orbs served with slices of baguette for sopping up every bit of the melted, garlicky butter from the snail hollows. A cup of French Onion soup is perfectly executed; Winslow says the recipe is over 100 years old, and he describes it as a legacy soup, with a 'starter' used much as a sourdough starter is for bread. A deeply flavored broth chock full of caramelized onions wears a cap of melted cheese, lightly browned in the oven.
The chilled Caesar offers crisp hearts of Romain with a blizzard of fresh grated Romano and drape of anchovies. Tomatoes Blitz, named for Winslow's mother – nicknamed Miss Blitz by his father – replicates the recipe she used for her canasta club luncheons decades ago.
The first dish Winslow learned to make under Chef Guinn's tutelage was crab au gratin – a decadently rich baking dish of jumbo lump crabmeat with sauteed mushrooms, Bechamel and gruyere – known as Crab Owen at Winslow's. The restaurant's most popular dish is Trout Winslow – sauteed skin-on trout filet, which also gets a generous pile of jumbo lump crabmeat, then slathered with Bearnaise.
Generous aptly describes the portions. Edgar laughs when he says, "Dad is a 6'5", 300-pound personality on a plate. We had to point out not everyone eats like he does." All salads and entrees – with the exception of the lamb chops – are available in half sizes or the full Winslow. Steaks – a filet mignon, prime rib and spectacular rib eye – are also available in two weights.
A half century since he took his first job in a professional kitchen, Winslow Jones is still cooking, keeping history alive and ready to pass the baton when the time is right.