A Delightfully Sticky Situation
02 Aug 2023
Charlie's Hot Buns makes waves across the plateau
Story by BRITTANY CONLEY
Photos by CHELSEA CRONKRITE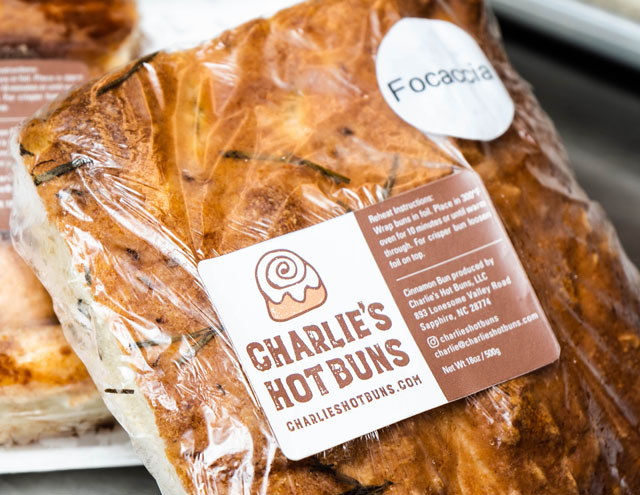 The Highlands-Cashiers Plateau, already renowned for its delectable culinary scene, just got a lot tastier. Chef Charlie Hudson has been leaving his mark across the area for over 20 years. It can be argued that few know better the palates of the residents here, so when Chef Charlie discovered an unassuming niche that needed filling, he did not disappoint. Who would have thought there would be an untapped demand for hot buns?
Chef Charlie grew up mostly in Asheville. He spent some time in Virginia, but Western North Carolina has always been his heart's true home. His first time coming to the Highlands area was in college when he and friends visited Bust Your Butt Falls. Despite any possible slips and scrapes he might have endured that day, the seed was planted for him to eventually make this area his home.
It was during a short stint in the Florida Keys, however, that Charlie discovered his passion for cooking. Set on a culinary career, he made his way back to Asheville and enrolled in Asheville-Buncombe Technical School. Over the years he studied under several chefs who influenced and challenged him, landed internships others can only dream of, worked in coveted kitchens and soaked in all the lessons and tricks he could. "Fast forward to 2002, and I was hired to cater my future wife's goddaughter's wedding in Lonesome Valley, before it was what it is today," says Charlie, noting that at the time he had no idea he'd just met the woman he would eventually marry. "Many plateau trips and caterings later, and I find myself a full-time resident, living with my soulmate in the most beautiful place in the world."
Over the years, Chef Charlie grew in his culinary talents and gleaned a deep understanding of what the people here enjoy, how they celebrate, and how to gauge what they are missing even if they aren't yet aware of it. This unique skill set paved the way for one of the hottest items on the Highlands-Cashiers Plateau right now: Charlie's Hot Buns.
Less of an aha moment and more of a lengthy experiment, the idea for Charlie's Hot Buns started when Chef Charlie's mother forwarded him a recipe for cinnamon rolls. As he was recovering from foot surgery, Charlie needed a project to occupy himself. He began tinkering with the recipe, putting his own spin on the classic. Friends and family were invited to try each iteration and provide feedback as he perfected his recipe. It's a hard job, but someone has to do it, as the saying goes. "Pretty soon I was selling them to neighbors, friends and family. This grew to selling them at the Village Green Market on Wednesdays and then eventually selling at Cashiers Farmers Market," says Charlie.
The response from the community has been overwhelmingly positive. "Not just from customers, but also the support we receive from the business community from Toxaway to Highlands. We would not be where we are today without the support of our friends and neighbors. Each one has helped get us to the next step," says Charlie. The demand for Charlie's Hot Buns has grown so much that he has opened his own storefront in order to satisfy his hungry patrons. Scaling production for something as labor and time intensive as pastry can be a challenge. Opening a dedicated retail space has helped Charlie and his team deliver the goods much more easily.
With the opening of the retail location, Charlie looks forward to expanding his offerings and says seasonal fare is on the way. Rest assured, the titular hot buns with a honey-orange glaze will always be on the menu, and Charlie already has other delicacies as well. They offer rosemary focaccia, yeast rolls, and a sesame snack cracker that is so scrumptious no one seems to agree on what to call it. "Sally, my wife, calls them Cocktail Crackers, because they are a great nosh with an afternoon cocktail. Scott at Native Prime wants to call them Lavash, but I just call them good," says Charlie.
Disagreements about the name of his crackers aside, one thing everyone has agreed upon is Charlie's Hot Buns is surely to become a hit with families across the plateau. Ready to see what all the fuss is about? You can still find Charlie's Hot Buns at various retail establishments across the plateau, and don't forget to stop in at his new shop, now open at 18825 Rosman Hwy in Sapphire. You can also visit Charlie's Hot Buns online at www.charlieshotbuns.com and across social media.