Pucker Up! Mad Love for Citrus
25 Jan 2020
Recipes and Photos by Kim Byer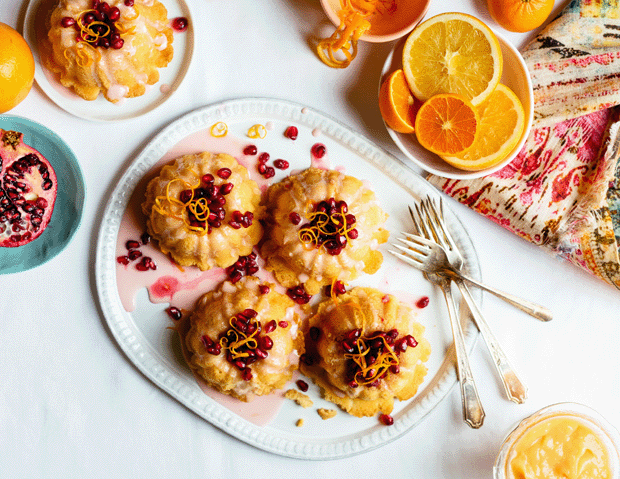 Heart-crossed-hope-to-die, grapefruit curd may be the most underestimated elixir ever stirred up in a saucepan. It's lusciously tart, longingly sweet, slightly sour, and sinfully addictive. It's a love potion.
But, why stop there when true love has you by the tongue? Spice things up with a spanking hot lemony quinoa salad or lose your mind over the lemon-caper pasta with shrimp and scallops. Bake a batch of baby cakes for Valentine's Day or Galentine's night, or – a random Tuesday.
If love is the drug, then any of these citrus-y dishes will make you dizzy with delight. In this season of mad love for all things citrus, you simply need to pucker up and enjoy.
Ruby Red Grapefruit Curd
Makes 1 pint
6 large eggs
Zest from 1 grapefruit
1 ½ cup sugar
¼ teaspoon kosher salt
¼ cup cornstarch
2 cups fresh-squeezed ruby red grapefruit juice, strained
3 teaspoons cold, high-fat butter
Separate the yolks from the egg whites. Reserve whites for another use.
Add grapefruit zest into yolks.
In a medium saucepan, whisk together sugar, kosher salt, and cornstarch.
Add grapefruit juice to saucepan. Place saucepan over medium heat and bring to a boil for 2 minutes, whisking occasionally.
Pour a tablespoon or two of the hot mixture into the egg yolks and stir. Then, add the warmed yolks into the boiling mixture. Whisking continuously, let the curd return to a boil for 4-5 minutes, until thickened.
Remove from heat and add butter. Whisk until the butter melts.
Serve warm with toasted, buttered muffins or store in refrigerator for up to 1 week. Curd can be frozen for several months.
Lemony Quinoa
with Spicy Greens & Feta Cheese
Yield 2-3 servings
½ cup uncooked quinoa (rinse, then cook like rice—in 1 cup of salted, boiling water)
1 cup cooked garbanzo beans
4 cups loosely packed mustard greens (or arugula or watercress or similar), rinsed and torn into bite-sized pieces (baby mustard greens are best)
Handful of Kalamata olives
3 pepperoncini, sliced
1 scallion, chopped
Feta cheese block in brine, sliced or in chunks (3-4 ounces)
Lemon-Honey Vinaigrette
3 tablespoons olive oil
3 tablespoons white balsamic vinegar
Juice and zest of 1 lemon
1 teaspoon honey
¼ teaspoon kosher or sea salt
Freshly ground black pepper
To make vinaigrette, combine all ingredients in a small jar and shake.
In a large salad bowl, combine cooked quinoa, garbanzo beans and half of vinaigrette. Add remaining ingredients, toss and season to taste.
Note: Vinaigrette is enough for two recipes.
Lemon Caper Pasta
with Shrimp & Scallops
Yield 6-8 servings
1 ½ pounds of sea scallops, scrubbed and rinsed
1 pound of shrimp, peeled and deveined
1 pound angel hair pasta
Handful grape tomatoes, chopped
Handful fresh parsley, chopped
2 tablespoons olive oil for frying
Lemon-Caper Sauce
Juice remaining from cooked seafood
Juice of 2 lemons
1/3 cup capers
¼ cup cream or milk
1 tablespoon flour
1 tablespoon butter
In a large pot, cook pasta according to package directions. Strain.
In a large frying pan, cook scallops and shrimp in 2 tablespoons of olive oil. When shrimp turn pink, remove from heat and using a slotted spoon, move seafood into a large bowl.
Add lemon juice and capers into pan, scraping up any seafood bits from the bottom with a wooden spoon. Note: After a few minutes, the sitting seafood will weep. Strain that liquid back into the sauce mixture.
In a small bowl, whisk cold cream or milk with flour until thickened. Pour into sauce mixture. Add butter and bring to a boil.
Place the pasta into a large serving bowl and pour the sauce over it. Add the seafood, tomatoes and parsley and serve immediately.
Baby Bundt Cakes
with Orange-Pomegranate Glaze
Makes 12 Mini Bundt Cakes
Cakes
2 sticks of high-fat butter (room temperature)
3 cups sugar
6 large eggs (at or near room temperature)
3 cups all-purpose flour
¼ teaspoon baking soda
¼ teaspoon baking powder
1 cup sour cream
3 teaspoons good quality vanilla extract
Orange-Pomegranate Glaze
2 cups confectioners' sugar
1 juicy orange
1 pomegranate
Preheat oven to 300°F degrees; spray twelve mini Bundt cake molds with a flour baking spray.
Thoroughly cream butter and sugar; add eggs, one at a time and mix well.
In a separate bowl, whisk together the flour, baking soda and baking powder. Slowly add dry mix into the creamed mixture.
Add the sour cream and the vanilla extract. Mix well, but don't overbeat.
Pour into the individual prepared pans (slightly above halfway of each mold) and bake for 40-45 minutes or until an inserted toothpick comes out clean. Allow the cakes to cool completely before removing from molds.
In separate bowls, juice orange and dislodge pomegranate arils with a wooden spoon. To make the glaze, sift confectioners' sugar with 2 tablespoons fresh orange juice and 1 tablespoon pomegranate juice. Slowly add additional tablespoons of orange juice for desired drizzling consistency and pomegranate juice for desired color.
Before serving, drizzle icing into center hole and around cakes. Sprinkle with pomegranate arils and orange zest.
Citrus Chiffon Tart
Yields one 14 x 4-inch tart
1 Graham Cracker Crust (see below)
1 eight-ounce block of cream cheese
1/2 cup sugar
1/2 cup sour cream
1 large egg
Zest of 1 large orange
3 tablespoons fresh squeezed orange juice
1/8 teaspoon kosher salt
Graham Cracker Crust
1 package Graham crackers, crushed (about 9 rectangular crackers)
1 stick of high-fat, unsalted butter, melted (½ cup)
2 tablespoons sugar
Preheat the oven to 325° F. Place Graham crackers in a food processor and reduce to a fine meal. Or place crackers inside a sealable plastic bag and crush with a rolling pin.
In a medium-sized bowl, blend the Graham cracker meal with the butter and sugar. Press into a pre-greased tart pan with a removable bottom. Press evenly into the bottom and up the sides of the pan and bake for 10 minutes.
Combine cream cheese, sugar, sour cream, eggs, zest, juice and salt in the processor and blend until smooth.
Pour the filling into the crust, and then bake at 325° for 35 minutes or until the filling is semi-firm to the touch.
Cool, then refrigerate for several hours. Before serving, decorate with fresh orange segments.
Dried Citrus Wheels
Citrus wheels are deliciously sweet and chewy rounds that can be used in hot tea, blended drinks, soups, cheese and charcuterie boards or as dessert decorations.
Method: Preheat oven to 200° F. Using a sharp knife, slice chosen citrus into thin, seedless wheels. Place wheels on baking sheet(s) covered in foil and baking spray or parchment paper. Sprinkle evenly with fine sugar.