Looking to fill your social calendar?
We've got the rundown on what to do and explore.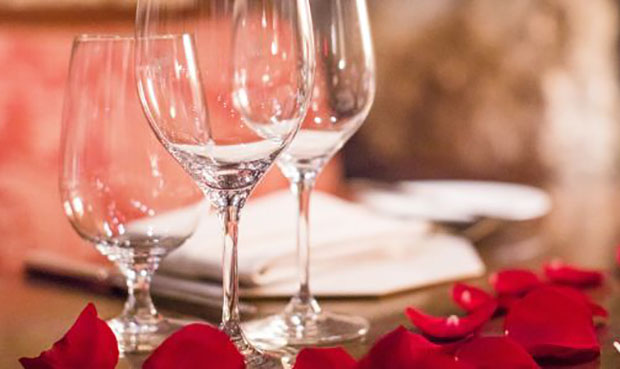 Valentine's Day at Old Edwards Inn
February 12 through 14
Visit Old Edwards Inn & Spa with your someone special and enjoy the VIP treatment. Indulge in a couple's massage at The Spa with rose petals and champagne. Sip His & Hers specialty cocktails property wide and Valentine's specials in Madison's Restaurant. Book an overnight stay and enjoy complimentary Champagne & Strawberries Tastings in Art's at the Lodge, live music in Hummingbird Lounge, a specially scheduled guided hike along the Highlands Plateau Greenway and Pizza and a Movie in your room! Call now and you can also have flowers, champagne, cheese trays, chocolates and other surprises waiting in your room or suite. (866) 526-8008 www.oldedwardshospitality.com/calendar-of-events/food-dining/valentines
ONGOING
Exhibitions
The Bascom: A Center for the Visual Arts
The Bascom: A Center for the Visual Arts has three exhibition spaces open to the public year-round, current exhibitions include the "W.R.A.P." installation by Kyle Kelsey, January 12 through March 20 and "100 Miles" student and faculty show, January 26 through April 24. Please confirm current hours on The Bascom's website. (828) 526-4949 www.thebascom.org
Highlander Mountain House Brunch
Sundays 11 am to 3 pm
Join the Highlander Mountain House at their Ruffed Grouse Tavern for brunch favorites ranging from avocado toast and breakfast tacos to omelets, pancakes and chicken biscuits. Sip on your favorite Sunday cocktail while enjoying a roaring fire and cozy Appalachian hospitality. (828) 526-2590 www.highlandermountainohouse.com
Highlands Wine Shoppe Tastings
Thursdays
Join the Highlands Wine Shoppe on Thursdays from 4 pm to 7pm and explore offerings for your unique palate. $10 per person. (828) 526-4080 www.highlandswineshoppe.com
FEBRUARY
Hosted Weekend with Killer Bees Honey
February 26 through 28
Killer Bees Honey will present another sweet weekend for guests of Half-Mile Farm in February. Like fine wine and chocolate, pure honey is a product of local terroir. Soil, air, water, climate, and of course, plants and flowers contribute to the complexity of regional honey. Sean and Denise will present a sit-down sensory experience where guests will learn about life in the hive, how bees make honey, the differences between honey varietals and what to look for when searching for honey purity all while savoring honey from the Killer Bees apiary. Friday and Saturday evening social hour will feature signature cocktails featuring Killer Bees Honey, while the delicious nectar will be the focal point of breakfast on Saturday and Sunday. (855) 271-7246 www.oldedwardshospitality.com/half-mile-farm/calendar-of-events/killerbeeshoney
No Man's Land
February 21
Join the Highlands PAC at 3 pm for No Man's Land. Following their hit run on Broadway, Ian McKellen and Patrick Stewart return to the West End stage in Harold Pinter's No Man's Land, broadcast live to cinemas from Wyndham's Theatre, London. One summer's evening, two aging writers, Hirst and Spooner, meet in a Hampstead pub and continue their drinking into the night at Hirst's stately house nearby. As the pair become increasingly inebriated and their stories increasingly unbelievable, the lively conversation soon turns into a revealing power game, further complicated by the return home of two sinister younger men. (828) 526-9047 www.highlandspac.org
Living Your Life Purpose
February 22, 25 and 28
This free intro has three one-hour virtual sessions from 7 pm to 8 pm with presentations, worksheets and group discussion. If you are interested in developing your life purpose and are particularly challenged or have a family member challenged by life passages, planning for retirement or current retirement, this course will introduce research outlining what contributes to a fulfilling, healthy and high-quality life. (828) 526-5838 www.themountainrlc.org
MARCH
War Horse
March 7
Join the Highlands PAC at 3 pm for War Horse. Based on the beloved novel by Michael Morpurgo, adapted by Nick Stafford, and in association with the award-winning Handspring Puppet Company.
At the outbreak of World War One, Albert's beloved horse, Joey, is sold to the Cavalry and shipped to France. Though still not old enough to enlist, he embarks on a treacherous mission to find him and bring him home. (828) 526-9047 www.highlandspac.org
Battle of the Barrels
March 12 through 13
Join Old Edwards Inn from 4 pm to 5 pm in the Hummingbird Lounge for complimentary scotch, bourbon, and Irish whisky tastings. (866) 526-8008 www.oldedwardshospitality.com/calendar-of-events/food-dining/stpatricksday
Heritage Apple Day
March 27
Join the Cashiers Historical Society from 11 am to 2 pm at the Cashiers Community Center for their annual Heritage Apple Day, a free educational event for all ages to pay tribute to the significance of apples in the early years of the Cashiers Valley. Learn how to graft your own apple tree, sample apple treats, visit the children's corner for crafts and take home a free apple tree! (828) 743-7710 www.cashiershistoricalsociety.org