Hello, Highlands!
02 Apr 2021
Shake off the wintertime blues with an Appalachian adventure
By Brittany Conley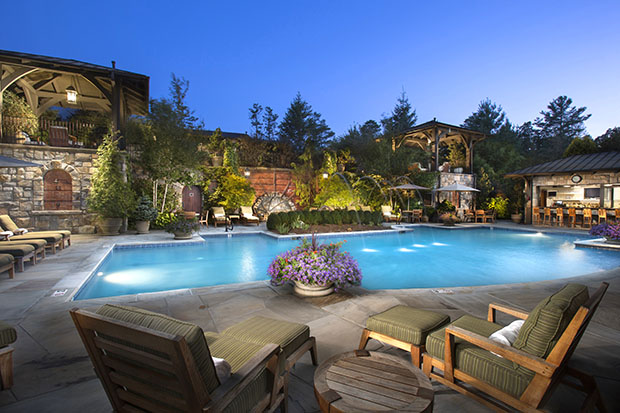 People have been in love with Highlands for nearly 150 years. Two ambitious men, Samuel Truman Kelsey and Clinton Carter Hutchinson, huddled over a map in search of the perfect spot for trade and commerce. They drew two lines, one from Savannah, GA, to Chicago, IL, the second line from New Orleans, LA, to New York City. The pair marked the intersection of those lines—thus, in 1875, the city of Highlands was founded, and history made. "The little village was hardly more than a crossroad—and a dirt one at that," says author and historian Randolph Shaffner in his nomination to list a local home on the national registry of historic places. He also notes that by 1880 the population of Highlands was a mere 82.
As access to the plateau improved, the population grew. By the 1930s, Highlands emerged as one of the great vacation destinations in Southern Appalachia, a title it still boasts. The director of the Highlands Chamber of Commerce, Kaye McHan, says the welcoming spirit in Highlands is intrinsic to our way of life. "We work enthusiastically to maintain our small-town culture and the environment we promote because it is what brings people to Highlands. A great place to live is a great place to visit," she says.
Shop
A point of pride for the town is its reputation for family-owned businesses. Standing out as a true treasure downtown is The Molly Grace, whose owners are well-rooted Highlanders, their lineage and connection to the town going back several generations. As you approach the front door there is an undeniable buzz of excitement, as the whimsical displays outside draw you in with the promise that what lies inside will not disappoint. Getting people in, though, is only part of the equation. "Our customer service keeps people coming back," says Kedra McCall, store manager and daughter of the shop's owner. McCall also credits their carefully curated displays and irresistible merchandise—almost entirely sourced from other small businesses and local artisans, which ties in beautifully with their niche. The Molly Grace's entire aesthetic warms the soul.
Just a short drive outside downtown and nestled in the woods, you'll find another beloved Highlands staple: Peak Experience, which has dazzled the area with its unique offerings of antiques and handcrafted items for over 20 years. "We love living in Highlands and sharing our love of the mountains with our customers," says owner Victoria Ingate. "Highlands is great because it's about two hours from several major cities, so it is an easy getaway," Ingate says, noting that springtime is an especially delightful treat for visitors. "[There is] a little less traffic than in the fall and summer. Also, seeing everything blooming and getting green again after the winter is beautiful." Stopping in at Peak Experience is also a treat. The Ingates keep a keen eye out and continually refresh their impressive inventory.
Play
For outdoor enthusiasts, Highlands is your new favorite playground. Bring your fishing poles and kayaks, lace up your hiking boots and pack your trekking poles, because there are hundreds of miles of rivers and trails on which to stretch your legs—ranging from an easy stroll like Sunset Rock, to the far more strenuous Yellow Mountain. Be sure to check out the list of trails maintained by the Highlands-Cashiers Land Trust and at the Highlands Welcome Center; you'll find a trail for every experience level. There is always another breathtaking view to witness, be it a vista or cascading falls—and in the spring, the colors come alive as everything blooms and there are endless opportunities to glimpse local wildlife emerging to do some post-winter exploration of their own.
Highlands is no slouch with big events, either. The Bear Shadow Festival (April 23-25, 2021) celebrates both music and the mountains, featuring several artists, food vendors and a healthy dose of conservation outreach. And beginning in May, you'll find opportunities to enjoy a free concert series hosted by the Highlands Chamber of Commerce almost every weekend through October at the Kelsey-Hutchinson Founders Park, right in the heart of downtown.
Stay
Old Edwards Inn and Spa has been in an unceasing evolution since 1878, when it was originally known as the Central House. While they are firmly planted in the modern era now, they haven't deviated from their rich history of dedicated service nor flawless attention to detail. And in the springtime, just like the mountain laurel, their genial spirit—and their Wine Garden—is in full bloom. "It's a great place to relax with friends and take in the pace of life that defines Highlands," says Amy Passauer, marketing manager for Old Edwards Inn, who encourages visitors to check out the brand-new Old Edwards Shop at Acorns, which "brims with the impeccable luxuries our guests have come to love," says Passauer. It's those indulgent details which keep people coming back year after year, enjoying special events and packages such as April's Slip Away and Save and their May Getaway. Their restaurants are an incredible amenity as well, especially this time of year. "Look for fresh, seasonal items, many of which are harvested from our own gardens and greenhouses," says Passauer.
If you can't imagine a vacation that doesn't include your canine companion, look no further than The Park on Main, a luxury boutique hotel that not only allows your pup, but pampers them with the same reverence and distinction as they provide their two-legged guests. "Pets are a part of the family," says John Woods, general manager of The Park on Main. "Many of our guests are empty-nesters and their dogs are their children...they don't want [to leave home] without them," he notes. As soon as your dog enters the lobby, they're greeted with as warm a reception as you are, though they may be a hint more excited about the dog treats and complimentary toy provided by Mr. Pickles, a debonair Scottish terrier and the hotel's pride and joy. Once you retreat to your sumptuous suite, you and your pet will enjoy all the creature comforts one could hope for, including soft Italian sheets on a plush mattress for you and a top-notch therapeutic bed for Fido. No detail has been overlooked—even your bathroom floor is heated!
It's a perfect time to head up into the hills and say hello to Highlands! More information about Highlands, NC, and these incredible local merchants and inns can be found at the following and across their social media channels:
Highlands Chamber of Commerce
www.HighlandsChamber.org
828-526-5841
The Molly Grace
www.TheMollyGraceCorp.com
828-526-8390
Peak Experience
www.peakexpshop.com
828-526-0229
Old Edwards Inn and Spa
www.OldEdwardsHospitality.com
866-526-8008
The Park on Main
www.TheParkonMain.com
800-221-5078
Hiking is a favorite pastime for many visiting Highlands. Enjoy one of these public hikes protected by the Highlands-Cashiers Land Trust, the oldest land trust in North Carolina protecting over 3,000 acres across Macon and Jackson counties.
Satulah Mountain Preserve
Difficulty: Hard. Beginning in town, the hike goes a mile up paved roads to a cul-de-sac. From there moderate trails traverse a ridge to a southern vista overlooking NC, SC and GA.
Length from town: 3 miles round trip.
Brushy Face Preserve
Difficulty: Moderate. Heading out from a cul-de -sac, the trail crosses through a wide range of habitats and over Clear Creek.
Length: 1.4 miles round trip.
Ravenel Park
Difficulty: Moderate. From Horsecove Road the trail climbs a gravel road to two scenic viewpoints, Sunset and Sunrise Rocks.
Length from Horsecove Road: 1.1 miles round trip.
Length from property parking: 0.25 miles round trip.
Kelsey Trail
Difficulty: Moderate. From the end of North 5th Street, the trail follows an old oxcart trail along a creek and connects to Rhododendron Park.
Length from town: 0.7—0.82 miles round trip.
Rhododendron Park
Difficulty: Hard. The trail follows a number of stone stairways as it curves around Big Bear- pen Mountain through thick rhododendrons.
Length from parking: 0.6—0.7 miles round trip.
Dixon Park
Difficulty: Easy. A network of trails covers the flattest of our properties in Highlands.
Length: Variable.