Cashiers' Crown Jewel
07 Oct 2020
High Hampton slated to reopen
By DAWN LILES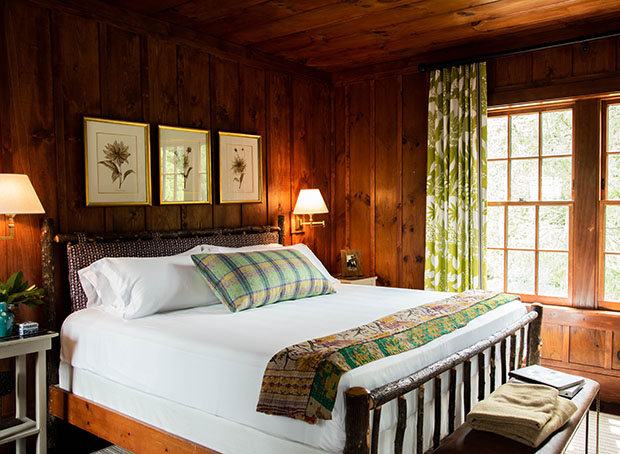 After a three-year comprehensive revitalization, High Hampton, the storied Cashiers landmark, will again welcome guests to its Inn and 1,400 hundred scenic acres beginning in April 2021. The property, which is listed on the National Register of Historic Places, has been carefully reimagined to retain its historic charm while providing updated amenities to the Inn, golf course and club and dining facilities.
Since the Great Depression, the elegantly understated Inn has provided a respite for families, couples and golfers to reconnect with each other and nature.
Scott Greene, general manager, joined the High Hampton team in 2019, after spending ten years managing two historic lodges, Jenny Lake Lodge and The Lodge on Little St. Simons Island. "I'm incredibly excited that High Hampton will continue to offer guests the beloved elements and experiences the property has been known for – including the breathtaking mountain views, 15 miles of hiking, lake activities, world-class golf, and the four-sided fireplace for gathering with friends and family," said Greene.
The renovations, undertaken with guidance from the North Carolina Historical Preservation Office, will respect High Hampton's nearly one-hundred-year-old architecture while restoring the property's oldest and most historic accommodations. Renovations include enlarging each guest room and bathroom, installing central heat and air, and mixing a design of original antiques and art from the Inn's archives with newer, contemporary pieces.
Inn and cottage guests will delight in all the comforts of the newly restored accommodations and restaurants as well as full access to other on-property amenities like golf and tennis, which are made available through, and operated by, High Hampton's residential membership program, The Club at High Hampton.
The revitalization is a group effort between several partners: the team behind Blackberry Farm in Tennessee, with guidance from the Beall Family and founder Sandy Beall, are overseeing renovations to the Inn, cottages and restaurants within the Inn, while Arlington Family Offices and Daniel Communities, Blackberry's partners in the overall property project, are focusing on the redevelopment of the golf course and development of new club amenities and private residential offerings.
"I first visited High Hampton in 1982, and I ended up buying a house from the McKee family, who had owned the property since 1922," said Sandy Beall, chairman and co-founder of Blackberry Farm and Blackberry Mountain. "The property has held my family's interest for nearly four decades. Arlington's long term, multi-generational approach parallels that of the Beall Family and Blackberry Farm and we are proud to work with friends that have common goals and sensibilities to create something truly special."
Arlington Family Offices CEO Ken Polk echoes Beall's sentiments. "We knew we wanted to be a part of a project that would give families a place to slow down and spend more time together. High Hampton does just that. It was important for us to partner with friends that had that same focus on family, and who were committed to the property, its guests and the land for generations to come."
High Hampton will preserve its appealing historical features and architecture. The property's reimagined accommodations of 18 inn rooms, 40 cottage rooms, and three cottages will offer guests stylish, yet camp-like comfort with spectacular views of the surrounding property.
"When restoring the property, our intention was to respect the craftsmanship and classic materials," says Samantha Feuer, senior interior designer at Blackberry Design. "High Hampton has provided countless families with years of idyllic, cherished memories. "We worked closely with the National Register of Historic Places to ensure that the iconic elements, such as uniquely shaped doors, handcrafted furniture, original exterior shag bark siding and interior American chestnut walls are preserved, with reimagined comforts that will welcome future generations."
Guests can enjoy hiking with magnificent mountain views, a swimming pool and hot tub overlooking the 35-acre Hampton Lake (a natural water swimming lake with a beach), canoes and kayaks, tennis and pickleball courts and a kid's camp with supervised activities and programs.
The 18-hole golf course is being redesigned by Tom Fazio to challenge all levels of golfers.
With spectacular views of Rock Mountain, Chimney Top and Whiteside and fairways that meander along natural streams, dense woods and open vistas, the family-friendly course offers over 7,000 yards of play from the back tees. While there is plenty to keep guests on the go from sunrise to sunset, no one should miss out on one of High Hampton's most time-honored traditions and just rock away the day in one of their signature red rocking chairs.
Touring the property's dahlia garden and champion trees, beloved by guests since the early 1900s, will again be a highlight of the High Hampton experience. Under the direction of gardener Drew English, the dahlia garden continues to be a part of High Hampton with peak bloom times in mid-July that last into the fall. Additionally, High Hampton's old-growth trees are more than a century old, with massive ginkgo, bottlebrush buckeye, bald cyprus, Copper beech and America's largest Frasier fir lining the lawn at the Inn. Spectacular maples, black birches, sourwoods, and yellow poplars can be found by hiking the well-marked trails.
High Hampton is located at 1525 Highway 107 South Cashiers, NC 28717. Room rates will start at $395 per night for double occupancy and include breakfast, dinner and access to club amenities such as golf, tennis, pickle ball, fitness center, swimming pool, nature trails and lake activities. For more information on High Hampton and future reservations, please contact the reservations team at reservations@highhampton.com or call 800-648-4252. For group inquiries, please email the group sales team at Salesgroup@highhampton.com.