Celebrating 80 Years
07 Oct 2020
Wit's End has stood the test of time in the same downtown Highlands location
By JUDY ROYAL
Photos by APRIL RICE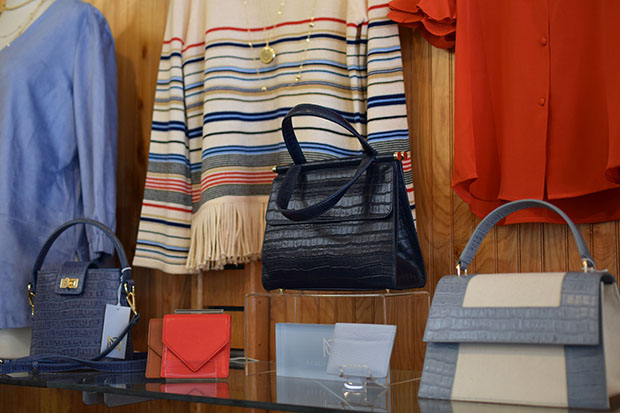 When you think about everything that has happened in the world since 1940, it's hard to believe anything remains from those days. But people venturing to downtown Highlands, NC, have always been able to rely on one thing over the past 80 years: Wit's End operating at 382 Main St. under the ownership of the Young family.
Margaret Young opened Wit's End in summer 1940 after the passing of her husband several years earlier. They had been full-time residents of West Palm Beach, FL, but Margaret enjoyed the cooler summers in the mountains. She purchased the building, which had formerly been Luke's Rice meat market, for $2,500 and transformed it into a gift shop carrying Old English silver, European porcelain and other home interior items. The customers were mostly Southern women and their families with second homes in the area.
The founding Young passed the shop to her son Earle and his wife Mary Lu in the mid-1950s, and in the 1970s, they began carrying women's clothing to account for about half of the merchandise mix. In 1989, their son David and his new wife Susie moved from Florida to Highlands to help with the family business. Susie worked alongside Mary Lu for 16 years, and during that time, they transitioned the store away from gifts to focus entirely on women's clothing and accessories. Susie has been operating the business since the passing of Mary Lu and Earle in 2006 and 2011, and fourth-generation daughters Rebecca and Caroline, as well as various cousins, have worked summers at the shop.
Today, Wit's End specializes in classic apparel with resort pieces, cashmere and jewelry.
"It's a small-town store packed with beautiful clothing and classic style," Susie said. "Wit's End has a devoted clientele of both local and summer visitors alike. Many of our customers remember fondly shopping with their grandmothers in years past, and a trip to Highlands is not complete without a stop at Wit's End. Many of our customers are multi-generational, but Wit's End still delights shoppers who discover us for the first time."
In addition to images of the colorful tops, pants, dresses, sweaters and other items in stock, the Facebook and Instagram pages of Wit's End are full of throwback photographs, some in black and white, that show the shop at various stages of its existence.
Besides the rich history and nostalgia of the shop, customers keep coming back for a wide selection of merchandise that includes over 35 brands with exclusives for the area, Susie said. Wit's End is also a Gold Star account for the luxury brand Kinross Cashmere and one of the largest accounts for enewton jewelry, she added.
"Along with classic sportswear brands like Tyler Boe, Nic and Zoe, Gretchen Scott and Vineyard Vines, we also carry young contemporary designers, too," Susie said. "Something for all age groups."
After working at the store for 31 years, Susie loves most aspects of operating Wit's End, but she definitely doesn't have any trouble talking about her favorite parts of the job.
"Working with and merchandising beautiful clothing is one of the best parts," Susie said. "But also strong and rewarding relationships with customers, suppliers and our staff all make the job very rewarding and fulfilling."
On the flip side, however, are the challenges that come with owning a small business, and everyone knows 2020 has been full of them. Due to the COVID-19 pandemic, Wit's End had to shut down for eight weeks starting in March.
"This was definitely a setback, but we are very fortunate to be in a town like Highlands with a strong customer base, and the season has been surprisingly good in spite of the pandemic," Susie said.
Even after reopening, obstacles persist and will be a normal part of doing business for the foreseeable future.
"We are constantly aware of keeping our staff and customers safe with all the appropriate measures while still attempting to deliver a comfortable shopping experience," Susie said. "From a supply standpoint, we have sadly seen several excellent vendors who closed their businesses this year, and I will be looking to fill the voids of those brands which our customers had grown to love. Also, market appointments with vendors are looking a lot different these days. In the near future, we will have to adapt and do a lot more virtual market appointments."
More about Wit's End
Owners: Susie and David Young
Products: Women's clothing, jewelry and accessories
Location: 382 Main St., Highlands, NC
Phone: 828-526-3160
Email: witsendshop@gmail.com
Facebook: www.facebook.com/Wits-End-221229151286830
Instagram: @witsend65