The Summer House has evolved to offer full-service furnishings and interior design
By JUDY ROYAL
Photos by APRIL RICE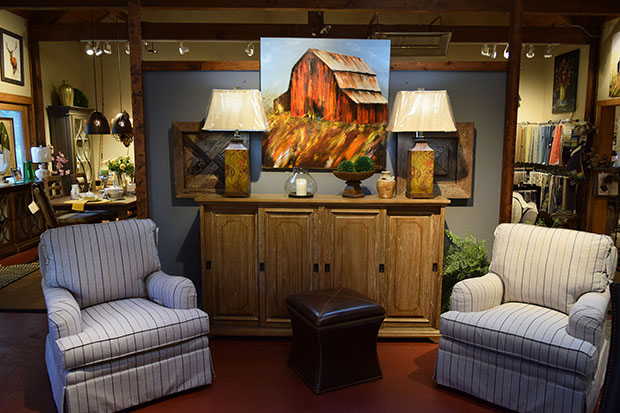 Going to craft shows on weekends in the late 1980s completely changed the lives of Paula and Barry Jones. They had traded the corporate world of Atlanta for the North Carolina mountains and were searching for what would come next in life.
"We were looking at all the wonderful folk art and wonderful handmade rustic furniture that the mountain people had been doing for eons," Paula said. "During that time, we were so enthralled with the furniture."
Barry was planning to write a book about crafts in the mountains and still may do that eventually, but first the Joneses began seeking out instruction on how to make willow furniture. After practicing and taking lessons, they were invited to bring their pieces to craft shows and The Bascom in Highlands, NC. Soon they were commissioned to make dining chairs and tables for The Chattooga Club in Cashiers, NC, and more publicity and high-profile jobs followed. The culmination was in the early 1990s when one of their items was featured in House Beautiful magazine, catching the attention of the decorators of George Lucas' Skywalker Ranch and Robert Redford's Sundance Lodge, who both commissioned rustic pieces for their respective projects. Paula compared it to what would be considered "going viral" today.
"People were calling and calling, and ultimately we had over 200 interior designers and stores call us about our furniture all based on one table that was shown in House Beautiful," she said. "Nobody had any encouragement or inspiration to start making this type of furniture until we came along. We really just re-invented the whole genre of rustic furniture here."
Paula and Barry started Tiger Mountain Woodworks in Tiger, GA, and continued their designs. In 1992, they opened a small retail storefront called The Summer House in Scaly Mountain, NC, but they kept feeling the pull of Highlands, NC. The couple eventually purchased 35 acres of an old apple orchard along Dillard Road for their home and workshop, and by 1996 they relocated The Summer House here as part of a complete home-furnishing complex. In 2016, the Joneses added a Bed and Bath shop on the property that even sells mattresses, and there is also a Patio and Porch area that offers an extensive selection of outdoor furnishings for a one-stop-shopping experience.
"We are a whole house concept, so when someone comes in, all of the showrooms are little vignettes that look like they can go right into their bedroom or living room," Paula said. "As the business grew, our property and retail space grew, and we are just so blessed that we had such a phenomenal success rate. We came at a perfect time because back in the 90s the area was growing with second homes, and people loved the mountain feel."
Barry and Paula pride themselves on having a highly experienced staff and going above and beyond to please their clients.
"We have a great rapport with our customers, and that's what keeps bringing them back," Paula said. "We are so friendly, and we treat everybody with respect. I have a philosophy that if a customer is happy, they're gonna tell 20 people, but if a customer is unhappy, they're gonna tell 100 people. We want to keep them happy."
When asked to name her favorite thing about The Summer House, Paula is quick to answer.
"It's all the magnificent people that we have met," she said. "We've been highly involved in the whole community. We wouldn't move out of Highlands for anything. We've made lots of dear friends over the years, and we love helping people and seeing how pleased they are."
While the COVID-19 pandemic has been a challenge for many businesses, The Summer House has actually seen more clients recently because people are moving ahead with their dreams of buying a home in the mountains, Paula said.
"In April, we were not open to the public except for a few appointments, but our business still perked away, and by May we were back open," she said. "By June, it was like the highways opened up, and we have never seen as many people coming to this area to buy houses from all over the country. If they're in a big city, they're flooding here. Houses that haven't sold in 10 years, people are bidding on them."
Paula said she did not expect the reception and publicity she and Barry have gotten from their ventures, but they look forward to what the future holds.
"We never dreamed it would be like this at all," she said. "I guess we had no expectations because we had no idea what we were getting into. We had no clue what it was going to be. Every day in every way is getting better and better."
More about The Summer House
Owners: Paula and Barry Jones
Products: Furniture, home décor and interior design
Location: 2089 Dillard Road, Highlands, NC
Phone: 828-526-5577
Email: thesummerhouse@me.com
Website: www.summerhousehighlands.com