Bridging the Community Divide
02 Aug 2023
TJ Smith and the International Friendship Center
By DAWN LILES
Photos by CAROLE SHEPARDSON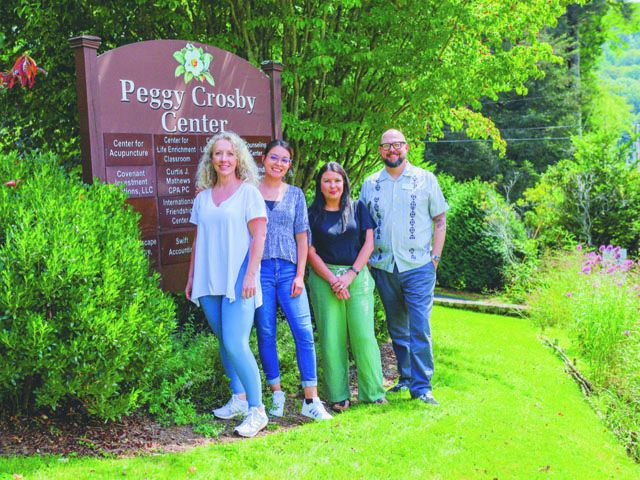 The nonprofit International Friendship Center (IFC) in Highlands was founded over 20 years ago, and T.J. Smith's dream is to close its doors.
"That's the goal of every nonprofit executive director," says Smith. "To serve the need until the need is no longer." He and his team work tirelessly every day to assist people in our community experiencing hardship and to address concerns and challenges facing immigrants. They accomplish this through fostering understanding among all people, facilitating social and human services, and providing nutrition to the underserved through the Highlands Food Pantry.
"Additionally, our mission is to provide the services people may not have time to connect to," explains Smith. "For example, someone may work cleaning houses from 8 a.m. to 6 p.m., but doctors' offices close at six. We know the health resources in town that offer after hours appointments, and we can also offer to go with people to translate if needed. Bureaucratic systems are challenging enough for native speakers but can feel nearly impossible for non-native."
A big goal at the IFC is to improve equity in this region. "There is a sharp divide between the have and have-nots. People we help have the added disadvantage of being non-native English speakers. That is challenging in a way most people in our area can't comprehend."
Smith was named the IFC director in March 2022. He has a fascinating and rich background in the traditions and culture of Appalachia. He credits his two great-grandmothers and his maternal grandmother with his love for storytelling and traditional culture. One of his great-grandmothers taught him to fish. She was "of the land," explains Smith, referring to her skills managing a farm, working the land and growing food. "And my mom's mom was a great storyteller and a fascinating person. She was a Rosie the Riveter in World War II and traveled all over the United States."
Smith started his undergraduate studies at Young Harris College and then took about three years away from school to work as a journalist before completing his undergraduate studies at Georgia State University. At GSU he started out as a physics major, but he wasn't a fan of the high-level math classes. He found himself better suited to writing, research and studying history. He switched his major to English and earned his undergraduate degree at Georgia State. He found his passion taking courses from Dr. John Burrison, who directs the Folklore Curriculum in Georgia State's English Department.
It was between Young Harris and Georgia State that Smith had an eye-opening experience as the managing editor of a small weekly newspaper in Colorado. There, on a visit to Aspen, he first witnessed the challenges created by a lack of affordable housing in a resort town. Many of the workers who provided the goods and services enjoyed by locals and tourists had to drive an hour to get to work each day because they couldn't afford to live in town. That experience stuck with him as he eventually headed back to the South to earn a master's degree in English at the University of Louisiana at Lafayette. Following his master's, he stayed on at ULL to complete a PhD in folklore in 2008.
He took the academic route out of graduate school, working as an English professor crafting classes around folklore and traditional Appalachian cultures, first at Abraham Baldwin Agricultural College in Tifton, GA and then at Georgia Perimeter College in Atlanta. But when a program he was developing in Sustainability lost its funding, he took a break from academia and got involved in food insecurity. After two years as the food hub manager of the Food Bank of Northeast Georgia's branch in Clayton, Georgia, he applied to be executive director of The Foxfire Fund, Inc. in Mountain City, GA, a nonprofit heritage preservation organization focused on the documentation and interpretation of Southern Appalachian culture. After three and half years at Foxfire, Smith did some freelance work before coming to the plateau to run the IFC.
Collaboration is Key
Smith's "soapbox" speech focuses on one important concept – collaboration. "In general, there is a sense of competition among nonprofits, which was created out of applying a corporate structure to the nonprofit world. But it's a zero sum game. I hate that phrase because it's overused, but it is accurate here. No one wins if we are competing for resources."
Realizing the amazing potential for collaboration, Smith reached out to a group of directors and program managers from non-profits across the plateau. Smith, along with Leslie Manning, executive director of The Counseling Center, and Emily Wilmarth, co-pastor for the First Presbyterian Church of Highlands, assembled more than a dozen people last November to meet at the Episcopal Church of the Incarnation in Highlands for an informal lunch. They exchanged ideas and best practices and shared challenges. The lack of affordable housing kept coming up as one of the plateau's biggest problems.
"There are a variety of perspectives on causes and solutions; however, one thing that everyone agrees upon is access to affordable housing is a primary stressor for many of the individuals and families we serve everyday—the same individuals and families who clock into the jobs that keep things running on the plateau," says Smith.
Just like in Aspen and other resort towns, many people travel over an hour to come to the plateau to work because they can't afford an apartment. According to the North Carolina Justice Center, in order to afford a two bedroom in this area, a minimum wage worker must put in 94 hours a week, or a working couple must put in 47 hours/week each to afford rent.
"We are reaching a threshold where people already driving nearly an hour to work are now getting pushed even farther out – as Sylva and Franklin become more expensive," says Smith. "And it's not just blue collar or undocumented workers; we are also losing nurses and teachers and even doctors."
The nonprofit leaders meet monthly and continue to propose solutions to create more affordable housing in the area as well as discuss other issues directly affecting the communities they serve.
Small Staff Runs Big Outreach
The IFC currently has a staff of four. Smith is the first to shine the light away from himself and onto his staff. "I walked into a scenario of having three exceptional people here. My job is to find the funding to help them do their jobs. These three people make my job a lot easier."
Andrea Smith, the director of social services and administration, has been with the IFC for seven years. She is a native of Colombia and helps parents enroll their children in school or assists clients with documentation through their native consulates. Bonnie Dayton is the director of the food pantry and manages operations for a pantry that serves over 400 families every month. Karla Magaña, MSW, is the IFC's social worker and has been key in expanding the IFC's reach into Cashiers and Jackson County. Both Dayton and Magaña were hired in 2021, just about a year before Smith. Dayton is a Highlands native, and Magaña immigrated from Mexico to the Cashiers area when she was 10 years old. The IFC helped her family adjust to life in the US.
One of Magaña's tasks was to restart the English Language Learners classes for non-English speakers in the Highlands-Cashiers community at the Episcopal Church of the Good Shepherd in Cashiers. Participants are able to get an education in language and literacy through a partnership between the International Friendship Center and the Episcopal Church.
Additionally, the program provides students the opportunity to consult with Magaña about their needs and to learn about resources available to the Hispanic and Latinx communities in Macon and Jackson County.
The IFC holds several other programs and events throughout the year. "We can't homogenize our world," observes Smith. "We need to recognize the value of all labor. In the end, we are all contributing to the greater good, and our diversity is what should strengthen us, not divide us."
About the IFC
The International Friendship Center was founded by the Missions Committee of the First Presbyterian Church and the Outreach Committee of the Episcopal Church of the Incarnation, along with their church leadership, in 2002. Both congregations felt strongly that our community's immigrant workers faced many access barriers to healthcare, legal assistance, banking, housing, schooling, etc., so the IFC focused on providing services and on bridging the gaps to those services. They serve individuals and families who live or work in the Highlands, Franklin and Cashiers, NC area.
For more information on programs, services and how to help, visit Internationalfriendshipcenter.org.
BIO
T.J. Smith, Executive Director, The International Friendship Center, Highlands
Hometown: Born in Palmdale, CA, raised in Habersham County, GA
Education: Associate's degree at Young Harris College, bachelor's degree at Georgia State University, master's degree in English and PhD in folklore at the University of Louisiana at Lafayette
Family: Wife Elaina, sons Eli (15) and Sam (13)