A Community of Residents and Visitors
07 Aug 2020
How Old Edwards Inn's General Manager Inspires a Sense of Togetherness
By CHRISTA MILLER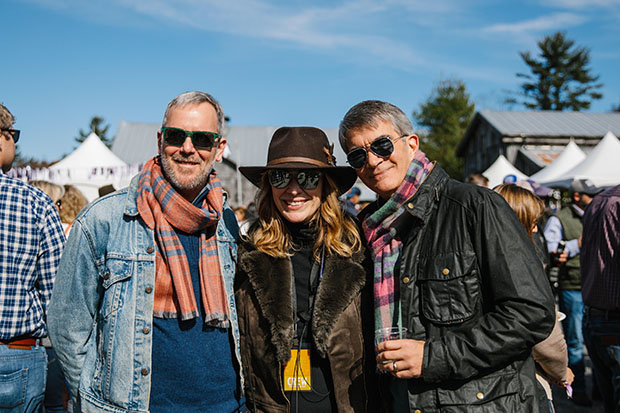 Jack Austin, general manager of Highlands, NC's Old Edwards Hospitality Group – which includes Old Edwards Inn & Spa, Half-Mile Farm, and 200 Main – has lived in a lot of Southeastern cities that many would like to call home. They include Charleston, SC, Savannah, GA, Atlanta, GA, and Georgia's St. Simons Island and Little St. Simons Island. However, none, for him, feel as close to home as the plateau.
In part, it's the weather, especially the morning chill that makes Austin and his husband, Lec Hobbs, close the window even in July and August. It's also partly the community itself: "Beautiful and full of opportunity and full of really warm, welcoming people… a richly textured small community and one of the prettiest places on the planet."
And it's the Old Edwards Inn itself. "It has been a great ride," Austin says. "I have the highest respect and affection for Old Edwards as a property and as an organization, and all the people who work for it, and especially for [owners] Art and Angela Williams. I consider myself so lucky because I've been a part of making their vision for the place happen."
Austin's career in hospitality started in Cashiers, at the front desk of the High Hampton Inn one summer. "It occurred to me, back then, that this was a beautiful place, and being in this industry allowed me to live and work in places that most people could only vacation or if they were really lucky, retire," he says.
But his work didn't fully grow into itself until Austin returned to the plateau in 2003. Then, he found a role as Guest Services Director for the Greystone Inn on Lake Toxaway, serving there for several years before finally making his way to Highlands and a position as Assistant Rooms Director for the Old Edwards Inn.
From management to leadership
When Old Edwards' general manager Brian Crook and his wife decided to retire and move back to their home in England nearly six years ago, Austin stepped into his place. By that time, his leadership philosophy and style had evolved into something that a business with a significant community footprint needed.
"You walk around," Austin explains, "and one minute you're on Old Edwards property, and the next minute you're on Highlands property, and the next minute you're back on Old Edwards property. It's hard to separate, [and] brings with it some responsibility that I respect and appreciate."
That responsibility comes partly from employing more than 400 people in a town with just 1,000 year-round residents. Austin views employees and guests in a symbiotic light, and it's what drives his leadership style.
"Building up, mentoring [younger employees] – I feed off of that, and they make me better," he says. "Whether… work or community involvement, the idea is to find a need and fill it, thereby, creating a more fulfilled and effective professional class, and a richer and more diverse community."
That philosophy has never been more critical than as a general manager leading a 400-person staff through a pandemic that threatened both individual physical safety, and the region's economic safety. "I think we all realized we had a big responsibility to conduct our response to [this pandemic] in a very broad-minded, responsible way," Austin explains.
Communication and flexibility have been key to this effort – right from the start in a situation that doesn't allow for long term planning. "Early on, it was all questions and no answers," Austin says. But the Williams committed to keeping jobs safe, part of what Austin calls the "dual responsibility" of protecting both guests and employees – and keeping the inn's "economic engine" running.
Community leadership
Old Edwards' pandemic response also included sharing key resources from major hospitality organizations like Relais & Chateaux and the American Hotel & Lodging Association, which smaller businesses had no access to.
This wasn't an entirely altruistic effort. "I've said many times, if it's not good for Highlands, it's not good for Old Edwards," Austin explains. "The reverse of that is true, too…. We want our guests to have access to a vibrant, thriving community…. It's the realization that we benefit from Highlands' success and vice versa."
Austin, who observes that his job and his volunteer work significantly overlap, has been one of the main drivers of that success. As a two-term board member and former chair of the Highlands Chamber of Commerce and Visitors Center, he was among the original planners of the Highlands Food and Wine Festival – formerly the Highlands Culinary Weekend.
"I'll challenge anybody on this: the funnest weekend on the plateau is also becoming a year-round marketing effort for the town of Highlands," Austin says of the festival. Quoting a previous board chairman, Kyle Garner, Austin reflects: "The Chamber has to be the marketing department for all the small businesses that can't afford marketing departments."
As a Chamber project, the Food and Wine Festival has done just that, garnering media attention from across the Southeast and selling out all the hotels, Austin says, well in advance. People travel for food, and due at least in part to the festival, Highlands and the plateau are becoming a legitimate regional culinary destination. "When we went on sale just this year, two thousand tickets sold in a day," he adds.
In fact, the Festival has grown so much that the Chamber incorporated a new 501(c)(3) nonprofit, Highlands Festivals, Inc., specifically to plan and implement Highlands Food and Wine and other events – such as a spring music event.
Although the pandemic derailed this year's event, it's planned for the spring of 2021. "Spring festivals lead to fall festivals lead to spring festivals… it really becomes a year-round cycle of activity and marketing opportunities for Highlands and the rest of the plateau," Austin explains.
That has a knock-on effect for the rest of the community. "When you hear people talk about how they first visited Old Edwards, and then they came back for Highlands Food and Wine, and… they've decided that they really want to live up here, well, you're an important part of the mission of the whole place," Austin says, adding: "It's a different place than it was ten years ago when I came, and I believe it's a better place."
Along with the Chamber, Austin serves on the Macon County Tourism Development Commission as well as the Highlands-Cashiers Health Foundation's marketing committee – "which right now is doing some especially timely and important work to help the community through the COVID-19," he says.
Part of the timeliness: "People from Atlanta, Columbia, Charleston, Charlotte, Birmingham, more than ever, want what they perceive to be a safe, sane retreat from their daily lives, and I think we provide that."
Bio
Birthplace: Monroe, NC
Family: Lec Hobbs (husband); Roscoe (adopted beagle mix, 8); Sally (adopted beagle mix, 16); Ripple (cat, 19)
Education: BA Communications, Wake Forest University
Hobbies: Cooking, country farm life