As one of the founders of Vision Cashiers, Paul Robshaw brings to the scene a wellspring of entrepreneurial spirit
By SYBIL FIX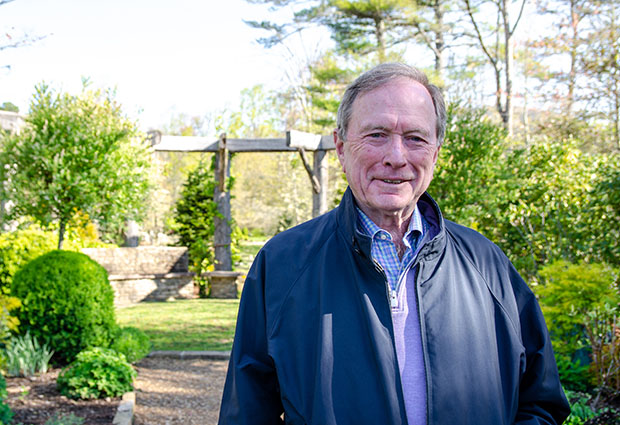 Paul Robshaw was 13 when his father left the custom men's clothing business to enter real estate and made him an offer he couldn't resist. He would let Paul drive his 1954 black Chevy—stick shift—if he'd run some showings for him in a subdivision that was being built near their home in Buffalo, New York, and whose builder his dad was representing.
Young Paul took the deal, thus discovering a natural knack for real estate and, in the process, untapping what would turn out to be a bottomless spring of gumption, initiative, and entrepreneurship. At 18 he became a licensed Realtor and began selling houses. And at 25 he walked into the owner's office and bought the company.
"My wife says I came out of the womb working," jokes Robshaw, who made that little real estate company into one of the largest in the state. He then went on to found and chair AIC Ventures, a real estate private equity firm headquartered in Austin with more than $2 billion in real estate investments. His son now owns and runs the business in which he retains an interest.
It's no surprise, then, that when Robshaw and his wife began spending time in Cashiers and fell in love with it, he began to notice opportunities for solving problems that were going unaddressed.
"I woke up one day and said, 'Who is taking care of this place?'" he recalled.
Meetings, introductions, and more meetings led to the birth of Vision Cashiers, an ambitious volunteer group (www.visioncashiers.com) that is taking an involved approach to solving community problems. The organization has 18 founding couples and 10 taskforces with over 200 volunteers.
The goal, said Robshaw, is simple.
"Improving Tomorrow…Today. It's good for everybody and makes us all feel great."
A Life of Vision
Robshaw and his wife, Linda, began frequenting Cashiers in 2014. They fell in love with the mountains, the quiet, the Southern charm and friendliness, and the fact that it didn't feel particularly structured or organized.
In fact, Cashiers, a village in Jackson County whose population of a couple of thousand swells to 30,000 in the summer months, has no municipal government.
Robshaw ticks off the problems: collaboration, pedestrian safety, education, health care, housing, internet/Wi-Fi. Problems that affect both year-round and seasonal residents.
Five or so years ago, Robshaw began to ask around.
"I approached people and said, 'Who is doing something about this?' What Cashiers had lost was leadership and energy. So, I volunteered."
Born in a middle-class family in Buffalo, one of five children, Robshaw showed an early propensity for dogged action. After his debut in open houses with his father, at 16, he started his first company recruiting his brother and his friends to clean houses, mow lawns and take care of properties.
He moved to Austin—backed by investors, began buying property and reaping profits for them. The financial crisis of 1990 brought him to bankruptcy and the loss of everything, but Robshaw rose quickly from the ashes, founding AIC Ventures.
Through his work, Robshaw became a civic-minded leader: He was a founder of the L3 organization (Lives of Leadership & Legacy), served in leadership positions for the Young Presidents' Organization and Chairman of the World Presidents Organization, both global leadership organizations.
Addressing a problem, filling a vacuum, and getting others involved is intrinsic to his nature.
After arriving in Cashiers—he still splits time in Austin—he organized a small group of like-minded people who committed time and money, and Vision Cashiers took form. The group has a nonprofit fundraising arm and a board on which determined people with a rich fabric of educational and professional backgrounds serve with a commitment to the community that they have come to love and call home.
A Multi-Purpose Charity
Vision Cashiers endeavors to lobby, persuade, cajole, and bring together the money, people, and powers needed to address an uncommonly vast scope of issues, ranging from housing to education and livability. Some affect mostly the local residents, and others affect everyone, but none are vague aspirations.
In a brief time, Vision Cashiers has teamed with a national tele-med group to provide a service called Call When Sick, allowing people to sign up for unlimited virtual medical appointments, from anywhere, for $100 a year. It is an essential service in a rural area where doctors are too few.
Negotiating a maze of county, state, and federal roadway bureaucracy, the group labored to bring together the needed property owners and the funding to build—and the county to maintain and cover the liability of—sidewalks in town, which were lacking and which will greatly improve pedestrian safety and livability. Pathways throughout are part of the plan.
Also, the group recruited a provider and funded a high-speed internet system that will provide free Wi-Fi in a one-mile radius around the center of Cashiers.
Most recently, when Covid-19 hit the community and business and school closures created a food-insecurity crisis in the area, it helped the Boys and Girls Club of the Plateau by administering donated funds for the Cashiers Emergency Food Collaborative to provide a meal distribution program for families in need.
Using Influence for Good
Vision Cashiers does not have governmental authority. "In some ways, it is more effective. No delays, no employees, nobody watching the clock, everyone wanting to do good", said Robshaw.
"We have influence, and we are trying to fix things with influence. It is important, and it is bringing about real change."
Robshaw said Vision Cashiers matches his purpose in life—to do good. He feels humbled to translate into action, in Cashiers, the experience of his life: his own bankruptcy and personal loss, his empathy, and the fruits of his success.
Paul Robshaw
Birthplace: Buffalo, NY, 1942
Family: Wife, Linda Benge. Five children (three daughters, one son, and one stepson) and nine grandchildren
Education: Attended Canisius College and Niagara University
Hobbies: Woodworking (including furniture, puzzles, and crosses), gardening, golf, hiking, reading, and technology
Civic Involvement: Vice-President Vision Cashiers. Former board member of the Highlands
Cashiers Hospital; current board member of the Highlands Cashiers Health Foundation.