A Day in the Life of a Hero
04 Oct 2021
Nonprofit community care
By Mary-Elizabeth Lemons
Photos by Kat Ford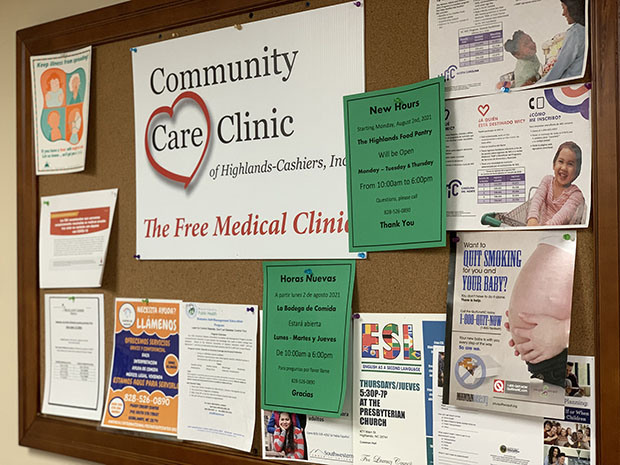 It all began years ago in 2004, when a crucial need was observed in the community. The tiny group of citizens who took notice had an idea, and unlike so many ideas that have been abandoned, these seven or so people remained tenacious and slowly began to work. As they gathered the needed documentation and followed detailed guidelines, their commitment only grew and even gained traction as more volunteers joined forces. The project consumed the better part of a year until at last, through strenuous research, they established the thriving and philanthropic business we know today as the Community Care Clinic of Highlands-Cashiers.
Twenty-two thousand visits later, the clinic consistently reaches full capacity to this day, proof that it was all worth it. Nestled in Highlands, the office is just minutes from the hospital and houses the remarkable team that makes it all possible. The magic begins with the executive director, Jerry Hermanson, the leader who keeps the engine stoked and the vision alive. "This is the best job in health care I've ever had, and I've been in the medical field for over 45 years. This is just my passion." Hermanson explains how the generosity of others helped the private nonprofit clinic begin and how it has kept it going, the donations coming from private citizens to civic organizations in the community. He elaborates, "We get donations from many of the clubs, grants from foundations and churches. We have a broad base of funders."
The doors open without fail every Monday through Friday, and the office is ready to take calls between 10 a.m. and 5 p.m. One of the warm and welcoming voices on the line is Sandy Fleming, clinical coordinator and seemingly Energizer Bunny come-to-life. Faviola Olvera is the other voice, director of clinical services and resident interpreter who not only does phone consultations but bridges the gap between languages. Says Olvera, "We have had phone conferences here and even out of state. We could not do what we do without our translators!" Both Fleming and Olvera share the load of endless tasks, including helping people sign up and get registered for appointments, also being in constant contact with the pharmaceutical companies who provide the medicine. Then there are lab orders, orders to fax and imaging orders, along with medication requests, prescriptions and refills. Somewhere in between, they also receive shipments of stock and manage inventory. Clinic nights happen twice a week on Tuesdays and Thursdays from 5 p.m. to 9 p.m., addressing issues anywhere from hypertension and diabetes to gynecology and X-rays. Fleming adds that "In addition to our primary medical, we have diabetic educators, and we also have OB-GYNs that come in about once a month." The two staff providers, Rebecca Baker, NP-C, and Aubrey Balmer, FNP-C, have been known to stay as late as 10 p.m. and later for needy patients and to top it all, the clinic even provides therapy sessions about once a month.
If for any reason the clinic is not able to provide a service, they have an impeccable referral system in place. "If we realize there's a need for a food pantry, we direct them to the three food pantries which are in Highlands and Cashiers which provides meals, household furnishings and gas," says Fleming.
Further referrals range from the Highlands-Cashiers Hospital ER to medical specialists, Blue Ridge Free Dental Clinic and REACH. Hermanson explains that all of the nonprofits continually seek improvement in their collaborative efforts because it's ultimately the most efficient for the patients. "We don't duplicate services that are already available because that would be a waste of funding; we want to support all of them," says Hermanson.
The need of the community seems ever growing, but the collective passion inside the clinic continually trumps it all. Olvera and Fleming radiate utter humility in their voices as they talk about reaching as many as possible and why they do it. "I was born in Mexico," explains Olvera. "I grew up here and was able to complete my studies in this area. Growing up, I received a lot of support from the community, so it was important for me to return that and be a support for others." Fleming mirrors her sentiments, saying, "We're called to do it. No one would work here unless they had a heart. The patients are of the utmost importance: if someone comes out feeling better, happier and healthier, that's what it's all about."
For those wondering how they can help, monetary gifts are always welcome and volunteers are encouraged! There are several positions that don't require a medical background, and there especially is a need for bilingual volunteers. While the clinic's board is dedicated to spreading the word through pamphlets, social media and their website, they can always rely on the power of word of mouth. "The biggest challenge," says Hermanson, "is that everyone who needs our services actually gets it. The other is to have good access to secondary care and when the patient needs to be referred; there are not that many willing to see patients for free, getting them in to see specialists."
Whatever is in store next for the clinic can only be positive. Hermanson expresses a strong urge to expand the mental health services provided and stresses that there are always more services they would like to offer. We'll just have to wait and see. "It's a personal ministry for me, an important part of my life. But please don't make it about me!" he says. This selflessness is a consistent and collaborative sentiment echoed in the very halls by all who volunteer at this fine clinic. It is fervent evidence that the purity of benevolence and quiet determination from the most passionate individuals truly does change the world, one day at a time.
www.highlandscashiersclinic.org
828.526.1991